Remote working has become part of today's 'new normal'. As the norm continues, there's never been a better time to carve out the dream home office.
Devoting a spare wall in your bedroom or taking over the kitchen counter as makeshift works. But say you don't have a spare room or, not surprisingly, find your home a bit distracting.
This is where garden offices come into the picture. Whatever space you have, you can curate it into a hub of productivity – and this guide will walk you through it.
Having a Dedicated Workspace

The best part about WFH is the flexible working hours and no travel costs. Having a workspace that reminds you of an actual office setting comes next.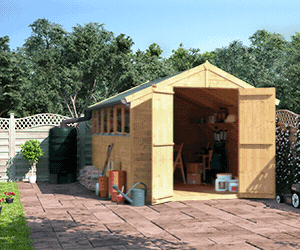 Unfortunately, your bedroom doesn't fit that category, as they're linked with 'rest' and not 'work'. Sure, the corners of your living or dining room will do, your extra closet even.
But if a spare room isn't an option, invest in a garden building. For one effective reason, it enables you to leave your house physically and work in a separate space.
This gives you a sense of work-life balance, even with just a few steps en route to your backyard. Whether you're working full-time, as a freelancer, or running a business, do yourself a favour. Set up a dedicated workspace.
Curating Your Dream Home Office
Be it a guest room converted into your personal working area or a garden room, follow these tips. (Note: If it's the latter, consider what outdoor building you want for your improvised office. Take log cabins, for example.)
1. Select the space

The location of your home office will depend on the space that's available to you. Generally, you have two possible options:
Repurpose an existing space in your home

Get a garden office building
If you think the first choice suits you best, here are a few ideas on what you can make use of as an alternative:
Guest bedrooms.

In most cases, they're already equipped with electrical outlets. Windows and lighting included, which makes them good for retrofitting into an office.

Basements.

A basement can provide that 'separation' between work and leisure areas. The only caveat is that it can pose challenges with lighting and temperature. If yours have windows and a good ventilation system, it's worth considering.
Garages.

In this case, a garage is ideal if it's

unused.

However, it can be costly if you renovate the whole space. For one, you'll need electricity and a heating or cooling system, to name a few. But if you plan to use it as a permanent workplace setup, the upfront costs will save you money in the long run.
Closets.

Ha! Don't laugh because it could be your last resort. If you live in a small home or apartment, an unused closet can be a smart option for a WFH office conversion.
It's important that the room is quiet, convenient to access, and receives enough sunlight. You'll also want to pick somewhere that's pleasant and a joy to work in.
And if you'll be hosting clients, ensure the space can be easily accessed. You don't want them to pass through your home's personal areas to get into your office, do you?
2. Invest in a garden office
Keep your personal and professional living separate from a garden office. The simple act of a short commute from your house to the garden can make a difference.
Best of all, a designated working environment will help keep your work-life balanced. Inspired by the new normal for remote working, these office log cabins are worth every penny:

Featuring a modern style, pent-roof log cabin, Mia provides a tranquil home office at a fair price. For £1558.00, it gives you the blank canvas to make it your own.
The floor-to-gable window and door invite plenty of natural light and a scenic view of your garden. It manifests an airy and compact working space in the comfort of your back garden.

Natural light floods through the large, fully-glazed double doors and windows. These features come together to create a bright, airy space to use for a home office.
Made from durable T&G and available in a range of sizes, Devon will accommodate your WFH needs! The 6'1" high reaching offset double door design also maximises the potential of the inner space.
For £2595.00, it makes a cost-effective and ideal solution for dream office spaces.

The Outpost is the optimal garden office for year-round use. As a completely insulated building with double glazing as standard, you can be sure to stay warm and cosy.
With EcoQuilt insulation in the roof, floor and walls and thick double glazing. For £6399.00, it can be a significant value booster to your property and garden space. A worthwhile investment!

Designed to the highest standards, the Studi will give your WFH experience a 'wow' factor! Perfect for creating usable space in gardens of any size, it's a blank canvas designed to last.
Get this SIP-insulated garden building for £11564.00 – fully insulated and virtually maintenance-free. Even better, it won't need planning permission.
Its size and height fall under the 'permitted development'. So no one can stop you from building your dream home office with this one!
3. The WFH essentials

Consider what furniture, storage and accessories you'll need. This will affect the design and access required, including the utilities, e.g. power.
To start, look for the best desk and chair. Invest in an adjustable height desk, so you can switch from sitting to standing while working.
Opt for an ergonomic chair that offers enough support for your legs and back. This will help to reduce the chance of back or leg problems in the future.
For the setup, a laptop is great if you like switching positions between your shifts. But if you plan on staying at a desk, find a reliable desktop computer. Extra monitors can also help increase productivity.
As for storage, a filing cabinet is a must if you keep a lot of work documents. Or if you simply want to increase your free space in your workspace.
Even if you're primarily paperless, owning a printer comes in handy. A multi-purpose printer, for one, can save you the hassle of heading out to print, scan, or copy documents.
A compact yet powerful desk lamp is also an essential ingredient for a good workspace. Whether the task is typing away on the keyboard or reading the fine print, you'll be able to see with ease. Check these desk lamp ideas out!
4. Conversion process

(Image Credit: Trusted Reviews)
Don't skip this step if you plan to convert your shed into a workplace or opt for a garden office. Think about electricity and insulation.
Most offices will require a laptop, phone, lighting, and WiFi. For this, you'll need electricity. Ask a professional to carry out any electrical work to ensure safety and efficiency.
Next, insulate the ceiling, floor, and walls to protect the structure from dampness. Unless you decide to invest in one of our log cabin offices, you don't have to worry about insulation.
A heating system can also make your workspace pleasant to work in, particularly in winter. Get a spacer or indoor heater to keep the inside warm and cosy.
Different types of lighting will complement your office needs besides desk lamps. LED lighting, for one, is versatile and cheap to run.
5. Finishing touches

Paint the interior walls for added interest. Stick to light, bright colours for an airy and serene working environment.
Add personal touches, such as photo frames, to create a homely touch. Framed posters can also add vibrancy to the walls.
Don't forget the greenery for a much-needed colour and life in your office. They also help improve air quality, reduce stress, and increase productivity.
Finish with introducing comfort. Although it's a space where you'll be working, you'll want it to be snug and homelike. Decorate with an indoor rug and a couch if the area allows and with cushions.
Things to consider
Here are some questions to ask yourself to come up with the best plan:
Will I need an open plan design or a multi-room office for meetings or storage space?

What size of garden office can my outdoor space accommodate?

What kind of lighting does the office space need? Desk or floor lamps, strip lights, or spotlights?

Will I need an electricity source or an internet connection?

Do I need a heating system for colder months?

How do my requirements impact each other?
Round-up
Productivity flourishes in environments that inspire you. This includes your home office, which can have a major impact on your work output.
If your dining table has been doing overtime as a desk, it's time to take a step and make your dream home office. Just follow the tips above, add your own spin, and you're all set to start working!
Shop Home Offices