Rumour has it that you're in pursuit of finding the best patio pieces. Not for yourself but for a special person.
It's not every day that you get to surprise 'someone' with garden furniture. So why not give them something that looks amazing and has long-term functionality?
Regardless of the occasion, you can't go wrong with these outdoor living gift ideas. Redefining fun and comfort, they suit any setting, including front and backyards.
(Not in chronological order.)
1. BBQ grill
The back garden is where most of the outdoor enjoyment happens, and often BBQ is the main event. So, for the grilling enthusiast in your life, upgrade their cookout setup with a new grill.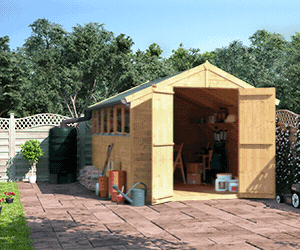 A gas BBQ, for one, is a great place to start for newbies and experts alike. And the next time they host a summer barbecue party, you'll be the first name on the guest list.
This list of the top 10 best gas BBQs will help you to decide.

2. Parasol
Shade in the garden promotes safety and comfort, which is where parasols come in. Besides the UV shield, it provides protection from the elements and offers a great place to relax.
Don't let your loved one experience the harsh glare from the sun – get them this crank-and-tilt umbrella! It's equipped with LED lights to keep the conversation going until late at night.

3. Bug zapper
Bugs, such as mosquitoes and biting insects, are joy killers. And as a considerate friend, you're considering getting a bug zapper.
Not only is it a practical choice, but they also come with no health risks. Most importantly, it kills bugs effectively, allowing for undisturbed entertainment.

(Image Credit: Wikimedia Commons)
4. Portable cooler box
A cooler box is a convenient, portable and cheaper alternative to an outdoor fridge. Perfect for keeping drinks and food chilled and fresh for little cost.
With one, you can give your family or friend a functional addition to their patio space. Depending on the size and design, it goes well in the garden kitchen setting or on a decked patio.

5. Adirondack rocking chair
Adirondack chairs cater for the ultimate lounging experience in a classic way. Thanks to the comfortable back support, anyone who sits in them will feel relaxed for hours – they won't want to get up!
The rocking chair version helps stimulate blood circulation, which is ideal for parents and grandparents. This Lincombe Adirondack is a great example, featuring a smooth rocking action.

6. Hammock
A hammock has a lot to do with swaying motion, leading to de-stressing. The best part? Anyone can benefit from it, making it a perfect gift item for family and friends.
It can be set up with a stand and make it a more permanent fixture. Or opt for a portable one for quick and easy assembly on trees or a pergola.

7. Outdoor lighting
The answer is simple: give your green thumb buddy a solar garden light. The Biard Allende Bollard Light is striking for illuminating walkways and garden beds.
Your friend's charming array of flowers and greenery can be admired 24/7, especially at night! Read this garden lighting guide to get more ideas.

8. Deck bar cart
A bar cart can serve as a tiny open workspace for making and serving cocktails outdoors. Storage is another suit for it, providing extra space for the barware (and possibly, cats).
It's up to the lucky receiver how they'll stock the cart to the fullest.

9. Pouffe bean bags
The portable design makes pouffe bean bags fit in perfectly just about anywhere. Various styles and colours are available to suit individual tastes and decor.
Rectangular-shaped ones can double as ottomans, combining comfort and leisure.

(Image Credit: Wikimedia Commons)
10. Sun loungers
If you know someone with a patio who doesn't own a sun lounger, this is the perfect gift choice. Sitting in the sun is a way to relax and say no more to this sun lounger with a fully adjustable backrest.
This fantastic reclining lounger will add a new dimension to their outdoor space. Who wouldn't love that?

11. Heated snow melting mat
If the person you're gifting lives somewhere that snows a lot, a shovel on the patio won't be enough. But with heated mats, they don't have to spend every weekend shovelling.
They also make it less of a risk to walk, which you also might want to consider adding to your space for the winter.

(Image Credit: Wikimedia Commons)
12. Fire pit
A fire pit makes the perfect gathering spot outside. Not only will it keep everyone warm, but it'll also serve as a beautiful focal point for the patio.
Whatever model you choose, they'll be in glee and cherish it. But this Alaska fire pit ring will have a positive lasting impression on them, that's for sure.

13. Tiered wood planter
A touch of greenery on the patio or front porch makes a difference. And your gardener relative or friend wouldn't ask for more than a space-saving planter.
They can grow anything from a portable vertical garden like this, from plants to herbs. This three-tiered cascade wooden planter, for one, doesn't take up a lot of space and can be set up almost anywhere.

14. Lanterns
A lantern or two is an inexpensive way to illuminate your loved one's patio, making it more cosier for them. Great for hanging from the ceiling and resting on tables or the ground.
Alternatively, get these remote control LED candle lights. The realistic flickering flame creates a warm and cosy glow, safe for kids and pets.

15. Garden love seat
There's no better way than spending the warm days outdoors with a loved one and this companion love seat. It's a thoughtful piece to share with a partner – any couple will appreciate a gift like this.
The design features a linking table for drinks and snacks and a parasol hole to enjoy the sunshine.

16. Foosball table
Reward your husband on his successful patio decking project with a brand new outdoor toy, a.k.a. a foosball table. It's not a game reserved for the basement or game room anymore. And thus making it a brilliant present for your dad's or sibling's newly built garden pub!

17. Garden bench
A bench is a welcomed feature in a garden. If you know someone who has yet to equip their backyard with one, this is your chance.
This Kingsbridge bench provides a serene place for resting while admiring the surroundings. It encourages conversations, too. The next time you visit and sit together on it, you'll both feel a closer connection.

18. Rattan dining set
Be the reason why your loved one's dream to host alfresco dining has come to fruition. And a rattan dining set will do the magic!
It may be a costly option, but it'll certainly put a huge smile on their face, and that'd be priceless. Consider getting this BillyOh Minerva 7 Seater Rattan Sofa Set for them.
It's weather-resistant with a flexible and adaptable layout. Tempered glass tabletop and luxurious padded cushions are also included.

19. Fire pit dining table
This modern dining concept features a table and fire pit in one set, hence the 'fire pit table'. If you're torn between a fire pit or a dining set, this is a surefire option, and you may even want to get one for yourself.
The Sicily comes with a wow factor and has enough space for eight people to dine in the garden. And the high-back armchairs with cushions are a huge plus!

20. Garden shed
A shed is a smart gift choice for your favourite homeowner. Besides the extra storage, you're also giving them something with long-term functionality.
Imagine getting more room to breathe in the garden that can open for many potential uses. Ah, a luxury – and the person you wish to delight with one would feel the same way.
The BillyOh Master Tall Store has the perfect size for a novice shed owner, not too small nor big. It's a compact and vertical unit that offers plenty of storage space.

A Few Important Things to Consider
Price
It's true that the price tag doesn't always match up with the best choice. But sometimes, it may require a higher investment, especially with long-term use in mind.
Find a list of outdoor living gift ideas like this that suits any budget, as it'll help in your buying decision.
Quality
Along with the price, the quality of the gift is important for the person receiving it. As much as possible, opt for high-quality, long-lasting furniture or fixtures.
But as long as it's bringing them a moment of joy or something they can always rely on, that should be more than enough.
Round-up
Picking out presents for the people who mean the most to you shouldn't be that complicated. Give the gift of cosy time spent outdoors, no matter what season.
With these outdoor living gift ideas, you're bound to help them create a retreat of their own. Whether it's for your parents, partner or friend, they'll find solace and entertainment in any of them.