Garden lighting ideas come in different forms. And each light fitting can suit various areas of your outdoor space.
With different effects and ambience offered, the hunt for the best landscape lighting sure can get exciting and overwhelming. In this post, we'll help break down your options and make your decision making simpler.
Key takeaways:
We'll categorise your options into seven (7) types of garden lights:
LED
Solar lights
Outdoor floodlights
Spotlights
Wall lamps
Spike/footpath lights
Decorative lights
We put together a list of the various types of garden lighting and the areas they tend to work best in.
1. LED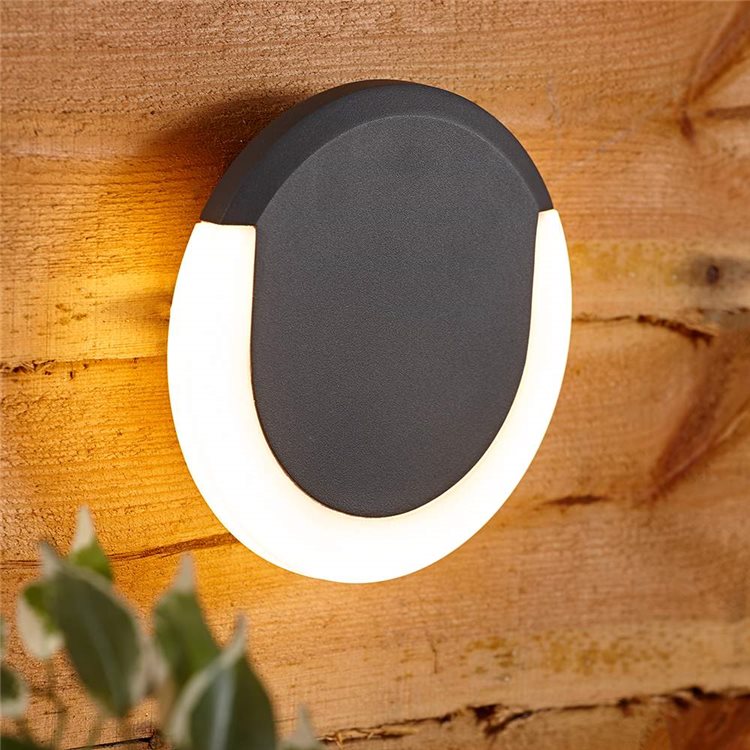 LEDs are known for their excellent energy efficiency, durability, longevity, and versatility. These qualities extend past traditional interior use, such as incandescent and fluorescent bulb types.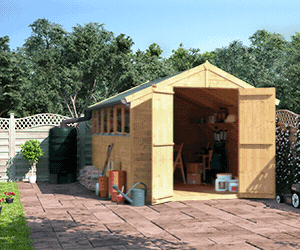 For this reason, LEDs are now preferable for any outdoor lighting application.
Today's modern units last up to 25 to 30 times longer than fluorescent lamps. So the labour needed for replacement is lesser. In addition to efficiency and longevity, LED fittings are incredibly durable.
Enclosed in weather-proof housings, they can withstand impacts from the harsh British weather. Not only that, but they also work well under conditions like damp and humid to frigid cold.
At last, their exterior lighting is superior to other types of fixtures. They turn on instantly and are often brighter, making them a safe choice for use in outdoor situations where security is a priority. In CCTV systems, LEDs help bring out more colour in images, further enhancing security.
They're a bit pricier and may cost you upfront. Even so, LED garden lighting can be justified by their lifetime savings.
Where do they work best?
Their improved performance under tough conditions, long life cycles, and low maintenance prove their advantage. These make them ideal use for:
Security lighting
Parking lots or garages
Wall lights or building lights
Outdoor floodlights
Traffic signals
Street lighting
If seeking a cheaper option for an outdoor lighting solution, LEDs are the safest choice. These two models below are no exception!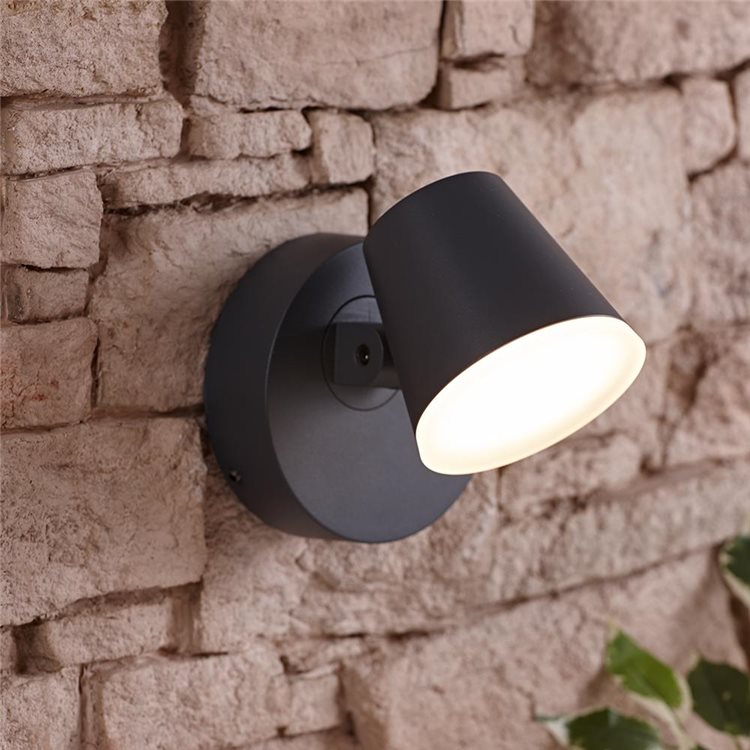 Biard Dalen Swivel LED Wall Light
Price: £28.00
If fixed lighting won't serve your garden needs, this swivel wall light gives you the flexibility you're searching for! Thanks to its adjustable swivel head, the illumination can be easily moved from one position to another.
The Biard Dalen changes the direction and ensures you have complete control over the areas of your yard. The integrated LED also assures that you don't have to keep worrying about changing bulbs. The glow will remain vibrant and strong for as long as you need.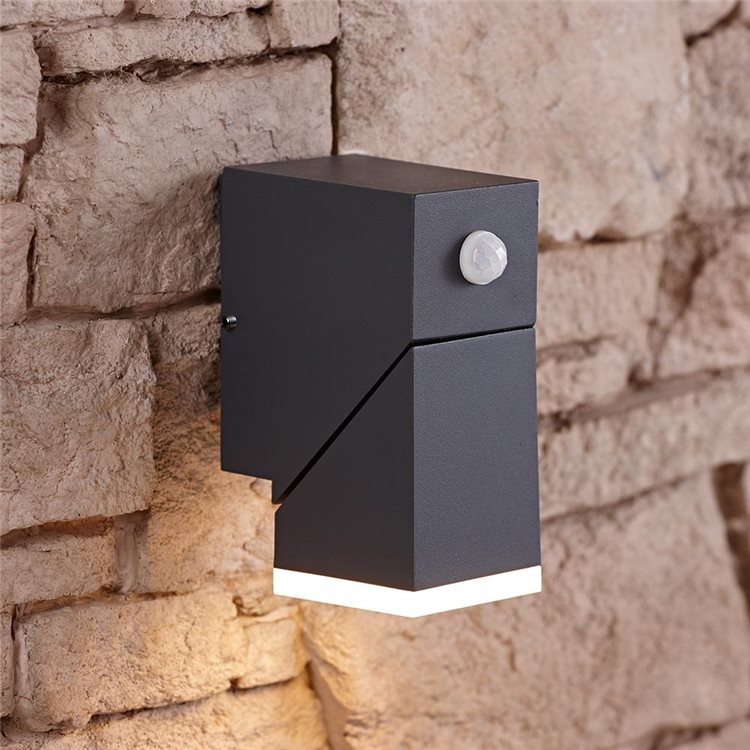 Biard Ziersdorf LED Adjustable Light with PIR Motion Sensor
Price: £36.00
Create a warm and elegant entrance to your home with our adjustable LED uplight with a PIR sensor. Not only does it make everyone feel welcome as they step inside, but it also helps to enhance security around the home.
The LEDs produce a soft light that is gentle on the eyes. It spreads ambient light to illuminate the outside when the sun begins to set and into the evening.
2. Solar Garden Lights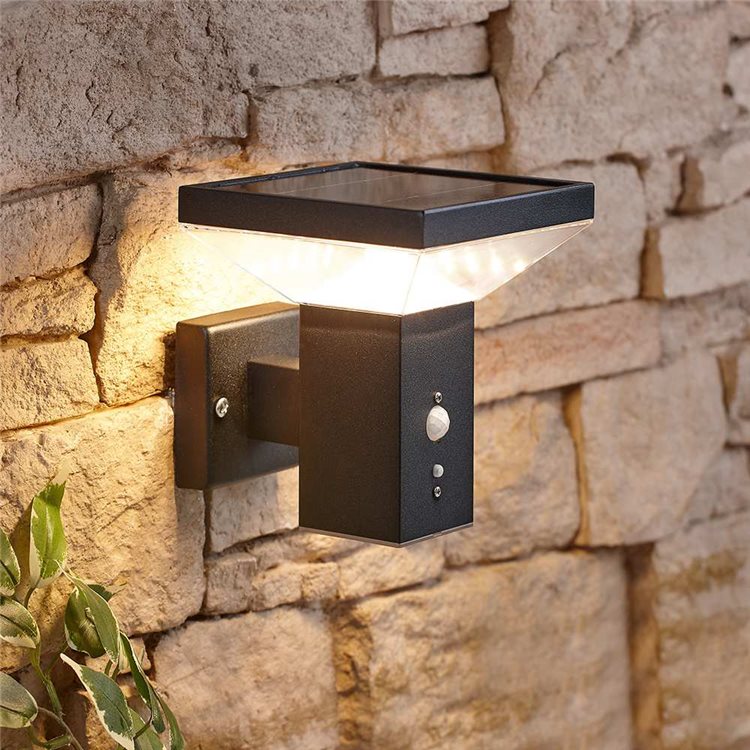 Solar lighting relies on photovoltaic effects. The solar panel absorbs energy from the sun during the day, converting it to electricity.
The generated electrical power is stored in a battery and used to light up the device at night. And the great thing about this is that you can enjoy having a beautiful and well-lit garden as it gets darker. And yet, you won't have to worry about your energy bill rising.
Many solar-powered lights have a lifespan of over 20 years. They last longer as they're resistant to heavy rains, heat, and snow.
As for the installation, they don't require you to dig through your garden to install cables. So there'll be no live wires left hanging around.
Solar-powered lighting also comes in a wide range of styles, colours, and sizes. You can find suitable solar versions of patio lights, deck lights, pathways, and more.
It's one of the easiest ways you can effectively reduce your carbon footprint, along with LEDs. These bollard and angled wall solar lights can be your great starting point!

Biard Allende LED Stainless Steel Bollard Light
Price: £19.00
Walkways, porches and driveways need extra lighting at night, so your property isn't shrouded in darkness. This solar post light is perfect in that regard, adding much-needed light at a price you can afford.
The Allende is a non-wired lighting solution that relies on the free energy provided by the sun during the day. It charges up the AA batteries to come into play after dark, doing all the hard work itself.
It can produce lighting power up to 15 lumens, which is more than enough to light up your front or backyard.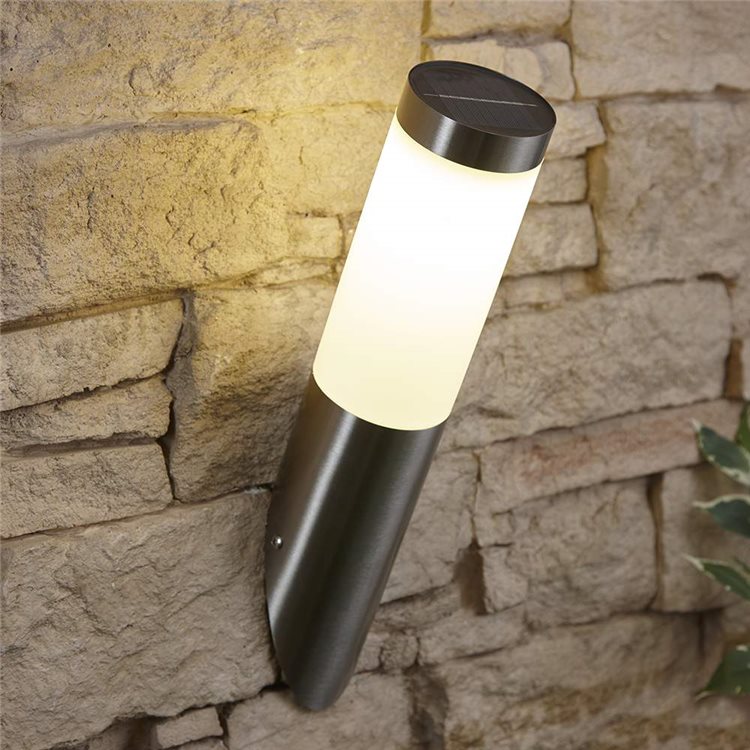 Biard Basford LED Stainless Steel Angled Wall Light
Price: £12.00
This angled wall light comes with an in-built solar panel that charges AA batteries. Once ready, it'll illuminate any area of your home's exterior.
Easy to install and prepare for usage! During the day, the light will remain off so it can charge up the batteries and light up the property after dark.
3. Outdoor Floodlights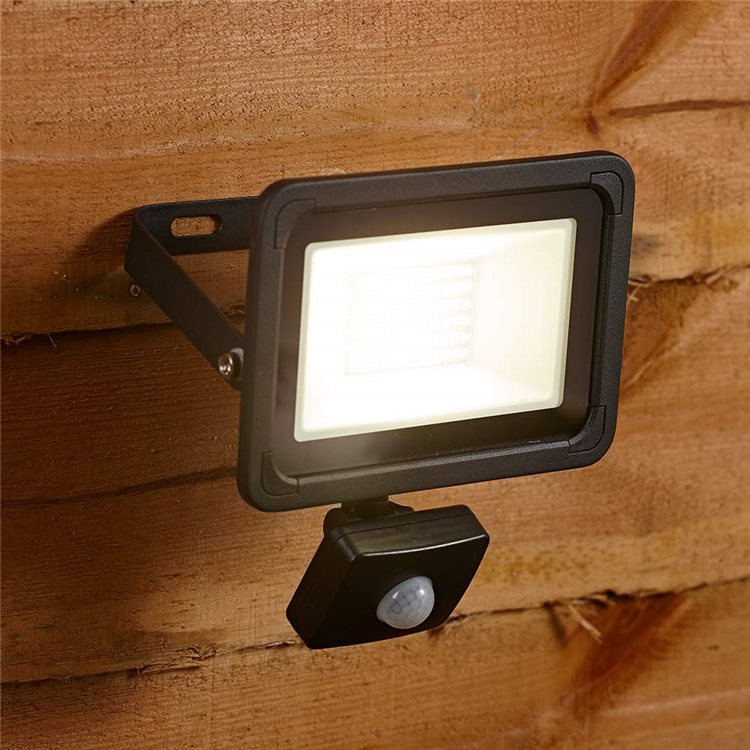 Floodlights are outdoor fittings designed to illuminate backyards, driveways, and area-lacking lights. They cast a large amount of light over a larger area, and thus, used in a practical way.
Moreover, they're usually powered by LED bulbs. Floodlights can also be installed into walls, eaves, and other outdoor structures. Simply put, they add more visibility to dark areas at night.
These outdoor wall lights are mains-connected due to the amount of power required. But they aren't restricted to practical uses. Another smart way of using outdoor floodlights is to fix them into the ground and angle the focused beam to trees and other garden features.
What's more, these outdoor fixtures are often equipped with light sensors (motion sensor). This key feature helps ward off intruders, offering you peace of mind. And depending on the model, a floodlight can also double as a security camera.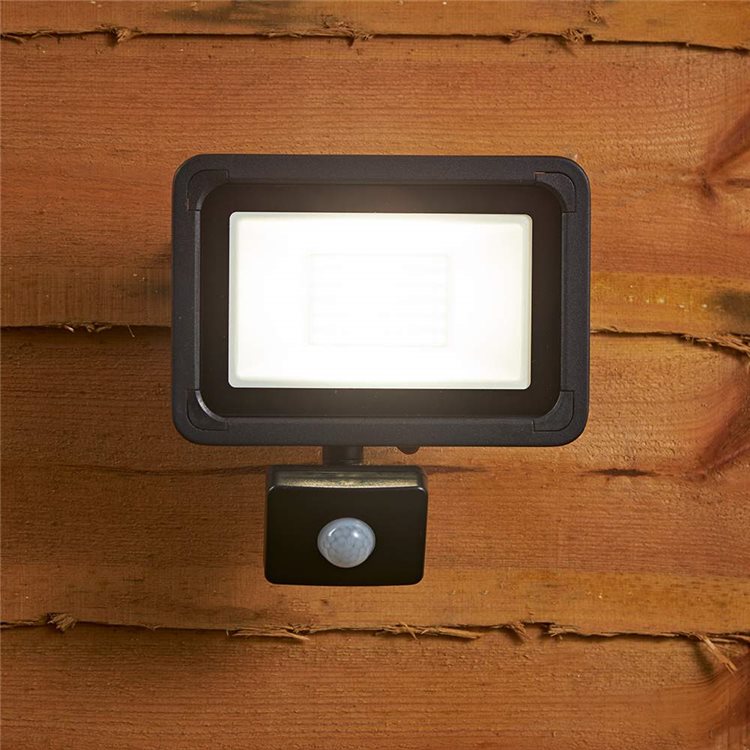 Board LED Outdoor Floodlight with PIR Motion Sensor
Price: £13.00 – £24.00
Here, we introduce you to the Biard LED Outdoor Floodlight. Available in various sizes and watts (10 – 50W, 10-100W).
Design insights:
With the integrated adjustable PIR motion sensor, the unit automatically turns on when movement is detected. Ideal for home/commercial security.
Available in five different wattages – 10W (900LM), 20W (1800LM), 30W(2700LM), 50W (4500LM) and 100W (9000LM)
Enjoy the benefits of a full 3-year guarantee for peace of mind, IP65 Rated CE & RoHS Certified.
Low maintenance design features a breather that prevents mist build-up on the lens with an energy efficiency rating of A++.
A compact design offers stable performance with a high lumen. Great for lighting an individual feature or passageway.
A new generation model floodlight with PIR motion detection featuring the latest technology.
4. Spotlights
Spotlights are similar to floodlights, but they cast a narrower beam of light. This makes them perfect for highlighting features within your garden.
In fact, spotlights are best known for their vivid light output, longevity and reliability. On top of these, they offer a major aesthetic appeal.
Place them on trees, shrubs, or water features, and they'll enhance the surrounding. They also work as defences in protecting your property at night, improving security.
There are mains-powered spotlights, which are best in terms of brightness and longevity. Meanwhile, the solar or battery-powered option is suitable for temporary or occasional use. Some types can be submerged in water, too, making them a perfect addition to garden ponds!
Spotlights are great for creating ambience and enhancing a backyard's surroundings at night.
5. Outdoor Wall Lights (Wall Lamps)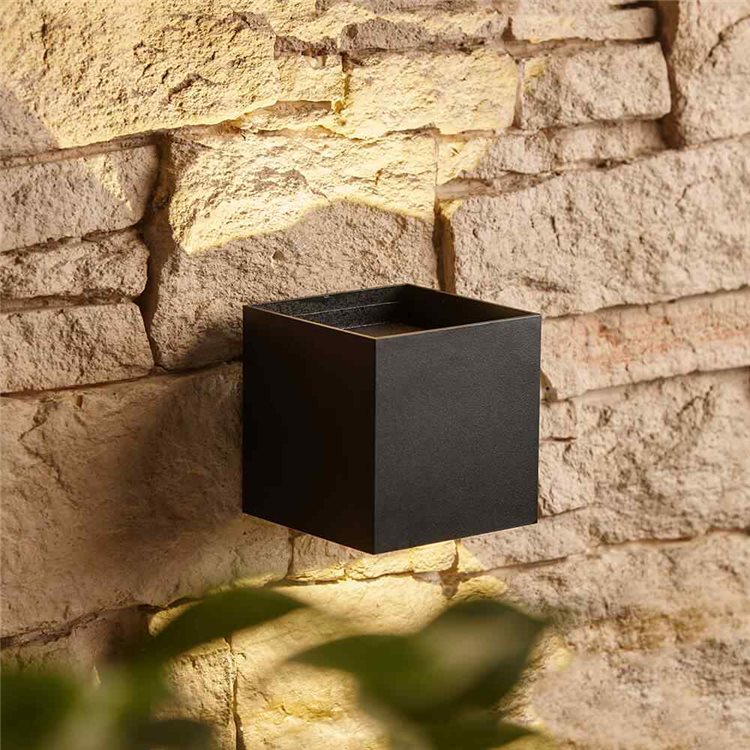 The terms "wall light" and "wall sconces" are often used interchangeably and essentially mean the same thing: a lamp mounted on a wall. But if you go into the technical details, wall lamps are a light source covered, typically by a glass.
Wall lamps add a fantastic layer of lighting to the ambience, perfect for both indoors and outdoors. In gardens, they help elevate the lighting design and exterior space.
And when installed on porch, deck, patio or driveways, they stand out as decorative pieces. Most importantly, wall lights provide effective illumination of ambient and accent lighting.
Other materials available for garden wall lights of wall lamps are as follows:
Metal
Ceramic
Crystal
Plastic
The type, size and brightness are all important factors for consideration. Check out our offers for garden wall lamps below, and we're sure you're going to like them!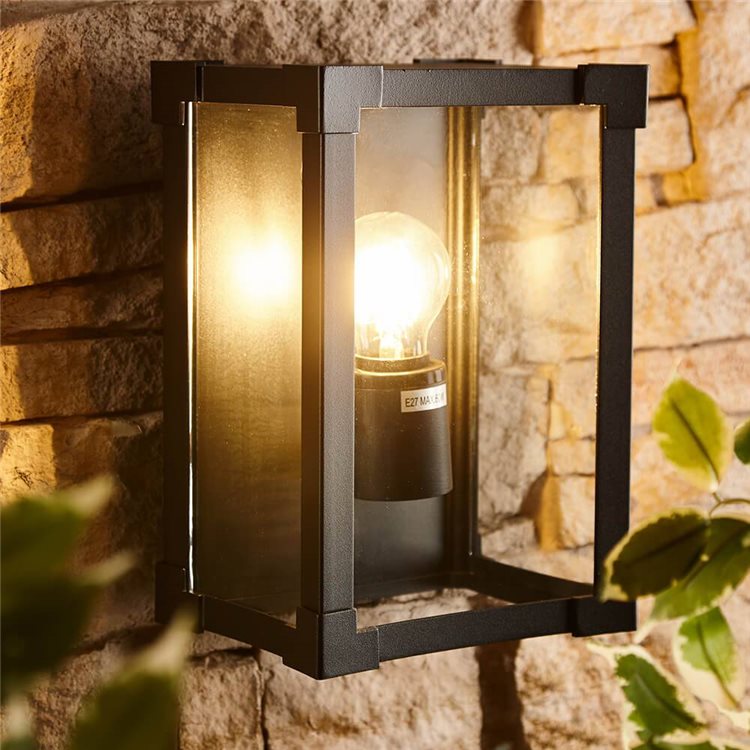 Biard Glass & Black Aluminium Flush Outdoor Wall Light
Price: £39.00
The simple design of lanterns brings out a warmth and dimension to gardens. These fixtures make your outdoor space feel more welcoming than ever.
Our Biard square glass flush outdoor wall light in black does all that and more at a fantastic price!
The frame has an aluminium construction with a glass casing. This guarantees the unit can withstand the changing weather in the UK.
It requires an E27 LED bulb, which offers superior brightness and increased energy efficiency. It also mounts flush to the wall and is incredibly easy to install.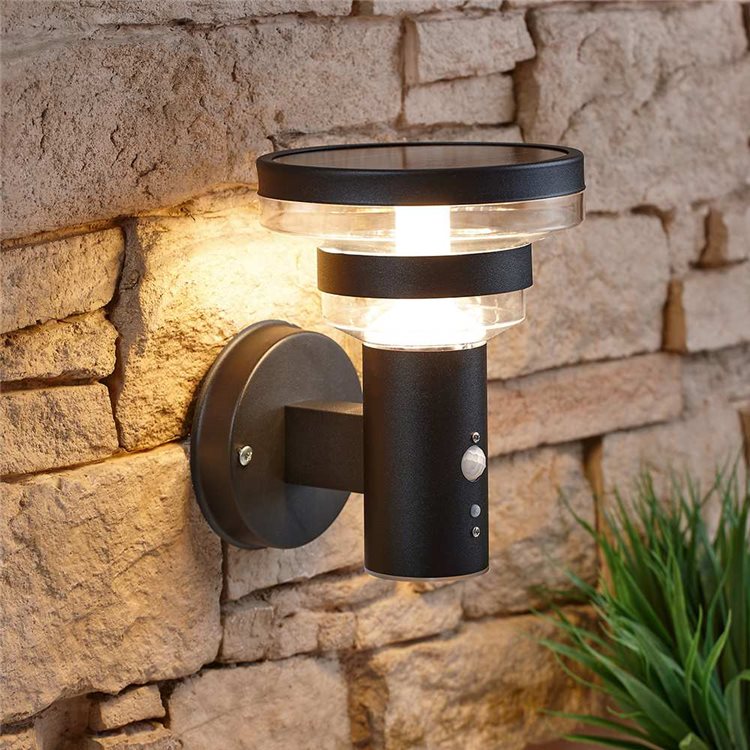 Biard Architect Disc Wall Light with Motion Sensor
Price: £30.00
Anyone looking for a minimalist style in their garden will love this disc wall light. Made in a simple but eye-catching shape, this easy-to-install lighting system looks amazing on the exterior of any home.
No wiring is required, which means you can have it in place and ready for use the same day if needed. The motion sensor feature is what really makes this product stand out. It lights up the surrounding space as soon as you step within range.
6. Spike Lights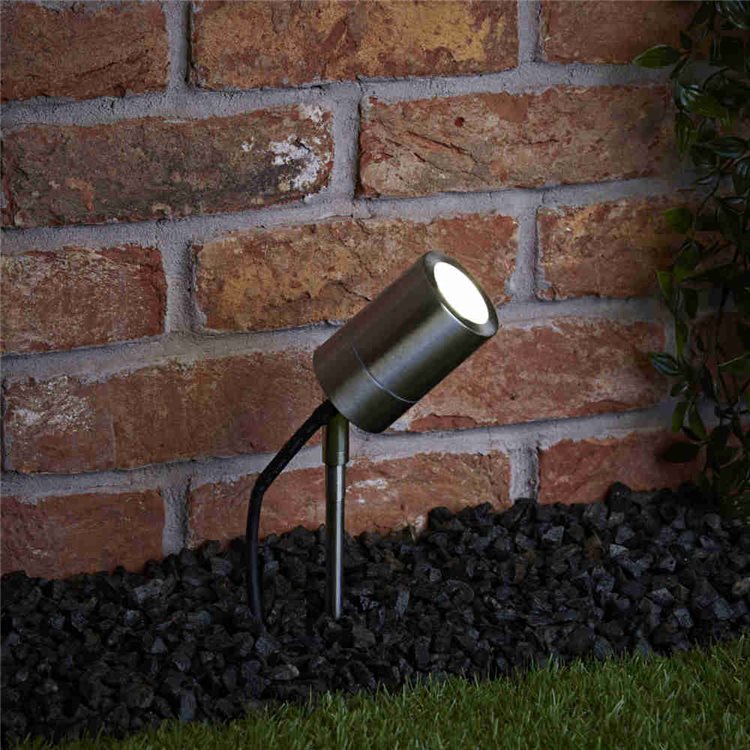 Garden spike lights are great for creating a focus light onto a specific feature like a tree or a sculpture. They make a perfect lighting fitting for extending the view down the garden and giving depth to the space.
Another thing we like about these fixtures is they can light wider areas using spikes with a flood beam. They're helpful for uplighting a hedge or brick wall where a diffused effect is needed.
Further, the beauty of the spike lights is that they can be re-positioned for the best effect. If your planning scheme changes from season to season, this outdoor lighting can adapt.
At last, they're ideal for low-level lighting planting as well. For instance, your low-level bedding can be lit as an infill light between features. If you're looking for one, then you're going to like this!
Biard Garden Spike Light
Price: £12.00
This unit comes in 10 aluminium spike lights. They're easy to manage and can be up and running in no time at all. Whether it's for creating soft lighting against the wall, these are your best bets!
Not only that, but they also work well in highlighting your flowers and shrubs. Changing the mood in your outdoor space couldn't be simpler, indeed!
Create ambient lighting for your garden with this Biard garden spike light.
7. Decorative Garden Lights
In addition to the lighting fixtures above, decorative lights are another way to enhance the beauty of your yard. They're all about creating a mood and adding interest to the space.
A great example of this is string lights, fairy lights or LED-shaped garden lights. Use them in a low hedge, hanging tree, or bare wall to create a small secluded and well-lit spot on a lawn.
Take a cue from these two LED heart-and-star-shaped decorative fixtures!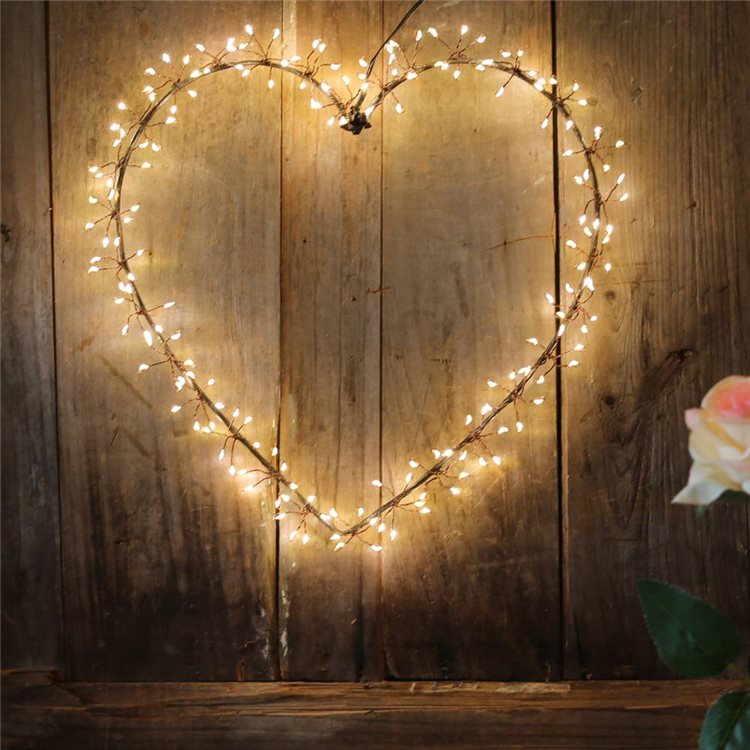 BillyOh LED Heart Light
Price: £24.00
This lovely 35cm heart light is made up of 120 warm white microlights that give off a cosy and inviting glow. You don't have to look to the skies for some sparkle!
It's a battery-operated light (4 x AA batteries are not included) that comes with its own timer function. All you have to do is press the button, and it will remain on for 6 hours and off for 18, bringing your evenings to life.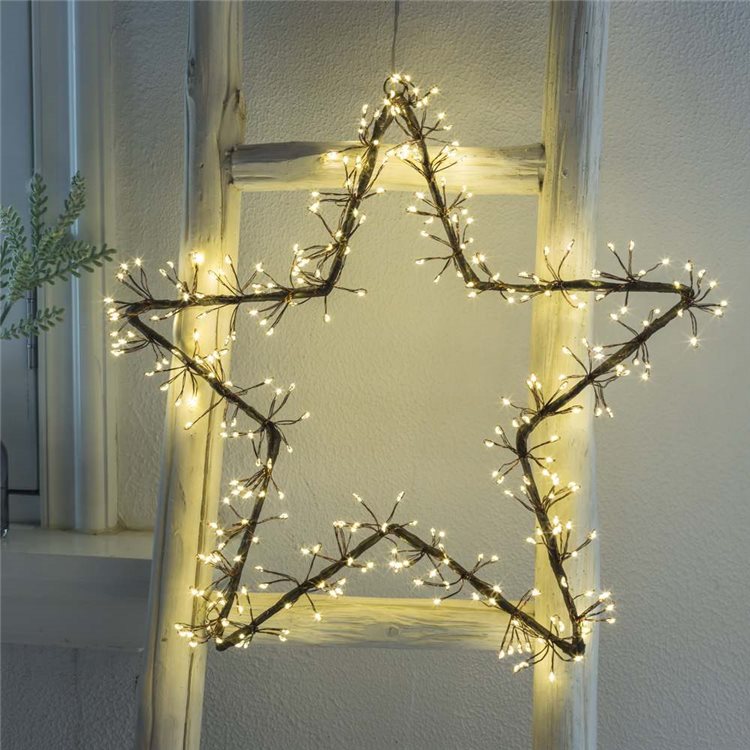 BillyOh LED Star Light
Price: £21.00
This novelty 30cm starlight is entwined with 100 microlights that give off a warm glow. The classic star shape will look great outdoors, adding a whole new dimension to the space – and perfect as a Christmas lighting idea!
Garden Lighting Explained: Round-up
Lighting is often considered to be a key element of garden design. There are tons of options when it comes to garden lighting, with each achieving different effects.
With this list, you're at a great starting point. For one, you won't have to trouble yourself with overwhelming light source selection.
And luckily for you, we also included links to our best outdoor lighting products to make your shopping easier. Once you're fully decided, add it to your cart, and BillyOh guarantees you'll receive your item in no time!
Bonus: we've also compiled a shortlist of FAQs to answer more of your questions. Feel free to check them out and see if any answers your query. Hopefully, they do!
Shop Garden Lighting
FAQs
For step lights, 12 to 100 lumens are recommended. 50 to 185 lumens for hardscape lights. 700 to 1300 lumens for floodlights, while 50 to 300 lumens for landscape (50 should be enough for small garden shrubbery.
The best and ideal colour for outdoor lighting is warm white (2700K). It's deemed to be more welcoming and soothing, unlike higher colour temperatures.
40 watts and lower. Up to 40 watts is ideal for lighting pathways, garden beds, and other landscape areas. Meanwhile, 40 to 80 watts are great for brightening areas like driveways and smaller yards.