In our recent post, we've shared our favourite potting shed storage ideas. Today, we'll focus on general shed organisation ideas to get the clutter off your space and mind.
Garden sheds are the number one solution when it comes to storage problems. But this advantage has led many owners to go overboard.
Some can't even get inside, let alone use the building. So our team has put together these handy shed organisation ideas so you won't end up being one of those people.
1. Invest in a quality garden shed
Wooden sheds make an excellent investment if you're looking for a unit to invest in. Opt for a pressure treated model to cater your storage requirements for many years to come.
Here at BillyOh, we have an extensive range of sheds guaranteed to meet all your needs. Your one-stop shop for storage solutions!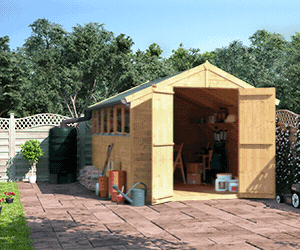 2. Install cabinets and shelves
Many gardeners tend to leave everything on the ground, and we don't want you to do the same thing. Instead, keep them in one place, either in cabinets or shelves.
Floating cabinets and shelves are great for freeing up the floor space. Ideal for planters and cleaning supplies.

3. The power of pegboards
An effective way to maximise your space is by installing a pegboard organiser. This is where you can show off your variety of garden tools, accessories and spares.
The best part? They're readily available on your wall!

4. Alternatively, build a rack
Installing a rack high up in your shed can free up your floor space as well. This organisation hack allows you to arrange them in a more space-efficient manner.
Racks installed on walls offer space for shovels, spades, rakes and other tools that need to be hung.

5. Hang up the items that need hanging
This practice especially applies to garden hoses. If you have one, roll it up and hang it instead of leaving it on the floor after use.
Otherwise, it can take up a huge space in your shed. The worse is it also has a habit of untangling itself, which can cause you to trip on it.

6. Take advantage of magnetic strips
Looking for a unique way to store your small metal tools? A magnetic strip organiser will do it!
Add magnetic strips on the wall or the side of the table with a magnet bar. Ensure the strips are strong enough to hold all your tools.
7. Add a potting bench
Storage sheds make a great alternative to potting sheds. It's just a matter of organising the space to make it fit for the job.
Adding a potting bench, for one, gives you a dedicated place to do gardening work. Plus, the messiness of working with plants will stay in that area only. In short, less chaos!

8. Make use of containers
Containers are ideal if you're storing chemicals in your shed. These include pesticide spray, weed killer, paint, and treatments.
Placing them in a storage container will keep them safe from outside exposure. Opt for heavy-duty plastic bins for storing them.
9. Consider freestanding shelving units
As for your tubs and bins, use freestanding metal shelves to keep them organised. What's good about free-standing metal shelves is they can be transferred anywhere.
In that case, if you need to reorganise, it wouldn't be a struggle for you to move them around.

10. Utility hooks
If you own a tent, tailgate or sporting equipment, sturdy hooks can keep them in one place. Take them off your workbench, from the floor or the corners of your shed and install utility hooks on the wall.
These garage storage ideas might help!
11. Reuse bookshelves
When it comes to cost-effective storage solutions, you can't go wrong with creative upcycle ideas for gardens. Reusing an old bookshelf is a good starting place.
If you have an old one at home, use it to store your painting materials or anything you want to keep out of sight.
12. The practice of putting things away immediately
Make sure to toss away the stuff you no longer need or use, mainly if they take up too much space. This applies whether you own a small or large shed.
It could be an old wheelbarrow you haven't used for years since you got a new one. Remember to keep only the tools and items you need to create as much free space as possible.

Round-up
If your shed has been used as a dumping ground, clutter is inevitable. Luckily for you, our list of shed organisation ideas is ready to help you clean up your shed mess.
It's time to put an end to your clutter-headache, tripping over garden tools and getting tangled up in wires. Having a minimalist garden idea also works well in keeping your outdoor stage neat!