These minimalist garden ideas are more of a 'less is more' approach in the gardening world.
A minimalist garden design focuses on aesthetic principles based on a 'minimal' perspective. It's a method that any landscaping scheme can benefit from it to some extent.
For one, it minimises clutter and makes the yard feel more spacious and low maintenance. Traces of minimalism were also handed down to Greek garden design ideas!
Here, we've put together a list of minimalist garden ideas to help you create a calming space of your own.
1. Keep your furniture focused on simplicity
The key to good minimalist design is to create simple, clean lines free of clutter. For garden furniture, you'll want a sweeping, open look that is soothing to the eye.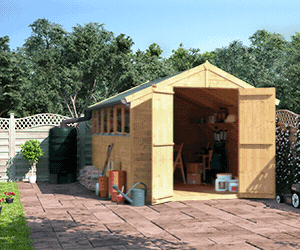 Stick to wooden materials and neutral tones – like the BillyOh Windsor. Add a spot of colour around as a focal point, such as with plantings.

2. A miniaturised garden
When talking about minimalist gardens, Japanese garden ideas are a favourite. Visualise your outdoor spaces as a miniaturised nature. Pair plants in twos, threes, fives, and sevens. Incorporate stone, moss, and evergreens for a timeless and serene backyard.

3. Minimal foundation with well-planned hardscaping
Hardscaping is the answer to a clean, uncluttered, low-maintenance look at paving materials. Paving ideas used in the place of plants can create a stunning yard setting in a minimalist style.
For a flush of lush greenery, accented the paving stones by a few tough xeriscaping type plants.
4. A hint of privacy with hedges
Thinking of creating a barrier around your backyard perimeter? Carefully clipped hedges are a great garden privacy idea, offering you peace of mind. For consistency, evergreens make an excellent hedge and as individual plantings throughout.

5. Choose your materials
Enduring materials that can hold their own in a balanced composition is an ideal choice. By this, we mean using material that's hardy and weather-resistance.
Use limestone for the patio, steel for the planter, and gravel, bamboo, and boxwood in an asymmetrical composition, for instance. These qualities ensure your garden is almost maintenance-free.

6. Greenery selection
Choose plants that provide structure and perform year-round. Deciduous trees such as crepe myrtle, stewartia, and the birch are fantastic.
Perennial flowers like echinacea and ornamental grasses like Pennisetum also work well. For an all-season greenness, opt for evergreens like boxwood, bamboo, laurels, and pines.

7. Container gardening approach
Another good way to bring variety and interest to your minimalist hardscape is container gardening. This planting method will allow you to cultivate various types of vegetation.
If you wish, add more lush vegetation or even edible fruits and veggies – other than flowering plants.

8. Consider raised beds
Raised bed gardening is an excellent choice for minimalist planting. Using brick or stone as borders adds a modern touch to the space, simple yet attractive. A great alternative to container gardening!

9. Introduce Zen
Minimalism is very present in Zen garden ideas. Not only gardens can benefit from aesthetics but also a sense of tranquillity and peace.
It's a space with a minimalist landscape with natural elements of rock, gravel, sand, and wood. Usually with plants and some water features around.

10. Make your space more functional
In a minimalist garden, you can also add recreation areas. A great example of this is a swimming pool, an outdoor kitchen, or a playhouse for children. This will make your garden more practical for your lifestyle.

11. Make everything balanced
Experts recommend making the design balanced with the space to create a relaxing environment that you can enjoy for a long time. This will help you define the space and the elements much better. Colour and texture should help balance your garden.
12. Limit the amount of materials
Try to limit the amount of materials, including the colours. Too many things and flush might not look as aesthetic or clean. Choose the option with the best finish for the function you want to give your space.
13. Go for neutral colours
Neutral colours are a bit more relaxing and also very discreet. To delimit the space of your garden, use corrugated glass panels as they can help create texture.
14. Use limestone block wall
A limestone wall has a lot of presence and is perfect in a minimalist garden design. It combines perfectly with a gravel floor. It's very minimal that creates contrast when used as an overall part of the design.

15. Brick paths
A brick path has a unique texture, and its colour can make a minimalist garden stand out favourably. Consider the thickness of the pavement and the details of the roads. This will help define the space with much cleaner lines.

Round-up
A minimalist garden is dynamic and beautiful without demanding too much upkeep. It presents a simple and uncluttered elegant, relaxing appearance.
We hope our minimalist garden ideas will help you create your own 'less is more' oasis. But don't solely focus on aesthetics – make the space inviting and comfortable, too.