Looking for ways to revamp your backyard for less? We've simplified a long list of ideas with little-to-no cost involved to help you get started.
Trash to treasure? Explore these DIY projects to save money in the garden!
1. Whimsical owl
Made from old items like CDs, forks, bottle caps and buttons, you can recreate owl props for your garden! Check out this lovely shimmery yard decoration that would also look cute on the front porch.
2. Tool gate
Turn your ageing gardening tools into a decorative garden gate. It's best to use tools with wooden handles as you'll need to secure them to the frame.
Or opt for metal ones and solder them to put everything into place – just like this one below!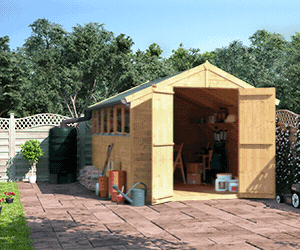 3. Silverware wind chime
Add flair to your garden with this DIY beaded wind chime. All you need is some of your unused silverware and beads to bling it up. Check the guide for a complete list of materials.

4. Hose wreath
Worn out tools may no longer serve their purpose for gardening. But you can breathe new life into them as an interesting garden wreath.
The good thing about this is you can hang it on your tool gate, and it doesn't require any care.
5. Bug house
Garden bug hotels help benefit the bugs in terms of their ecological importance. Luckily, they're easy to make and won't cost you that much. Here's what you need.

6. Tool trellis
Let's put a fun twist on a classic vertical garden design, shall we? Take a cue from this tool trellis, giving old rusty and broken tools new life. Just ake sure to secure wood trims to the back of the tools!
7. Bicycle planter
Find an old bike at a thrift store or in your own garage. Install baskets or pots on the front, rear and at the centre for plants. Paint it if you want to make it look somehow new, but you can keep it rusty for a vintage charm.

8. Pallet furniture
Build something for you and your family to chill out outdoors with wooden pallets. This pallet sofa is one of our favourite DIY pallet ideas. It's cost-effective, unique and functional.

9. Lamp birdbath
It turns out that vintage lamps have more to offer outdoors than interior lighting. To add a whimsical feature to your garden, like a lamp birdbath, we're sharing this DIY project with you!
10. Swing it
Ease into relaxation with the help of a broken chair! Loop a rope or metal hooks underneath both sides from a sturdy tree. Add cushions and pillows to make this seat into a cosy hideout.
11. Floppy disk planter
Give your herbs and succulents a chance to grow in incredible pots, such as this floppy disk planter. Not only are they fun to make, but also they make a great garden gift idea!
What's more, you can also put these digital analogue planters in your kitchen window or desk.
12. Clock birdhouse
A decorative clock with a corroded battery doesn't have to be completely worthless. Take a look at this clock that was transformed into an upcycled birdhouse.
13. Grill planter
This BBQ has served its purpose well, but it'd be a bummer if it ended up on electronic waste disposal. Unless you turn it into a planter just like this and make your investment more worthwhile!
14. Fire pit rim
A pit made from a tire rim is one of the easiest fire pit ideas that you can do in your yard! If you want something that doesn't take up too much space, you're going to love this project!
15. Metal pipes sculpture
We can't find any reason why you shouldn't add these galvanised metal pipes to your cacti garden. They're intriguing, ingenious and prickly cool in our opinion!
16. Mosaic stepping stones
Create a masterpiece garden stepping stone from your outdated dinnerware. Place the broken pieces in a circular mould to make a round stepping stone. Add a variety of plate styles and colours to create a fabulous design.

17. Tub sofa
This is a bit different to the outdoor hot tub ideas you usually see on the web! A bizarre concept but creative and functional enough. Turn an old roll-top bath into an ornate garden sofa using this guide.
18. Kitchen utensils trellis
Encourage climbing plants to grow on this stylish and creative kitchen tool trellis. Tie a string to the utensils to create a rope ladder, then hand them above a climbing planter.
19. Water drop solar lights
This outdoor lighting idea will surely make a statement and stand out in your garden! If you're interested, check out how to do it, courtesy of The Navage Patch.
20. Curtain hammock
Take out your sewing machine and turn your old curtains into a useful hammock to relax in your backyard. Choose plain for simplicity, or go floral to blend it outdoors.

21. Flower glass bottle
Draw inspiration from these towering glass bottles that act as decorative garden flowers. Visually appealing, indeed, as they add height and character to your backyard oasis.
22. Spoon garden sign
What a quirky way to label the glory of your garden gems! Tie the spoon with a ribbon for added charm and stamp it with a sweet sentiment or something personal.
Your garden wouldn't be the same without these creative markers, we're telling you.
Round-up
The key to upcycling is to make the most of what you already have. What's more, breathe new life into old household items by giving them a thrifty makeover.
The DIY garden decor possibilities are endless. But we hope our list of ideas will inspire you to get creative and create your own upcycling ideas.
You can never go wrong with used and old items, indeed!
Shop Log Cabins
FAQs