You're definitely missing out if you haven't heard about this emerging outdoor living furniture trend. Fire pit tables are where it's at!
We are firm believers that every garden deserves the finest outdoor pieces in the world. But here's the tricky part: getting the best deal on backyard furniture.
Luckily for you, we have that product that can change the way you spend time and relax on your patio or backyard. A perfect blend of functional design, comfort and style, we introduce to you the BillyOh Capri corner set with a fire pit table.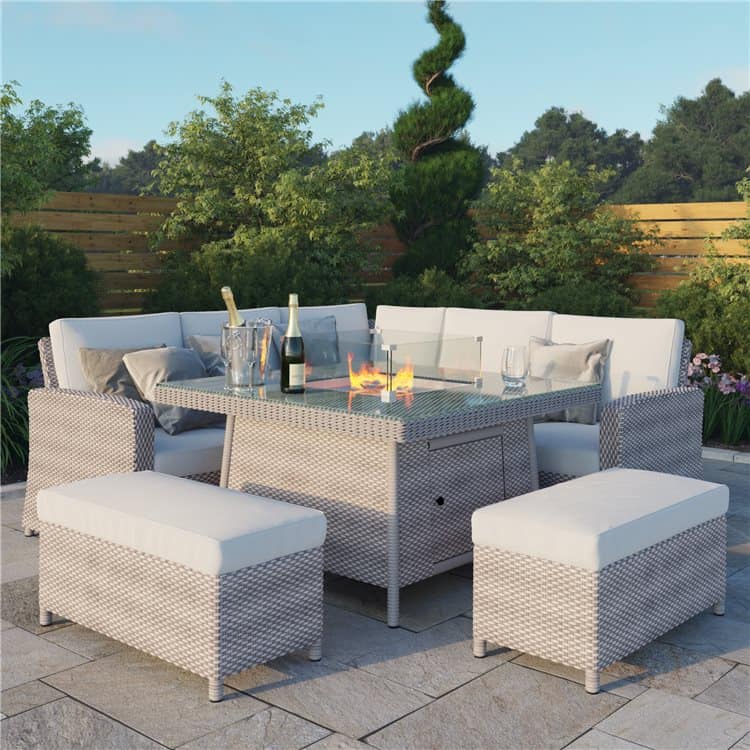 Dining Table and Fire Pit in One
Having a dining table in your garden allows intimate rendezvous. When decorated with china, linens, and candles, it adds a whole other element to the space.
A modern fire pit, in contrast, offers an incomparable outdoor experience. On top of creating an alfresco lounge area, it adds ambience and makes your garden setting a multi-season space.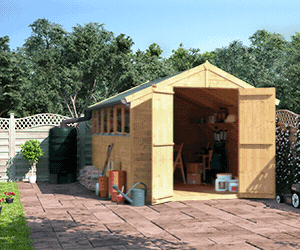 If there's one thing that these two have in common, it's the entertainment that both can provide. Now imagine if they came as one?
A fire pit dining table set is exactly what its name says. It's a fire pit in an actual table; a piece of garden furniture that combines a fire pit and a patio table.
There are tons of benefits to having a gas fire pit table rather than having a separate dining table and fireplace. For one, it keeps more money in your pocket to save and invest in other fixtures like garden decking.
This isn't an option when heating your backyard with an in-built fire pit. It's hard to eat anything more than snags and marshmallows off a campfire. And a few candles on the dining table aren't going to keep anyone warm!
So what does the Capri rattan fire pit table have to offer? Oh, get ready to take some notes!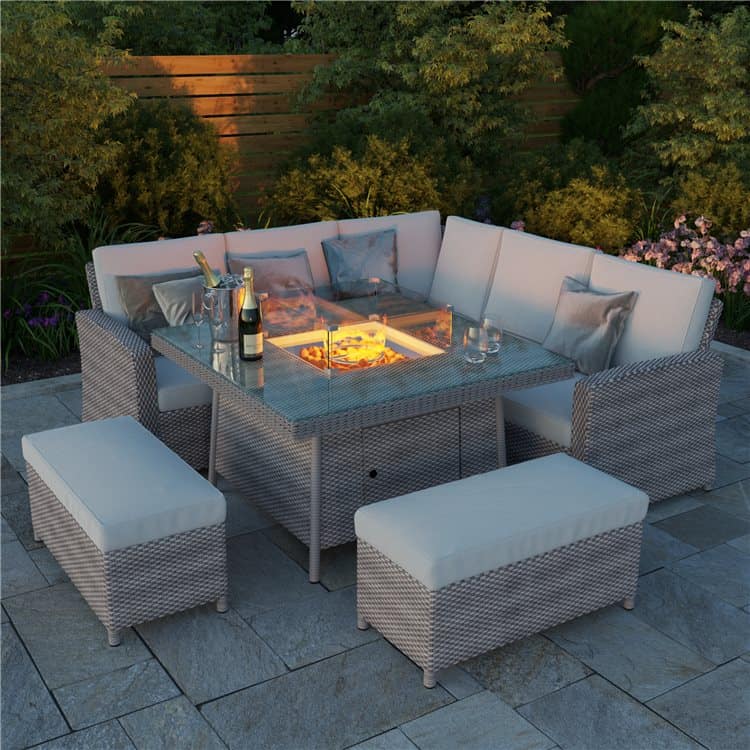 The 'BillyOh Capri Rattan Garden Corner Sofa Set with Firepit Table'
When summer comes to an end, and the cold weather is on its way, you may be forced to stop entertaining outdoors. Luckily, manufacturers like BillyOh have introduced new heat sources that you can take advantage of mostly over winter.
The Capri fits 100% of the job description! Highlighting its functionality, practicality, and aesthetics, your money won't be wasted on multi-functional outdoor furniture like this.
Worried it won't fit on your small patio? Fret not; the set is designed to be compact and to fit in the corner of your outdoor living space.
In addition to its convenient design, it also comes with benches that double up as footstools for relaxing. This dining set is the missing piece to complete the look of your deck or patio and make the most out of it!
The modern grey colour also brings a muted touch of extravagance to outdoor dining.
So what's it made from? Built to the highest specification, the Capri is crafted using reliable polythene rattan. The aluminium framework is powder-coated, too, which offers protection from rust and corrosion.
But the highlight of this luxurious corner sofa set is the built-in fire pit. This ingenious feature enables you to enjoy your garden into the later hours of the evening.
The large square table is complete with an impressive integrated stainless steel gas fire pit and a protective glass surrounding it. To satisfy your warmth desire and alfresco festivities needs, you can adjust the heat with multiple settings.
BillyOh rattan furniture sets are an investment in style and longevity. And with the fire pit table, you can enjoy your outdoor rattan set year-round!
The cost
Gas fire pit tables come in various sizes and price tags. They are also available in a variety of styles, from wicker fire pit tables to wood grain-top fire pit ones and tile-top fire pit units.
You might find a low-end model in stores for as low as £500. But if you're looking for a fancy fire pit table without breaking the bank, you can find high-end ones for £2,000- £2,500.
And guess what? You can furnish your outdoor living space with a deluxe table like the Capri and get it for only £2,249!
Don't miss out on this great deal with free delivery to most of the UK, and it comes with a 10-year warranty. Win-win!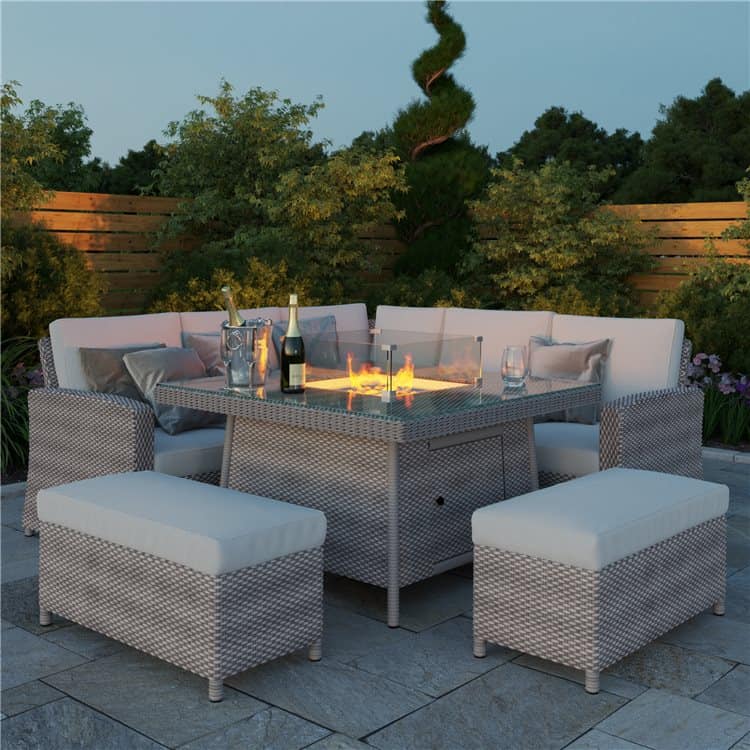 What Are You Waiting For?
Pick up a corner rattan set with its gorgeous wicker effect to have friends round for a coffee. Or, with the luxury addition of a fire pit, stay out in the evenings while staying warm and safe.
Outdoor fire pit tables make the perfect alternative to built-in fire pits and standard dining tables. At BillyOh, we've got the perfect piece of furniture and outdoor heating solution for you.
Call us at 01909 768933 or send our customer care team here.
Shop Rattan Garden Furniture