Owning a pool in your backyard is the seat of luxury. And when paired with a pool house it's an even fancier dream! And hey, we're allowed to dream, aren't we? Especially when all these pool house ideas are so inspiring!
A well-designed pool house makes summer more entertaining and year-round hosting way more chic. So if you're looking for garden design ideas, our list of inspo will get your space ready for summer!
1. Make use of your log cabin
An airy, spacious log cabin works well as a pool house – an insulated structure is ideal. The right cabin unit will give you year-round use of your investment. You can enjoy a warm, comfortable swim, and at the same time, leisure in a covered retreat.
2. Go big with a two-storey structure
Does your garden have limited space, but you're willing to spend a fortune for a luxe pool house? Consider a two-storey pool house to have extra square footage.
This means you'll have more rooms for comforts, and a roof deck for entertainment sounds like a smart plan!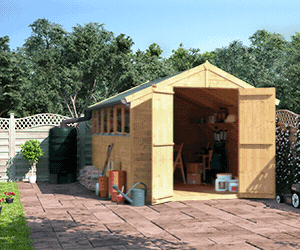 3. Make space for storage
The ideal pool house should have enough storage for keeping all those pool essentials. Separate the storeroom, for instance, from the lounging area to keep the space structured.
You may have it in the attic, and if so, make it accessible with a ladder.
4. Optimise the exterior
This is especially important if you own a small pool house. Make the most out of its exterior by bringing the shower out. Pull it together with a built-in bench, hooks for towels, and a small changing room for privacy.
5. Provide a source of shade
Every summer backyard oasis needs a shady retreat. Enter the pool house! But if the structure alone isn't enough as a garden shade idea, incorporate awnings or parasols.

6. Cabana in stone concept
A stone cabana pool house gives off a major rustic and Mediterranean garden vibe. Add a large fireplace flanked by built-in benches, and it'll look like a castle in a hidden paradise.

7. Pavilion all the way
A modern structure pavilion isn't your ordinary take on a pool house design. Make it more dramatic by adding wood accents with a lit tray ceiling.
A fireside lounge and a full bar make the space the perfect hangout spot with friends, and the pool is a bonus!

8. Keep the space open and airy
To make the most of the summer heat while prioritising comfort, keep things open and airy. Opt for a retractable door or floor-to-ceiling glass doors that let the breeze inside.
Sheers or linen curtains will give the space a more dreamy feel.

9. Add a bar space
Optimise your pool house for outdoor hangs with a garden bar idea. This way, you can have a place for prepping cocktails.
And since you're most likely to use the space during the summer, add a ceiling fan to keep it cool. Opening the windows also works, allowing for fresh air to flow through.
10. An airy converted greenhouse
Most garden buildings can be transformed into a pool house, such as a greenhouse. Our garden room ideas are living proofs! Feature a seating area with wicker chairs gathered around a cocktail table for an ultimate summer vibe!

11. Blend it into the landscape
Blend your pool house to the landscape so it won't dominate your outdoor space. Experts recommend matching the pool house's width with the swimming pool.
This ensures your yard's beautiful surroundings remain the garden's main feature. Creating a visual link with a hardwood sun lounger next to the pool also does the trick!
12. Double it up as a storage space
Even a small pool house can be a practical addition to your space. When set upright, it can provide useful storage not only for pool equipment.
It's nice to have your pool and garden cleaning supplies to keep them in a place to which kids don't have access. Our potting shed ideas can give you the organising inspiration you need!
13. Use retractable glass for the door
Contemporary glazing works well in opening up a pool house to the pool area. For this, use retractable glass walls to expand your pool house to the pool deck. Best for those who live warm as well as four-season climates.

14. Add a game room
If the space allows it, set up a game room. When everyone is done playing in the way, they'll want something to keep them occupied inside.
A savvy ping pong table is an excellent form of a fun and challenging outdoor game.

15. Top it off with a thatched roof
To give your pool house a more vacation feel, a straw roof will have you dreaming of summer vacation. Paired with raffia pendants and panelled wood floors, you'll have a tropical beach shelter in your own yard.
Pool House Ideas: Round-up
The best way to cool yourself off during the summer season is to dive into the pool and then relax in a pool house. Other than throwing the ultimate summer garden party ideas, of course.
But suppose you don't have a pool – just inflatable hot tub ideas. Even so, our curated list of pool house ideas is sure to accommodate your needs. 
There's something for you that will make your dream backyard getaway come true!