When it comes to making the most of your patio spaces, having a covered seating area can be a game-changer. Be it relaxing with a good book or entertaining friends with rattan sofas. Or simply savour the fresh air in all weather conditions on a homey garden bench. Regardless, these 10 covered outdoor seating ideas have got you covered.
We've curated a diverse range of designs to inspire your garden oasis. Keep reading!
1. Cosy canopy nook

Oh, to have a tranquil escape to call your own! This calls for a cosy outdoor nook embraced by a graceful canopy in your backyard.
Begin by situating weather-resistant seating, such as the Jack and Jill seat. Pile on soft, natural seat pads adorned with vibrant patterns that reflect your style. Enhance the ambience by draping sheer curtains for privacy and an ethereal touch. This design is versatile, offering a serene space for: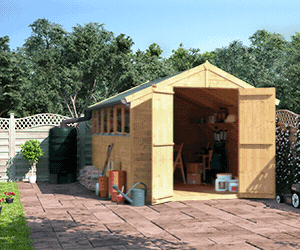 unwinding with a book

enjoying a cup of tea

simply soaking in the serenity of the outdoors
Truly, it's a haven for relaxation and uninterrupted reading pleasure.
2. Pergola paradise

(Image Credit: Wikimedia Commons)
Elevate your outdoor seating experience with the timeless allure of a pergola. A pergola creates an inviting retreat that seamlessly merges with nature. Its open framework offers a balance of sunlight and shade, perfect for basking in gentle breezes. The structure itself imparts a sense of organisation to your outdoor space.
Enhance its charm by adorning the beams with lush climbers, creating a living canopy. As dusk falls, weave string lantern lights through the foliage. This addition will cast a warm and enchanting glow for memorable evenings.
3. Rustic farmhouse veranda
A rustic farmhouse-style covered veranda gives off a timeless haven that exudes charm. Crafted with natural materials like weathered wood, it evokes a sense of authenticity.
Embrace the nostalgia by furnishing the space with vintage-inspired furniture. Think wooden garden chairs like this teak steamer chair. Complete the picture with accessories such as antique lanterns and weathered signs.
This covered veranda beckons you to unwind. It transports you to a simpler time where every creak of the floorboards tells a story.
4. Modern minimalist patio
Immerse yourself in the serene embrace of a modern minimalist-covered patio. This design boasts a clean and sleek aesthetic that embraces the essence of less is more.
Neutral colours like whites, greys, and muted tones dominate the palette. The aluminium patio furniture follows suit, with sleek lines and uncluttered forms. Embracing the ethos of minimalism, this space urges you to let go of excess. It creates an oasis of tranquillity in return.
This covered patio invites you to savour the beauty of open space. At the same time, while maintaining clutter-free surroundings. Check out these minimalist garden ideas for more!
5. Bohemian-inspired retreat
Step into a world of carefree enchantment with a boho-style covered outdoor seating. It's a tapestry of vibrant patterns and a melange of textures. Consider floor cushions adorned with intricate designs. Hang decorations that sway with the breeze, infusing the space with an air of whimsy.
This design radiates a relaxed and eclectic vibe overall. It's an outdoor haven that captures the essence of free-spirited living.
6. Poolside cabana

Indulge in the allure of a covered seating area by the pool. Enter the cabana – a retreat offering both shade and privacy. Revel in moments of tranquillity while being shielded from the sun's rays.
Furnish this oasis with water-resistant materials such as rattan garden furniture. These elements ensure durability and comfort, allowing you to unwind without worry. With the glistening pool as your backdrop, this cabana becomes a sanctuary of leisure and luxury.

Envision a tranquil garden escape through the enchanting concept of a gazebo. These architectural gems stand as secluded seating retreats. Adorn with ornate and decorative elements, they can evoke a sense of opulence.
Elevate the ambience of your BillyOh gazebo by draping flowing curtains. This will provide an intimate cocoon while allowing nature's beauty to seep through. Furnish the space with plush seating, harmonising comfort and aesthetics.
Amidst the lush surroundings, a Sunjoy gazebo transforms into an inviting sanctuary.
8. Converted shed space

Witness the ingenious trend of transforming forgotten sheds into covered outdoor lounges! Repurposing an existing structure offers an eco-friendly advantage, minimising waste while maximising potential.
These spaces can be insulated and equipped with electricity, enabling year-round comfort. The once-overlooked shed now bridges indoor cosiness with the open-air charm. Furnished with the right garden furniture, say no more!
9. Balcony bliss
For urban dwellers, the idea of covered balcony seating bares a slice of outdoor paradise. Adorn this petite canvas with compact furniture pieces, purposefully designed to fit snugly. Take this rattan 8 seater cube, for instance.
Introduce vertical gardening, elevating greenery to artistic heights while conserving floor space. Every inch matters, magnifying the significance of optimising small spaces in urban settings. And this covered balcony becomes an idyllic escape!
10. Rooftop lounge

(Image Credit: Wallpaper Flare)
Elevate your perspective with the captivating concept of a covered rooftop seating area. A canvas above the city's tapestry, it offers panoramic views and an open-air ambience.
Transform this high-rise sanctuary with plush, weather-resistant garden sofas. Ensure comfort and sun protection by adding cushions and a stylish 3m parasol cover.
Round-up
We hope you've found inspiration to transform your outdoor space into a haven of comfort and style. Each design offers a unique way to connect with nature and create cherished moments. Embrace the diversity of styles and tailor them to your preferences. Most importantly, let your covered outdoor seating area become a personal oasis!
Furnish the space with our range of BillyOh garden furniture to complete the look. If the space allows, consider adding an outdoor structure, such as a log cabin or a summer house.
What you should read next: Modern Garden Ideas