The growing trend of utilising every nook and cranny of outdoor living spaces is eminent. And corner garden furniture has emerged as a stylish and practical solution. With one, it can transform those overlooked corners into inviting and functional areas.
In this blog, we will uncover what this approach to corner furniture is. Also, we'll provide you with some tips on how to optimise your space with various types. Let's unlock the full potential of your once-overlooked corner on your patio, shall we?
Corner Garden Furniture
Corner garden furniture is specifically crafted to maximise and utilise corner spaces in:
garden

patios

balconies

any outdoor area
As the name suggests, it takes advantage of the corners, offering a smart and efficient use of space.
What sets it apart from other types is its unique shape and configuration. It can seamlessly fit into corners and make the most of often underutilised spaces. It often features sectional or modular designs. This structure can be combined and rearranged to create a custom seating formation.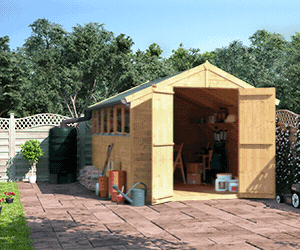 Take the BillyOh Verona, for example. It's a modern, spacious five-seater corner sofa set with a large coffee table. Perfect for spreading out and relaxing or organising a get-together!
Overall, corner garden furniture offers a practical solution for those looking to make the most of their outdoor areas.
Positioning and Arranging Your Corner Garden Furniture

Strategic placement is key in maximising the potential of your corner set. Consider the size, shape, and layout.
To assess the size and shape, start by measuring the available space accurately. Consider any architectural elements, such as walls that may impact the placement. Take note of any obstructions or features you want to work around or highlight.
This will provide a foundation for selecting appropriately sized furniture. Plus, in determining the best arrangement options.
When it comes to placement ideas, there are several approaches. Placing furniture against a wall can create a cosy and intimate seating nook. Top tip: combine with cushions, pillows, and soft lighting.
Positioning your furniture under a pergola can also provide shade and shelter. This trick is ideal for hot summer days or light rain. Alternatively, situate the furniture near a focal point. It can be a water feature, fire pit, or garden sculpture. Doing so can create a captivating and visually appealing outdoor retreat.
Focus on arranging the furniture in a way that promotes conversation and accessibility. Consider the seats needed and arrange them to face each other or towards a central point. Leave enough space for comfortable movement around the furniture. Experiment with different layouts, such as L-shaped or U-shaped. This will help you find the configuration that best suits your corner space.
Enhancing Comfort and Style

Outdoor cushions, pillows, and throws enhance comfort and aesthetic appeal. They also provide extra support, making your outdoor seating area feel more at home.
When selecting these accessories,  choose fabrics and materials suitable for outdoor use. Opt for materials like acrylic, polyester, or Sunbrella® fabric. These are durable, fade-resistant, and weather-resistant.
When it comes to colours, patterns, and textures, consider your outdoor design scheme. Choose cushions and pillows that complement or accentuate your existing colour palette. Play with different patterns and textures to create depth and dimension. Stripes, florals, or geometrics can all work well, depending on your desired ambience.
Outdoor rugs, side tables, and lighting can further elevate your corner seating setup. Outdoor rugs define the seating area, adding warmth and style. Side tables provide convenient surfaces for placing drinks, snacks, or decor items. Outdoor lighting, such as string lights, sets the mood.
Inspiring Ideas
Corner garden furniture offers endless possibilities for creative and functional outdoor designs. Let's explore some design ideas that can be achieved with this versatile furniture:
Reading nooks
Transform a corner of your garden into a serene reading retreat. Place a comfortable corner sofa or a cosy armchair with a small side table nearby. Add soft cushions, a throw blanket, and a bookshelf or storage for your favourite reads. Surround the area with lush greenery for a secluded and tranquil reading spot.
Outdoor dining corners
Create an intimate dining area in your garden with corner garden furniture. Choose a corner dining set or a modular table with benches that fit neatly against the walls. Enhance the ambiance with decorative lighting, such as string lights or lanterns. Add a pergola or canopy above for shade and hang outdoor curtains for privacy.
Entertaining and gathering areas
Arrange your corner garden furniture to accommodate social gatherings. Create a conversation pit with a sectional sofa and armchairs facing each other. Add a fire pit or a central table for drinks and snacks. Use versatile ottomans or pouffes as extra seating options. Consider a built-in bar area or a mobile serving cart for easy entertaining.
Round-up
Corner garden furniture sets present a remarkable opportunity to maximise your outdoor space. Let your imagination soar and adapt these concepts to fit your style and preferences. It's time to transform those neglected corners and make the most of your garden!