The temperatures start to drop, and bright hues of red, scarlet and crimson begin to pop up while leaves gently drift towards the ground. The spell of autumn is just around the corner. 
Is there any better way than making the most out of it outdoors, in the comfort of your garden? The sound of crunchy leaves underfoot is always music for the heart.
Overall, autumn in your garden is beautiful in its way. Even so, with a bit of planning, you can make the most of this season in your garden.
Embrace the new season with a new planting scheme, decorating and tidying up. These autumn garden ideas will help you get started – in the sweetest of ways, just like warm cinnamon apples!
1. Celebrate the autumn harvest
This season is a bountiful one, yielding pumpkins, winter squash, and apples, to name a few. Whether homegrown or store-bought, they make a great garden display with baskets.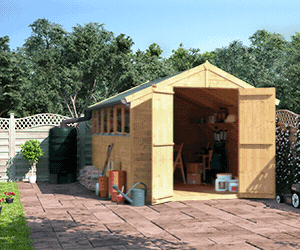 Place them in a seating area, front porch, patio, or garden gate for a welcome splash of colour.

2. Grow in upcycled containers
Many autumnal plants can be grown in containers, and recycled ones can add a quirky touch. Besides terracotta pots that match the season's colour, you can use DIY planters.
This includes tins, wine boxes, colanders, and even old boots – give them a fresh lick of paint if needed. Drill drainage holes and fill with plants that can provide colour throughout winter.
Top tip: Play with dynamic combinations of annuals, perennials, and grasses (Chrysanthemums, Asters, and Flame grass).

3. Use fallen leaves as compost
Autumn leaves are a valuable source of soil-improving organic matter, good for compost. If your compost bin is full, rake the crispy leaves into heaps under established trees and shrubs.
They'll decompose over time, and you can feed them to your soil by next summer. Doing this also ensures the leaves won't smother your low-lying plants or lawn.
Most importantly, your garden will be surrounded by beautiful autumn colours.

(Image Credit: Wikimedia Commons)
4. Install IP-rated outdoor lights
No matter the season, outdoor lighting ideas are a superb way to add interest to your garden. An IP-rated weatherproof is ideal, and the design is up to your landscape.
Up & downlights are perfect for highlighting a wall or tall plants or creating a low-key ambience. Or opt for string lights if you want to introduce a bit of romance and hang them on trees or fences.

5. Trim the bushes and shrubs
When your bushes and shrubs go yellow, or the stems begin to bend, that signals for cutting and trimming. How much you should prune depends on the variety you grow; a quarter of their size is a general rule.
When neatly done, a tidy fall garden awaits, taking out the melancholy sight of withered plants.

6. Double the warmth with a fire pit
Fire pits are the epitome of cosy autumn nights. Adding one to your patio lets you create the ideal fall hygge garden.
Position it in the middle so you have plenty of room to move around. Also, ensure nothing is hanging nearby that could catch fire. 
Invest in a stylish unit that offers protection from ash, just like this Alaska fire pit ring.

7. Cultivate potatoes in sacks
The beginning of cooler weather doesn't have to mean the end of growing vegetables. Take potatoes, for example.
With a little skill and good timing, you can grow them in sacks in time for Christmas. For this, use cold-stored potato tubers.
Note: Sacks provide good yields with less cost and damage to the harvest.

8. Play with the autumnal light
Have you seen a Japanese maple that radiates a burst of beautiful, warm autumn sunshine? That sets one of the best examples of how fall sunlight can be breathtaking.
If you have one in your yard, expect an artistic context for your outdoor space. It doesn't have to be full-grown; 5 feet below is great, as this will allow fallen leaves to have their own flare.

(Image Credit: Wikimedia Commons)
9. Introduce mixed borders
Focus on structure and include contrasts in texture. Experts recommend a monochromatic palette and various leaf shapes for the borders.
Add further detail at ground level with autumn bulbs that will emerge with the fallen leaves. A mix of Crocus, Dahlia, Begonia, and Cyclamen makes a fine fusion.

10. Dress up your arbour
Enjoy the warm autumn days with a seasonally-themed garden arbour. Choose climbers that can enhance the charm of the fall season, and let your arch train them.
Boston ivy, for one, doesn't only lend greenery in the summer but also provides reddish colour in fall. Grow them in the springtime to get lush autumn leaves on display.

11. Add water gems
Autumn colours are lovely, but even better if reflected in the water. A pond would look satisfying if you have a large garden, but a small fountain will do the trick if the space is limited. 
Note: Remove debris, as decaying leaves can produce toxic gases, harming your fish.

(Image Credit: Wikimedia Commons)
12. Use contrasting colours
Yellow, green and purple colour combinations are great. Russian sage, Calendulas, and ornamental grasses can punch up your autumn landscape.
Also, add at least one tree, such as a Chinese pistache, for a fall foliage display. The leaves change from gold to crimson, creating a spectacular landscaping scheme.

13. Welcome the wildlife
Your fall garden can provide important habitats for wildlife like birds and hedgehogs. Put out the bird feeders and pile up the leaves and logs for hibernating hedgehogs.
Plus, trim and leave plenty of foliage at or near ground level. Not only will the insects and birds be thankful, but it may also protect new shoots from late frosts.

14. It's time for topiaries
Clipped topiaries can offer contrast, form and structure to your garden. Boxwood, privet, or yew can also provide a welcome foil for the season's flashier foliage.
Sculptural forms contrast well with ornamental grasses or shrubs, too. Have a look at this Sleeping Beauty design – it looks more interesting as the leaves change to autumnal colours.

15. Have a dedicated resting spot
A well-placed bench or a companion loveseat can give you the best spot to appreciate the season's passing. For your new seating nook, look for places you'd naturally be inclined to repose.
An area that catches the afternoon sun is perfect, or somewhere against a wall to admire the garden from.

16. Bring movement
Ornamental grasses sway with the slightest autumn breeze, adding movement to the garden. Taller grasses with upright stalks work well along fences and walls.
On the flip side, smaller, wispy ones will look great in front borders to soften a pathway.

17. Plant ahead for Christmas
Make the most of your autumn garden by preparing for the upcoming festive season. Arrange the evergreen sprigs and cheery perennials, such as Poinsettia.
Known for their red and green foliage, they're effortlessly perfect for Christmas. But in fall, Poinsettias create a stunning peachy yellow mixed with a pale pink display.

(Image Credit: Wikimedia Commons)
18. Spruce up your doorstep
Fall-themed containers placed by the front door create a welcoming entrance. Go for pottery in warm and neutral colours, such as terracotta pots.
To give you an idea, arrange bronze grasses, plum-coloured coral bells, and jasmine in a pot. This layout will create an understated autumn display that'll also look good on decks.

19. Invest in a rattan garden furniture
Fall is not all doom, cold and gloom. You can still get out in enjoy the weather. And to get comfortable while outdoors, equip your patio with high-quality furniture.
Investing in functional rattan garden furniture, specifically, ensures you'll have comfortable autumns. The best part? It's as good as sitting on your patio on a summer day.
With the Marbella, you can throw a garden party to wave goodbye to summer and a welcoming one for fall.

20. Give your garden building a makeover
With a combination of a few basic fall staples, you can put together an easy display for your outbuilding. Pumpkins, chrysanthemums, and hay barrels can be your basic formula for decorating.
Showcase a variety of pumpkin shapes, sizes, and colours. The bigger the mums, the better! What's more, use hay barrels or crates to add interesting height differences.
 Top tip: Imagine your shed or cabin's facade as your porch when decorating.

Autumn Garden Ideas: Round-up
"The year's last loveliest smile," is how William Cullen Bryant described the fall season. Knowing that autumn is beautiful allows you to take advantage of it in your garden.
Make it cosier this time of year, from your porch and patio to outdoor patches. All the work you put in now will be returned to you in the coming seasons with beautiful blooms and rich harvests.