Who would've thought that even a square-shaped garden could fit a shed and a rattan dining set?
Read on to find more brilliant tips on how to transform your square garden into a relaxing space to enjoy!
1. Open simple garden
Keep it simple with a tidy lawn and classic raised flower beds on the garden border. Using light colours helps the garden feel larger. 

2. Formal square lawn
If a formal garden is more your style, a well-kept lawn and perfectly pruned hedges are the way to go. Use geometric shapes and symmetry to create a beautiful garden for you to enjoy.
This yard lawn design also works for rectangular-shaped garden spaces!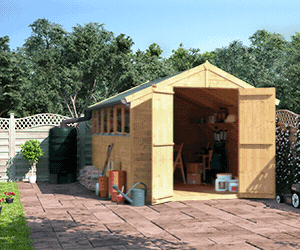 3. Garden with fireplace
The modern, clean lines and symmetrical style of this garden make it feel more like an outdoor lounge. There's even a built-in fireplace for sitting out on colder evenings! This is a great example of how to make the most of a small garden.

4. Side garden beds
Add some quirky shaped flower beds to transform the look of a plain lawned area. Plant some trees and flowers, and after a few months you won't even recognise it.

5. Small square garden with shed
Use different textures and colours throughout your garden to give the feeling of extra space and clear zones for different uses. You could also use tall plants to hide an unsightly shed or back wall. 

6. Backyard with seating
Horizontal fencing will draw the eye away to give the illusion of a longer garden. Make the most of your limited space by building seating into your raised beds or decking area. 

7. Curves in square garden
Play with shapes. If you have a square garden, add some circular shapes to break up the solid space. 
8. Small flower garden
Bring some softness to a harsh, square space with beautiful flowers and trees. 

9. Timber benches on garden bed
Create your seating spots amongst your garden beds to save some space on your patio. Adding some climbing plants to your fences will soften the harsh lines.

10. Grill, table and grass
Divide your square garden into zones to break up the space; use different materials on the ground and raised flower beds to define each area. Don't forget to add some comfy seating to enjoy the space!
11. 3-tiered corner planter
Tiered, corner planters are great for small gardens with no space for flower beds. They take up minimal space and add some colour to an otherwise dull, unused space.

12. Arranged plants and stone patio
Take a look at this pebble garden design! It uses plants and trees of different heights to make the space feel less enclosed
The varying textures used on the walls of this garden also help to break up the space.

13. Timber and artificial grass
Regular grass requires time and effort to maintain it. If you don't have much time to spend on your garden, artificial grass will save the day. 
It's easy to keep clean and there's no mowing needed!

14. Modern small garden
You don't need a large garden to create a modern-looking space. Keep it simple with clean lines and soft lighting to get a contemporary garden you can be proud of.

15. White sandstone patio
It's all about the shapes. White sandstone is a great material for you to create small decks in your backyard. The curved path softens the edges of this square garden.
16. Grass circles
Another great example of how curved shapes look amazing on a square garden. 
17. Small table
Sometimes all you need is a simple table to complete your garden look. Beautiful flowers and trees provide the perfect environment for an al fresco breakfast. 

18. Fire pit and garden beds
Here we have a seating area with a difference; it doubles up as a decked pathway. It's important to make your garden decoration multi-functional when you only have limited space. 
Add a fire pit to keep you warm so you can enjoy your garden into the evening. 
19. Urban courtyard
Every inch of this garden has a purpose. They've created distinct areas to relax, to get the BBQ going and there's even a small courtyard to enjoy a water feature. 
A perfect way to make the most of a small garden.

20. Stacked planters
Stacked planters are perfect for small gardens that only have limited space, but they also add some colour and texture to a plain wall. 
21. Table on island
Add different shapes to your garden to help it feel less enclosed. The curved lawn and gravel path are complemented by the square patios and range of plants and flowers. 
22. Shelter and concrete path
The irregular placing of the benches and the differing heights of the plants and trees help to break up the space in this garden. The trellis is a great way to hide an unsightly shed. 

23. Floor lighting
Enhance your garden after dark by adding a range of lighting to pick out your focal points and continue to enjoy your garden well into the night. 

24. Compact garden with flowers
A range of beautiful flowers and a simple table and chairs is all that's needed to create a relaxing space.

25. Bamboo roof garden
Living in an apartment is no excuse for not having a beautiful garden. Hide those surrounding high-rise buildings with some tall bamboo trees to escape the city for a while.

26. Mirrors on garden
Adding mirrors to your garden can make it feel bigger and brighter, as they reflect light around the rest of the garden and add some decoration to a plain wall. 

27. Open modern garden
Transform your garden into a simple but modern space by adding a range of taller plants and flowers in your border beds. They'll help to hide your plain boundary walls and give the garden some texture. 
This design idea will even look better if you own a large garden!

28. Modern garden and work studio
Be sure to plan out your garden revamp to make the best of your space. Even with the work studio or office at the end of the garden here, there's still plenty of greenery to enjoy.
29. Plant sections
You can keep your plants pretty but organised with these perfectly square flower beds.

30. Corner pergola
A circular lawn and curved decking area make the most of every inch in this square garden. The corner flower beds really bring it to life. 

31. White garden beds
Simple, white raised beds and tidy lawn definitely add to the modern feel of this garden. 
32. Sandstone backyard
If you're not a fan of grass, build yourself a simple patio as a base. It's a perfect blank canvas to add some of your personality to. 
33. Corner tool shed
It doesn't have to be big and it will help you keep your garden clean and organised. 

34. Modern decks
Use irregular shapes and light colours for your garden zones to help it feel larger and less like a square. You can lie down on the grass or on the comfy sofas. The choice is yours!

35. Private corner
Use some tall plants or even a hedge to gain some shade and privacy in your garden. 
36. Path around tree
If you're lucky enough to have a large tree in your backyard, make the most of the natural shade it provides. 
37. Classy garden
Keep it classy with some white furniture and perfectly-trimmed topiary bushes.  Add some symmetry for a more formal style garden. 
38. Colourful cosy spot
Add some personality and colour to create a relaxing space to distress. The yellow walls and large tiles give this garden a Moroccan feel.
39. Perfect trees
To make a small space look bigger, keep furniture and decorations to the sides and add a focal point in the middle, like these perfectly trimmed trees.

40. Wood benches and gravel
To bring beach vibes to your garden, use a light gravel as a base and add some driftwood-coloured benches. Surround yourself with beautiful plants and flowers for some much-needed colour.

41. Small vegetable garden
Grow your own vegetables in your backyard. You don't need much space and eventually it will save you a trip to the supermarket!

42. Square shapes
Square garden? Square everything! Keep it formal with perfectly-shaped hedges and well-kept lawns. 
43. Flowers and pebbles
Add some colour by planting different types of flowers and finish it off with some decorative pebbles. 

44. Grass island
Add a perfect grass circle in the middle of your backyard to lie back and enjoy the stars! 
45. Concrete fire pit
Bring some texture to your patio by adding some gravel between the stones. Add a pop of colour with some bright chairs! 

46. Mini waterfall
Even in a small garden, there's still room for a waterfall! Enjoy the calming tones of running water while you relax on your comfortable couch. 
47. Spiral garden beds
Add some height to your flower beds by building them up into an artistic spiral. These look amazing in a small garden if you don't have much room for planting.
48. Pallet garden beds
These are really easy to make and are perfect for growing some vegetables if you're short on planting space.

49. Charming garden path 
Use irregularly shaped stones to create a magical garden path. Be sure to make it winding rather than straight to make your garden feel bigger. 
The overlapping plants along the edge of the path will make you feel like you're walking in a forest, not your own backyard!
50. Cinder blocks vertical garden
Get creative with your own breeze block planting wall! Another great choice for small garden owners. 

Round-Up
We hope that this post has given you some great ideas for transforming your square garden, no matter what the size!
From adding a water feature to planting trees and shrubs, there are plenty of ways to make any space feel more welcoming. 
Happy gardening!
So why not click the button below to pick up some rattan garden furniture so you can sit back and enjoy your new square garden in all its glory?
Shop Rattan Garden Furniture