Along with garden furniture, pebbles and stones can be be low maintenance and budget-friendly alternatives to transform your garden. They also can provide a hard-wearing, weather-resistant base for plants, stepping stones or driveways.
What's more, they can give an attractive finish that can be colour coordinated with the theme of your outdoor space. We've compiled a list of ideas to help you get started.
Let's jump in!
1. Pebble arrangement for driveway
Simple, grey pebbles garden can make an attractive base for a flower bed. They can also help prevent weeds by blocking out the light.

2. Front yard pebble decor
You could use different coloured stones to create a decorative pattern in your flower beds. Larger pebbles are great for adding a border between the bed and grass, too.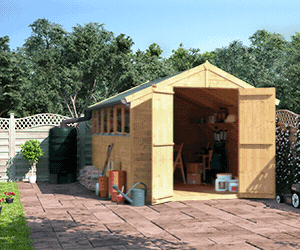 They can help prevent the smaller stones from breaching the lawn.

3. Pebbles and stepping stones
Choose simple succulents and stones in different shapes, sizes and colours to give your garden a modern, desert feeling.

4. Stepping stones made from small pebbles
You could use small pebbles to create your own stepping stones, which would provide an appealing path in your garden. This concept would be a great addition to children's garden design ideas, as well!
5. Zen garden with pebbles and stone
Add large rocks to your gravel areas for a zen garden effect. The rocks represent mountains in a zen garden, whilst the gravel symbolises the sea or river. 

6. Pebbles in garden bed
For a modern raised bed, you could add low-maintenance plants and decorate the garden bed with pebbles.

7. Modern grey garden
Grey is a popular choice for a modern garden style, as well as for home interiors. Simple grey pebbles with large stone spheres give this flower bed a contemporary feel.

8. Pebble corner in front garden
You can still create an appealing mini garden, even if there's not much space. Just add some low maintenance greenery to brighten up a dull corner. 

9. Side yard pebbles and stepping stones 
Pebbles are also a great solution for the base of your side garden if you're on a tight budget. Using stepping stones and gravel rather than solid paving helps to break up the small space.

10. Pebble and wood garden landscape
For a more rustic, beach vibe, use weathered sleepers or planks to create a pathway through your pebble flower bed. 
11. Bamboo and pebbles
Bamboo trees are easy to maintain and provide great screening. Use pebbles to cover the soil for a clean, contemporary look for your planters.
This concept would look perfect for your tropical garden theme!

12. Pebbles near gate
For a winding, more natural path to your garden gate, gravel or pebbles are the perfect choice as they're easy to manoeuvre into place in the bends. 

13. Zen corner with fountain
The soothing sound of water helps to create a relaxing zen area in your garden. Add sculptures, pebbles and rocks to finish the look. 

14. Spilled flower pot with pebbles
For a quirky flower bed that doesn't take up much space, you could go for a 'spilled' flower pot style. You could even recycle a broken pot for this idea, and just bury the broken section in the ground.
15. Pebbles and water feature
Add a water feature to your garden to help you relax a little and maybe attract some birds to your garden. Pebbles are great for drainage so provide the perfect base for a water feature. 

16. Pebble deck border
Add a small pebble border to your decking for a more polished finish. 
17. Pebbles and green sections
Take a look at this rectangular-shaped garden. Pebbles make a great filler for between the flower beds, as they can easily be scattered to fill any shape. 
18. Small pond with pebbles
Add small stones and pebbles to one side of your pond to give wildlife easy access to the water. 

19. Pebble steps in slope garden
Use pebbles and concrete to create some attractive steps to deal with a sloped garden.
20. Stone and pebble garden centre
Stone sphere fountains provide a simple but appealing decoration for your front or back yard. 
21. White pebbles
White gravel looks attractive and reflects light in different directions during the day, depending on the sun's location. 

22. Curb pebble decoration
First impressions are everything! Carefully placed pebbles provide a simple but appealing flower bed base for your front garden. 
23. Gravel and flowers
Gravel makes a great, low maintenance alternative to a grassy lawn.

24. Appealing stone and pebble path
Design your own unique pathway using large, irregular paving stones, then use small pebbles to fill in the gaps. 

25. Black tiles and white pebbles
This black and white combination will bring a modern vibe to any garden. Add some simple planting for a spot of colour. 
26. Beach pebbles
You can even place your planters on top of your pebble base for a more clean finish.

27. Pebble and stone garden bed
Pebble beds are easier to maintain than soil or grass and you can create some cool shapes and patterns.
28. Outdoor lounge with pebbles
Gravel makes a great base for outdoor dining areas as any spillages are easy to clean.

29. Wood and pebbles modern deck
Give your garden a modern feel by using clean lines for your decking and pathways. Use symmetry with your planting to keep your pebble garden bed neat. 
30. Budget friendly pebble path
Get creative with stones and pebbles from your own garden to design a one-of-a-kind pathway. 

31. Pebbles on walkway
Instead of letting grass grow between your walkway stepping stones, add some pebbles for a cool, contemporary effect.
32. Beautiful pebble garden with pond
Use pebbles of different colours and sizes to create a stylish surround for your garden beds and pond area. The smaller light coloured gravel and sculptures give this garden a Japanese feel. 
33. DIY pebble mosaic
You can create different shapes in your garden with just a few materials.

34. Pebble and gravel corner
Utilise sporadic planting in a gravel base to give your garden a natural, desert feel. Add some wooden planks as a path to prevent slippage. 

35. Pebble and dirt side yard
Gravel is a great material for driveways as it's durable and low maintenance.
36. Pebble mosaic path
This will require some dedication and patience but the result will be amazing.
37. Stone and concrete
Grey tones look amazing and bring a contemporary feel to a backyard. Who needs grass? 
Just add plenty of plants for greenery.
38. Dry plant and stones
Some plants are just decorative or need close to no soil or water. For those, stones are a great choice for the base.
39. Basalt fountain with pebbles
It's good to place some pebbles below your fountain as they're great for drainage.
40. Enclosed pebble garden bed
You've heard of raised garden beds, but you could use a gabion-style wall for a whole new look. 
41. Pebble shapes
Play with the colours and the shapes to create amazing patterns in your garden.
42. Stone and pebbles mosaic with fountain
If a formal garden is more your style, use pebbles to create a stunning but simple fountain centrepiece for your garden. The soothing sounds of running water will help you relax.
43. Pebble planter
Spruce up an old planter by using leftover pebbles from your garden makeover. 

44. Stone path with flowers
Add plenty of colourful flowers to your garden to enjoy their beauty every time you take a walk on your stone path.

45. Indoor rock mini garden
Design your own miniature indoor rock garden to brighten up your desk or window ledge. Use evergreen plants so you can enjoy your mini garden all year round. 
46. Pebble raised deck
Easier to craft than a wooden or concrete deck, and the result is just as appealing. 
47. Odd stepping stones and pebbles
Change things up a little bit by placing your stepping stones in unusual ways and fill in the gaps with a small gravel. 
48. Tree stumps and pebbles
A pebble bed with decorative tree stumps are simple to craft and make an appealing feature for your front or backyard.
49. Miniature garden
Decorate it with some small cacti and pebbles for a western-style miniature garden. Use different plants and decorations for different themes. 

50. Painted rocks flower garden
For flowers that keep their colour all year round, create your own using pebbles and some brightly coloured paints. You could even get your children involved to design their own. 

51. Stone basket planters
This hand-carved pebble basket planter will beautifully harmonise with your flowers! Use white small pebbles as the base and rocks as borders.
52. Pebbles, planters, and wood steps
If you don't want to stick with only one element, incorporate pebbles and wood materials with plants! This pathway would surely create a focal point to your garden space.
53. Pebble stones and wooden slabs
This extraordinary landscape would look amazing for both small and large backyard spaces. The garden has a well-trimmed variety of evergreen shrubs that make way for the pebbled stones steps and wooden slabs.
You can also see some bleach coloured boulders between the shrubs.
54. Boxwood hedges and large pebbled pathway
If you're looking for ways for sprucing up courtyards, this concept can be your best bet! The boxwood hedges are snaking through the largely pebble pathway, leading to the garden's pebbled steps.

55. DIY outdoor furniture with stones
Garden pebbles are multi-functional decorative objects. They can be used not only for dressing up the floor and walls of the gardens, but also as furniture!
You can make your own stone furniture like this. Make sure to bring a glass or hardwood as the table top and a good amount of stones and pebbles.
Round-up
If grass or solid paving is not your style, there are so many beautiful things you can do with gravel or pebbles to transform your garden into a low maintenance haven. 
We hope our list of suggestions has given you some inspiration for the next time you're updating your garden space, whether you're looking for simple ideas to upgrade your pathway or you want to get creative with pebble mosaic or artistic flower bed designs. Now all you need is somewhere to sit out and enjoy your pebble garden from – so why not have a look at our range of garden buildings?
Shop Summer Houses