We all know that a sloping garden space can be difficult to work with. Plenty of muscle power is also needed just getting stuff up and down, such as your BillyOh Windsor table, from your garden shed.
We've compiled some of our favourite inspiration from around the web for you to get started on designing your slope. Are you ready to have the most breathtaking and unique outdoor space in town?
Let's dive in!
1. Ivory stairs
Ivory stone stairs with white flower beds create the feeling of extra space. 

2. Three-level garden
Make the most of your sloped garden by creating levels with different uses; add raised beds, a lawned area and a patio with seating.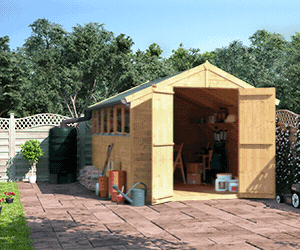 3. Retaining wall
Is your garden on an incline? Slice it in half with a retaining wall and create a two-level backyard.

4. Bench and fire pit
A relaxing spot in your garden for some stargazing. Decorate it with your favourite garden fire pit ideas so you can enjoy the outdoors into the late evening!

5. Two-level wood finish
A relaxing wooden finish to the furniture on the first level, and some comfy chairs and pure grass on the second.
6. Ample backyard
Beautiful stone steps and tiered raised beds are a great way to make the most of a sloped garden. 

7. Black tile backyard
Slates paving stones make a stunning patio and steps.
8. Wooden three-level backyard
Make the most of a small but steep sloped garden by adding stairs and tiered planters to improve the space.
9. Pebble steps
Shallow, pebble-filled steps are a simple, budget-friendly solution for sloping garden ideas. 

10. Grass-covered steps
Keep your steps looking natural but building them into your lawn. 
11. Wooden stairs and planters
There's no wasted space with this design – build planters into the sides of your steps.
12. Split level family garden
The perfect patio for a family dinner outside and plenty of lawn space for the kids to stretch their legs.
13. Small garden with steep slope
A very steep backyard, solved with some gabion stone planters and modern steps.
14. Wooden planters and picnic table
A very sloped hill transformed into a cosy backyard by using tiered wooden planters, a picnic area and a lawn at the top. 

15. Round table
By building a round retaining wall into the hillside, they've created the perfect space for a dining area.  

16. Sectioned backyard
Sectioning off a long, narrow garden gives the feeling of more space. There's room for planters, a seating area and plenty of lawn.
17. Backyard with tree
If you're lucky enough to have a full-size tree in your backyard, build your garden around it and make the most of the natural shade it provides. 

18. Modern-looking wood planters
Use sleepers to add tiered flower beds to your sloped garden.
19. Modern lighting
Add some floor and wall lighting to your steps and garden edges so you can still enjoy your backyard after dark. 

20. Small garden with flamingos
The retaining wall also serves as a comfy sofa, just by adding some cushions. 
21. Modern oriental garden
Plenty of natural wood and Japanese paper lanterns give this garden an oriental feel. 

22. Backyard with slide
If you're clever with your space, you can even fit a slide in for the kids! The red slide makes a great children's garden design idea, too!

23. Oak sleepers as retaining wall
Once a messy sloped hill, now it's a leveled garden with a strong retaining wall.

24. Wooden terrace garden
When creating the steps to reach the top of your garden, make good use of the space to the sides.
25. Multi level deck
Why settle for one deck, when you can have several? It's a truly unique way to create steps in your garden.
26. All grass
Keep it super simple with some stone steps fitted into the grass.

27. Contemporary chic garden
If grass is not your thing, keep it contemporary with decking and pale-coloured paving stones.
28. Railway sleepers
No natural grass? You can always use a little artificial grass and railway sleepers for a chic, modern garden.

29. Stone stairs
If you have a hill in your garden, why not build some stone steps into the hillside to go exploring anytime you like?
30. Tall walls
If you've got a very steep garden,  build high retaining walls and decorate them with lighting and a seating area.
31. Plank steps
A budget-friendly option to get to the top of the hill.

32. Small greenhouses
With a few garden beds and mini poly tunnels, you can create your own greenhouses in your backyard.
 33. Intermediate level sloped garden
This sloped garden involves an intermediate level that can be reached via a set of stairs. The whole space looks like it's covered with a moss-coloured carpet.
Tip: Set up an outdoor sitting area with a fireplace to maximise the space.

34. Borders decorated with planters
Maximise the retaining walls bordered by stairs and decorate them with large outdoor planters. This is a great way to create an appealing transition between the sloped areas.
35. Sloping garden divided into tiers
Take a look at this sloped garden divided into tiers. The landscape design provides you with each section that you can dedicate for your plants or something specific.
You can have large planter beds for veggies, herbs, and flowers organised on different levels.
36. Terracing
This technique creates different levels within the garden, generating a variety of 'zones' to your space. Plan a seating area on the most stable portion of your garden and frame plants around it.
It will make your garden space more welcoming!
37. Edging
Always leave an edge around your garden. It will help you properly border your space and avoid destabilising your fences.

38. Planting trees
If you haven't established a solid foundation on your sloping space, planting well-rooted trees will do the job. This will help keep the soil sturdy and prevent wind and rain from easily eroding your garden.
39. Foundation
You can seek professional help or do it yourself (if you're experienced) when levelling your garden and building its foundation. Opt for railway sleepers, breeze blocks, and natural stone as safe materials to keep your garden soil in place.
40. Levelling
If you wish to level some parts of your sloped garden, one obvious technique is to level it out. Levelling out your garden will depend on how steep the slope is.
Round-up
Sloping gardens are often seen as a challenge and less appealing than their 'flat' alternatives, but I think we've proven that with a little imagination, you can make your sloping garden into a stunning place to relax and entertain.
For more creative inspirations, might as well check out our ultimate list of garden design ideas .From adding garden furniture, water features to privacy and shade tips and landscaping – we've got everything you need!
Shop Rattan Garden Furniture