When we think of gardens, we usually think of colourful plants and link them to relaxation. But public or private gardens can also have a more meaningful side, such as creating a memorial garden.
Although there's no easy way to deal with grief, the feeling of being close to a loved one is something else. And this is what memorial gardens are for.
Having one in your garden means you can pay tribute to a loved one. And this can be a practical, healing and special way to honour their life.
Below is a list of memorial garden ideas that will help you create a special place.
1. Stone seating
This beautiful garden seating idea will provide somewhere special to sit whenever you visit. You can place a stone bench among plants or under a favourite tree.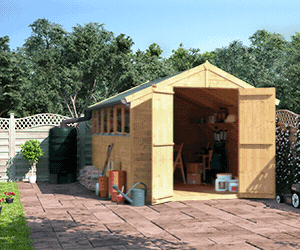 For a personal touch, engrave a meaningful motto, a line of poetry, or a personal quote.

2. Water feature
Adding a water feature, such as a fountain, will create a tranquil remembrance area. The gentle flow of water promotes a calming effect, too.
Water also attracts wildlife, which will help breathe life and beauty into the garden.

3. Personalised stone
Other than your loved one's name and date of birth and death, a poem or an engraved photo can be included in the stone. Place it along the walkway with garden lighting to illuminate it at night.

4. A touch of light
There are lots of lighting options that will work well within a memorial garden. Softly lit solar-powered lights are an efficient and easy-to-maintain choice.
A solar-powered fairy angel light, for one, provides ambience and a soft glow.
5. Thoughtful planting
Roses are ideal for this type of garden thanks to their timeless beauty and status as a symbol of love. This makes them perfect for incorporating with the memory of a loved one.
But selecting the right plants and flowers is a personal choice. It's always a good idea to consider the plant and flower varieties your loved one liked.

6. Remembrance suncatcher
A personalised suncatcher can feature their name, birth date and rest date. Every time the sun catches it, you can be reminded of the angel watching over you. Hang it on a tree branch, a trellis or pergola, or on the fence if there is one.

7. Sonnet wind chime
What could be more comforting than the tinkling of a wind chime in the spot you've specially-made for a loved one? A memorial sonnet chime can give you more than just a beautiful sound. It can have the words of a love sonnet engraved on the rods.

8. Light up a heart
Nothing can replace the joy they brought to you in life. But letting your loved one's light continue to shine can make all the difference.
An eternal light heart that changes colours can add a bit of charm and beauty to the memorial garden. 
9. A memorial cross
Adding a cross can be a great reminder that the departed was once there. You may also hang a wreath featuring their favourite blooms.
Put the cross in the centre with the stone bench on one side and the fountain on the other.

10. Plant forget-me-not flowers
Each flower has a different meaning, and forget-me-nots…well, you already know that by its name alone. This special flower is a great reminder to think about those who are no longer with us.
The cheery blue and pink blooms will also enhance the beauty of the memorial garden.

11. River rocks
Designing a memorial garden in your parents' honour? Ask each family member to paint their names or a favourite memory of the loved one. Use the stones in a single display or scattered throughout the garden.
12. Stepping stones
Simply put enough stepping stones to guide you and other visitors all the way to the memorial spot.
13. Light up your trees
If your loved one had a favourite tree, hang lanterns on the branches; candle lanterns also work. To add a place to sit and contemplate, hang an old-fashioned swing from one of the branches. Underneath also makes a perfect place to place a stone bench.

14. Koi pond addition
Regardless of the size, you can find a moment of peace next to a garden pond filled with graceful Koi and plants. This water element is especially ideal in a Japanese memorial garden setting.

15. Cast stone memorials
Cast stone memorials are great alternatives to more traditional gravestones and markers. These ornaments also make a thoughtful place for a loved one's cremated remains.
Add a pedestal to accommodate at least one poly-urn.
16. A sundial
Housing cremated ashes in a garden sculpture like a sundial is a great and timeless idea. Go bespoke to have a professionally-crafted memorial made for the departed.
This can be a wonderful centrepiece or subtle addition to their favourite corner.

17. Dedicated tree memorial
You also might want to consider having a tree planted at the memorial garden spot you've chosen. The Japanese Red Maple is a popular option for families who don't have a lot of space to plant.
This special tree shows off its beautiful colour, especially in the fall.

18. Lit pathway
Is there any walkway or pathway leading through the memorial garden? If so, add lights along the path. Solar lights are a great option, so you won't have the expense of wiring them.

19. Perennial flower bed
If you want long-lasting blooming flowers, create a bed that will bloom year-round for a splash of colour. Other than roses and forget-me-nots, opt for self-seeding flowers. These include poppies, alliums, gladiolus, violets, and marigolds.

20. Potted fruit trees
Many memorial garden ideas include potted fruit trees. A tree that bears fruit is inspiring and makes a wonderful tribute to a loved one who enjoyed life.
Plus, the sight of fresh fruits can be a lovely addition to your garden with a pop of colour.

21. Incorporate pieces they loved
Was there a special item they loved? It could be a piece of furniture, an instrument, toys, or a pair of shoes. Whatever it may be, there are creative ways to include a little of who they were in the memorial garden.
Here, the old piano serves three purposes: a memorial piece, a planter, and a waterfall source for the pond.
22. A dove bird house
Consider adding symbolic details, such as angels that symbolise peace and the spirit. Or add a birdhouse if you'd rather take a different approach to life in the garden.
White doves symbolise love, grace and peace – and it's always nice to have more friendly wildlife about!

23. Pergola swing
You'll want to choose an area that's quiet and private, somewhere surrounded by lush greenery – then add a pergola swing to create the perfect private place for you to visit.
Grow vines and let them weave their way through slats and all over the structure.

24. In a sunny location
Your garden should be a place that makes you feel content while you remember your loved ones. Choose an area that gets enough sun, so the warmth of sunshine will radiate some positivity into the area. 
This also helps to not limit what you can plant in that space.
25. Plant wildflowers
Beautiful and bright, wildflowers are the perfect florals for memorial gardens. They symbolise love and light while attracting butterflies and symbolising hope, growth and transcendence.
Consider planting them on seed paper. Like the healing process, the plants will take time to grow.

26. With meaningful toys
Toys are common in children's memory gardens. If you are okay with displaying your child's toys, this would be an excellent way to honour their life.
Toy dump trucks can be used as succulent planters or chairs to hold a potted plant.
27. Weeping trees
Who doesn't remember playing under a weeping willow as a child? The term "weeping" describes the shape of the branches. But it may make a perfect addition to any memorial garden.

If butterflies remind you of the person you lost, create a tribute butterfly garden for them. Besides being great pollinators, butterflies are gentle reminders of those who have gone before us.
Add a beautiful decoration like this butterfly with an engraved meaningful quote.

29. With decorative flags
Consider scattering decorative flags throughout the memorial garden. Choose banners with images that remind you of your loved one; a verse or quote also works.
30. Memorial vegetable garden
If you have space, time, sunshine, and skill, create a vegetable garden. Skip the planning step if your loved one already had a garden they used to tend to. Continue what they started and always make sure to grow seasonal crops to pay tribute.

Round-up
A memorial garden can be created to honour the life of a beloved relative, friend, or treasured pet. It can be as simple as a single tree planted in their favourite spot.
Or go detailed with their personal mementoes or even an engraved plaque, seat, or water feature. Thoughtfully selected plants and flowers will also help make the garden, overall, more beautiful.