In addition to fire pits, garden ponds add a beautiful focal point to your outdoor space. Not only that, but such an attractive feature also encourages more wildlife. The calming atmosphere with the soothing sound of water is a bonus!
The internet has made it easier to find inspiration for creating your own. But it can be overwhelming with so many ideas available. That's why we've compiled a list of the best garden pond ideas from the web to help you get started.
1. DIY canoe
Creating a DIY canoe pond can be fun and rewarding if you enjoy spending time in the garden. Ensure to line the pond with a waterproof material such as a pond liner to prevent leaks. A small boat can also be added to the pond for recreational use.

2. Raised-style of pond
If you're looking for a modern-formal pond, a 2-tier design can add height to your landscape. For an added extra level, incorporate a garden water feature and statues into the scheme.

3. Koi pond with a waterfall feature
Give your Koi fish a great environment just like this ground pond. Add a waterfall amongst the rocks for drama, soothing sights and the water sound. Have it small or big, depending on your plot availability.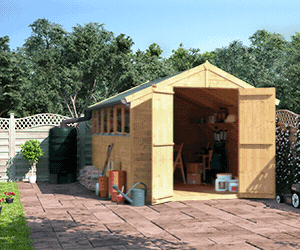 4. Mixed metal water fountain
An excellent corner backyard pond, this idea suits a rustic or contemporary setting. For the DIY approach, you may need a welding skill to put together metal parts and recreate this design.

5. Disappearing water fountain
For this approach, a fountain pump (e.g. water and/or air pump) is a must to circulate the water. Plus, tubing creates the water flow. Decorative stones can also be added to the basin for aesthetic appeal.
Top tip: Hide the pump and tubing under the rocks or in a separate reservoir. This will help create a seamless and natural-looking pond.

6. Pond for wildlife
A wildlife pond is a great way to attract and support local wildlife in your garden. Add rocks and aquatic plants to create a habitat for frogs, birds, and insects. Maintain the pond by cleaning it regularly and adding fresh water.

7. Bamboo fountain
Larger ponds need to be deep enough to allow for fish and other aquatic animals to thrive. You'll also need to consider what pond plants to add to make it a suitable habitat for wildlife. 
The recommended minimum depth is at least 2 feet and 3 feet for Koi ponds.

8. Bigger pond for wildlife
Larger ponds need to be deep enough to allow for fish and other aquatic animals to thrive. You'll also need to consider what pond plants to add to make it a suitable habitat for wildlife. 
The recommended minimum depth is at least 2 feet and 3 feet for Koi ponds.

9. Tub and solar pond pump
A cost-effective and sustainable way to circulate water in your pond or tub. Basically, you'll need a water pump, solar panel, tubing, and a container to hold the water. Top tip: Make sure the solar panel is positioned in a spot that receives enough sunlight.
10. Fenced-off fish ponds
Adding wood fences around the pond not only increases safety for small children and pets. In this case, the bamboo fencing and mini natural stone paving bridges give the garden a Zen vibe.

11. Building bridges
Create your own mini island in your garden by adding bridges over your water features! Not only does it provide a unique and visually appealing feature. But it can also serve as a practical way to cross the pond and access different areas of the property.

12. Carved deck tiny pond
A cute water garden carved into the decking creates an enchanting space for wildlife. Building a deck around the pond will also create a relaxing space to enjoy the sights and water sound.
13. With seating area
The seating area can be constructed, whether it be a simple bench or a more elaborate patio or deck. It can provide a peaceful and enjoyable space for relaxation and entertainment.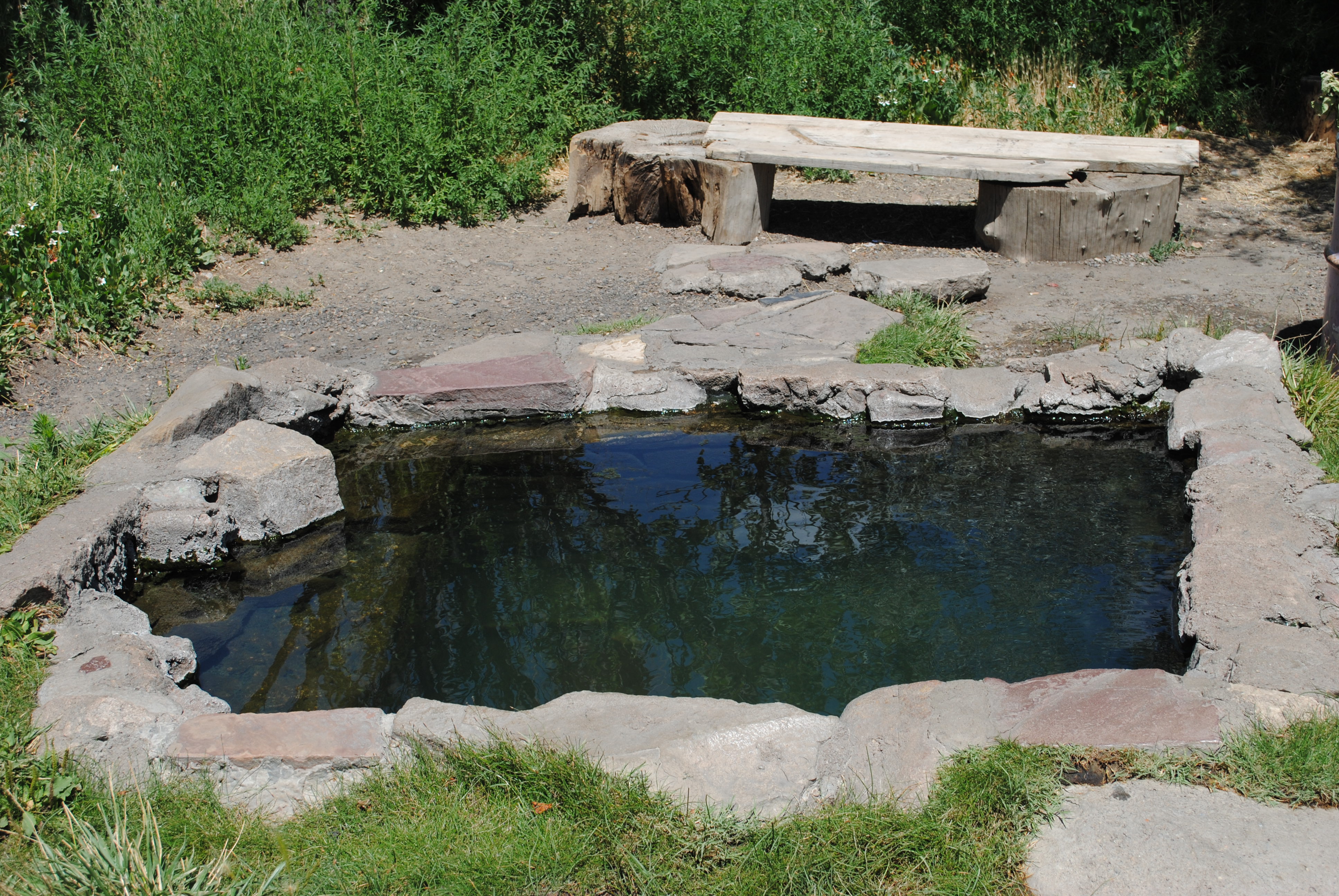 14. Borders with decorative stones
Use paving stones to create a 'stone path' border to the pond and add a splash of colour with greens like flower beds.

15. Bubble container garden pond
Choose a container for your fountain, such as a large pot or basin. You will also need a submersible pump, tubing, and a bubble stone to create bubbles in the water. You can also add plants or other decorations around the fountain to enhance its beauty.
16. Concrete paver pond
A pond edge that features leftover paving stone, creating a unique built-up water feature. Once the pavers are in place, rubber or flexible liners should be added to prevent leaks. The edges of the pond can be finished with decorative stones or plants.

17. Mini pond waterfall cascade
Preferably, choose a spot that gets some shade during the day. After digging the pond hole and placing the liner, secure the edges with rocks. Add some aquatic plants and fish to complete the natural look.
18. Bigger pond waterfall cascade
If your outdoor space offers enough space for a large garden pond, why not consider this design? It's a 2-in-1 water feature: a home for your Koi fish and a bigger body of water, a.k.a. the waterfall, increasing the value of your home.

19. Recycled tractor tire pond
The beauty of creating a cheap DIY pond is you can use old materials, such as a recycled tractor or any vehicle tire. Thanks to the round shape of tires, you can achieve a circular pond with a stream.

20. Rectangular ponds
Make your rectangular pond look more lavish by incorporating wood elements around it. Take a look at this wooden deck, which adds a statement to the overall look!
21. Social gathering space with a small pond
A garden is a cosy place that offers relaxation and simple entertainment after a long day, be it at work or school. So there's no reason not to make it the best.
Have a look at this simple social gathering space with a mini pond on the side. Imagine spending your afternoons there after a tiring day!

22. Hilltop pond waterfall cascade
This hill pond design looks so natural and beautiful that we added it to the list the moment we saw it! With plants around, you can have a mini paradise in your own outdoor space.

23. Clear shallow water pond
For this approach, you'll want the water to be crystal clear so you can see the depth. This one will surely add a touch of beauty and tranquillity to your urban space. Even better, you'll have a much better view of your fish swimming around the pond!
24. Cosy corner pond
Even if you have limited space, you can still enjoy the soothing and cooling effect of water with a mini pond. Decorate it with your chosen stone and plants to boost its appearance.

25. Garden pond with floating eclectic lighting
With a garden pond, a few fish and plants, you've got your own mini ecosystem in your yard. What's more, if you add these cool floating electric lighting! This can add an attractive feature to your modern garden. At the same time, it can make your entire property look so elegant.

26. Biopool and biodiversity
Imagine spending your summer time while swimming in this ecological pool. This concept is intended for bathing, whereas the other part is for water purification.
Thus, they're called biological or ecological. The treatment is carried out based on natural self-cleaning activities. If you want to have a closer relationship with nature, this can be your best bet!
27. Zen-style wildlife pond
Add natural elements such as rocks, boulders, and plants to create a natural feel. To attract wildlife, install a waterfall or fountain to create a tranquil atmosphere. Don't forget the fish and other wildlife in your pond to create a thriving ecosystem.
28. Above-ground level pond
This above-ground pond surely can bring the subtle beauty of water and nature in your garden. Featuring a mountain and a trellis, what an attractive water feature to have outdoors!

29. Natural swimming pond
Another creative concept to spice up your garden is adding a natural swimming pond. This is a great alternative to a standard pool.
30. Driftwood water feature
DIY garden pond projects come with a handful of perks. One of them is you use almost anything you can find in your garden, mainly natural materials. A great example is driftwood, which makes a charming addition to any water feature. If possible, add bird feeders nearby to welcome more flying creatures into your space.
31. Surrounded by natural stone paving
Stone pavers could surround any type of garden water feature, particularly circular ponds. This design also allows you to walk by it. Add a wooden bridge to connect zones in your backyard.
32. Outdoor hot tub and contemporary pond
Nothing's better than enjoying a steam bath while pleasing your ears with a water sound from a nearby pond. This idea fits a corner space, butting in a hot tub underneath a pergola for shade. Walk a few steps, and a small water pond will welcome you. Surrounded by stones, the look gives off mountain landscape vibes.
33. Blue water and landscaping rocks
Clear blue pond water is something that many backyard pond owners dream of. Paired with landscaping rocks, you can create a perfect feature in your space, as well as a home for your fishes.

34. Floating fountain pump with lights
A floating fountain pump can make your water feature the centrepiece of your garden. In addition to adding beauty, the pump can also provide aeration. This can benefit the fish and the overall water ecosystem.
35. Surround the pond with evergreen shrubs
One of our favourite backyard pond ideas is a natural pond concept with pond edges like this. Moss-covered slabs of stone surround the landscape. And thanks to the freshwater, you can see the Koi under the surface.

Round-Up
Garden ponds have often been seen as dull and boring, but not any longer. There's a wide range of ways to make your beautiful pond a focal point of your garden. At the same time, wowing visitors and providing a truly relaxing experience and past time.
We'll be regularly updating this post, so make sure you bookmark it to ensure you never run out of ideas when planning and creating your new garden pond. Until then, check out our lovely summerhouses via the button below, the perfect place to sit and enjoy your new garden pond from!
Shop Summer Houses
FAQs