In addition to fire pits and a dining table, garden ponds can bring your outdoor space to a whole new level. Adding one in your garden is a great way to encourage more wildlife into your backyard.
You can provide an ideal habitat for a variety of wildlife, including frogs, fishes, and insects. Ponds are a great source of food and water, as well as a home or breeding ground for them to utilise.
If you're planning to add one in your garden, here's our curated list of garden pond ideas that you can use for your own inspiration. This guide will walk you through a bunch of beautiful designs and ideas to create a unique backyard.
Let's dive in!
1. DIY canoe
Let's start off our garden pond ideas with a DIY canoe. Make your backyard pond that bit more original by building it in a canoe!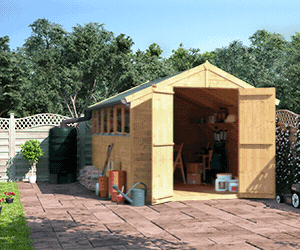 This is probably one of the coolest abstract pond ideas we've ever seen, don't you agree?

2. Two-tier raised pond with water feature
If you're looking for a more modern-style pond, a 2-tier wood or conrete frame raised pond is a great design and construction. Add extra levels and a simple water feature, plus some stone statue decorations.

3. Waterfall with small koi pond
Give your koi fishes a great environment, just like this ground pond. Add a waterfall amongst the rocks if you're looking for a more natural-looking pond.
This is a brilliant pond idea, especially if you have small garden space.

4. Small deep Koi pond with water feature
Looking for ways to upgrade the look of your humble garden pond? Enhance your small pond by adding a water feature or plants to create a calming atmosphere.

5. Mixed metal water fountain
Go for more of a rustic, homemade feel for your water feature, using various metal parts you can find around your home. This is a great corner garden pond idea!

6. Disappearing water fountain
If you're short on space or have small children or pets, a disappearing water fountain could be for you. The water sits underground so they're safer than a standard pond.

7. Wildlife water feature
A miniature wildlife pond is perfect for small spaces. Build up the edges with flagstones and cute ornaments, and voila! You now have a mini garden pond to call your own.

8. Tea pot fountain
Make use of your old teapot and incorporate it into your existing pond. As a result, you can have a unique water fountain in your yard.
Make sure to surround the pond with colourful flowers to enhance its appearance more.
9. Water garden
Add some plants to your pond to create the perfect water garden. The greens will surely breathe new life into your water garden.
10. Bamboo fountain
There's no doubt that a little bamboo can do wonders for your garden pond. Use bamboo to bring Zen garden-vibes to your water feature.

11. Copper spout
Add upscale appeal to any fountain or water feature like a bird bath with a copper spout. They can fit well into both modern and traditional landscapes.
12. Life on the ledge
A natural stone paving like this stone ledge is a classy and compact way to add a waterfall to your raised pond.
13. Pond garden and fountain
Looking for a unique garden water feature style? Build your own mini fountain within your pond using a plant pot.

14. Bigger pond for wildlife
If a more organic-looking pond is your thing, create a wildlife pond like this one using natural materials. Literally anything you can find in your backyard, such as old pots, plants, and a garden light.

15. Lush and colourful wildlife pond
If you're looking for a more preened wildlife pond, carefully arrange some plants around the edge to attract wildlife.
16. Tub and solar pond pump
This is a great way to create an instant water feature as there's no wiring involved with a solar pond pump.
17. The big, bad bowl pond
A contemporary design like this can turn your pond into a raised centrepiece. I mean, look at that! So simple yet it adds a statement.
18. Oakie-dokie
Add a wooden border to your pond using sleepers to add a touch of natural class. The flower bed perimeter will tie it back in with the rest of the garden.
19. Fenced-off
Adding a fence around your pond not only increases safety for small children and pets. In this case the bamboo fencing and mini natural stone paving bridges give it a Zen garden feel.

20. Building bridges
Create your own mini island getaway in your back garden by adding bridges over your water features.

21. Sunny koi pond
Create an idyllic koi pond in a sunny space in your garden to encourage wildlife.

22. 

Professional koi pond
Transform your garden with this incredibly designed koi pond. The stone bridge makes it even more exceptional.
23. Carved deck tiny pond
A cute water garden carved into the decking creates an enchanting space for wildlife. This is a perfect idea if you want to have a pond for wildlife.
24. Space saver pond garden
A miniature pond  garden hidden away in the decking is perfect if you're short on garden space.

25. Natural filtration
For a more natural-looking koi pond, line the bottom and sides with stones and use plants as a natural filtration system.
26. Montcalm street contemporary patio
This innovative oblong pond with stunning water features allows wildlife to flourish. Adding a bird bath will surely benefit the birds and attract them more in your garden!
27. Focal point
A stunning design like this will make your pond a real focal point in your garden.

28. Cubic footage
An imaginative use of decking creates an ultramodern island-style seating area.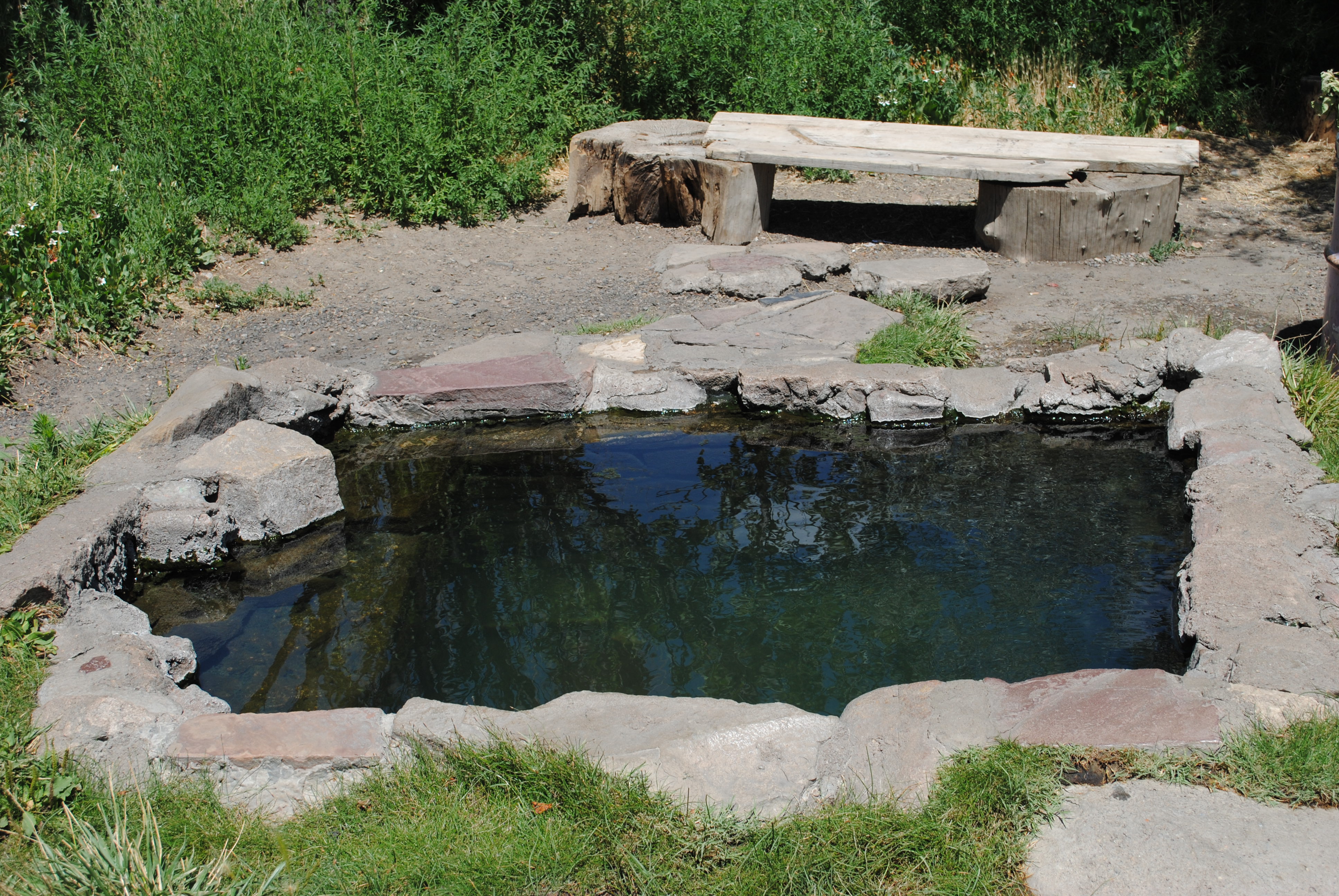 29. Reflective source
Adding mirrors to your garden creates the feeling of extra space and light.
30. Widened borders
Use paving stones to create a path border to your pond and add a splash of colour with a surrounding flower bed.

31. Lighted zen container waterhole
Create a Zen garden in a raised tub pond by adding lights and beautiful plants.
32. Bubble container garden pond
With bubble fountains, the water bubbles rather than flows over a distance so they're easier to make yourself, but you still get the calming trickle of running water. At the same time, you get the calming trickle of running water.
33. Paver pond with fountain
Create your own pond edging with leftover paving stones to create a unique built up water feature.

34. Mini waterfall pond
This pond may be small but it surely does give a luxurious vibe. Take a look at those stones with unique shapes and patterns!
35. Waterfall pond
If your outdoor space can offer you enough space for a large garden pond, why not consider this design? It's a 2-in-1 water feature: a pond (home for your koi fishes) and a waterfall (increasing the value of your home).

36. Recycled tractor tire pond
The beauty of creating a cheap DIY pond is you can use old materials, such as a recycled tractor or any vehicle tire. Thanks to the round shape of tires, you can achieve a circular pond with a stream.

37. Rectangular pond with wooden deck
Make your regular and rectangular pond look more lavish by incorporating wood elements around it. Take a look at this wooden deck. It surely does add a statement.
38. Simple pre-formed garden pond
Have you ever dreamed of having a beautifully landscaped pond with beautiful flowering plants and a waterfall? Take this cheap DIY pond project this weekend to create a small koi pond in your backyard.
39. Puddle drop
Never underestimate the power of small garden ponds. This charming pond can be a great addition to your yard design, garden or landscaping ideas.
40. Symmetrical centre
Front yard and backyard landscaping ideas that incorporate a small pond, some decorative rocks like natural rocks, and a water fountain can add harmony and balance to the exterior of your home. This symmetrical centre pond, for instance, can improve the way your home looks and feels.
41. Social gathering space with a small pond
A garden is a cosy place that offers relaxation and simple entertainment after a long day, be it at work or school. So there's no reason not to make it the best.
Have a look at this simple social gathering space with a mini pond on the side. Imagine spending your afternoons there after a tiring day!

42. Cascading pond
This mountain lake koi pond design looks so natural and beautiful that we added it right away to the list the moment we saw it! With plants around, you can have a mini paradise in your own backyard.

43. Reflective depth
The water is so clear it enables you to see the depth of this garden pond. This one will surely add a touch of beauty and tranquillity to your urban space.
Plus, you'll have a much better view of your koi fishes swimming around the pond.
44. Cosy corner pond
Even if your outdoor space is small, you can still incorporate the soothing and cooling effect of water with this mini pond. Decorate it with your chosen stone and plants to boost its appearance.

45. Garden pond with floating eclectic lighting
With a garden pond, a few fish and plants, you've got your own mini ecosystem in your yard. What's more, if you add these cool floating electric lighting!
Not only does this can add an attractive feature to your modern garden, but also it can make your entire property look so elegant.

46. Biopool and biodiversity
Imagine spending your summer time while swimming in this ecological pool. This concept is intended for bathing, whereas the other part is for water purification.
Thus, they're called biological or ecological. The treatment is carried out based on natural self-cleaning activities.
If you want to have a closer relationship with nature, this can be your best bet!
47. Small pond design ideas for small spaces
If you want to keep your lawn but at the same time incorporate a garden pond, take a look at this design idea! The owner created small ponds on each side, with a pathway in between.
48. Pond for wildlife with this tiny zen
This tiny zen-inspired pond will help attract more wildlife into your garden, such as birds, frogs, and butterflies. You can also use the small pond to keep some koi fish, too.
49. Best of both worlds
This garden pond design screams luxury and sophistication! The waterfall, the brick oven on the side that can double as a fireplace, and some garden tables and chairs around the pond is such a dream!
This design is probably one of the best brick garden ponds out there.
50. Raised wooden garden pond
Wooden sleepers make a great landscaping project and fish ponds. This DIY raised wooden garden pond can be a beautiful addition to your garden or landscape design.
51. Above-ground pond
This above-ground pond surely can bring the subtle beauty of water and nature in your garden. Featuring a mountain and a trellis, what an attractive water feature to have outdoors!

52. Pool sized pond with big natural stones
One of the best ways to maximise a large garden is to add a pond; if possible, dedicate most of the space to it. This Zen-like garden house is surrounded by peaceful greenery, big natural stones and a stick private fence.
53. Natural swimming pond over standard swimming pool
Another creative concept to make your garden more nature-like is to introduce a natural swimming pond. This is a great alternative to a standard pool.
54. Driftwood water feature
DIY garden pond projects come with a handful of perks, and of them is having the freedom to use almost anything you can find in your garden, mainly natural materials. For one, driftwood makes a great addition to any water feature – I mean, take a look at this!
If possible, add bird feeders nearby to welcome more flying creatures into your space.
55. Surround the pond with stone pavers
Stone pavers could surround any type of garden water feature, particularly circular ponds. This design also allows you to walk by it.
Add a wooden bridge to connect zones in your backyard.
56. Outdoor hot tub and contemporary pond
Nothing's better than enjoying a steam bath while pleasing your ears with the soothing sound of water from the pond nearby. This corner urban space butt in a hot tub underneath a pergola, with a bar countertop and stools on the side.
Walk a few steps and you'll be welcomed by a small water pond. It's surrounded by stones, giving off mountain landscape vibes.
57. Blue water and landscaping rocks
Clear blue pond water is something that many backyard pond owners dream of. Paired with landscaping rocks, you can create a perfect feature in your space, as well as a home for your fishes.

58. Floating fountain pump with lights
A floating fountain pump can give your pond the attention, making your water feature the stealing centrepiece of your garden. In addition to adding beauty, a fountain pump like this can also provide aeration.
This can benefit the fish and overall water ecosystem.
59. Surround the pond with evergreen shrubs
One of our favourite backyard pond ideas is a natural pond concept with pond edges like this. Surrounded by moss-covered slabs of stone, thanks to the fresh water we can see the koi fishes under the surface.

60. Go for an above-ground pond
A garden pond design doesn't always have to be in the ground (inground garden pond). If this concept is something that you're looking for, an above-ground design, such as a bathtub pond or tin bath, will do the trick!
61. Natural pond in an indoor space
A pond with any decorative rock or landscaping rocks, a fountain pump or waterfall can complete the look of your indoor garden pond. Also, make sure to combine the best features of an aquarium and an outdoor garden pond.
Round-Up
Garden ponds have often been seen as dull and boring, but not any longer.
As we've seen there's a wide range of ways to make your beautiful pond a focal point of your garden, wowing visitors and providing a truly relaxing experience and past time.
We'll be regularly updating this post, so make sure you bookmark it to ensure you never run out of ideas when planning and creating your new garden pond. Until then, check out our lovely summerhouses via the button below, the perfect place to sit and enjoy your new garden pond from!
Shop Summer Houses
FAQs