Thinking of adding a source of shade to your outdoor space? Or something that can boost your garden's curb appeal?
A pergola can provide both! A freestanding structure and an aesthetic addition that enhances outdoor living space.
If you're thinking of installing one in your patio or backyard, we've got some ideas for you to get inspired with!
1. Corner cabin
A rustic style pergola that harmonises well with the corner cabin. It provides a sheltered nook, while the garden furniture set offers an inviting spot to relax.
Hang string lights to enjoy the space into the late evening.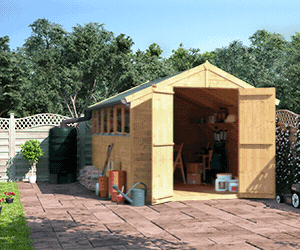 2. Cedar with wide slats
The wide slat feature gives more shade, creating a relaxing space to enjoy the summer breeze. The cedar material adds a bold statement, matching well with traditional patio settings.
3. Thatched
Go beyond beams with a thatched pergola in your backyard! Showing off a tropical vibe, this design goes well when paired with rattan furniture.
If your garden has a Mediterranean feel, you can't go wrong with this one.

4. Arbour-like structure
Take advantage of a pergola's arbour-like structure. By this, we mean adding climbing plants, such as Ivy, to enhance the lush atmosphere.
A stylish way to extend the garden!

5. Awning style
An awning style pergola that creates a dramatic statement on a white patio. The fabric awnings can be manually opened and closed, depending on your choice.

6. Cube-shaped
Cube-shaped pergola made of dark wood, offering a shaded outdoor entertainment room. Take a cue from the photo below, featuring two slatted walls with a door-like entrance.
We recommend styling the space with charcoal grey furniture for contrast.
7. Modern metal
A sleek pergola design that gives an elegant statement. The steel material will look fancier when paired with concrete hardscaping.

8. Patterned screen
This patterned pergola would look amazing if your patio has a Mediterranean influence. The beautiful designs of the screen also provide the perfect outdoor backdrop.
On top of the pattern, it adds privacy and an interesting interplay of light and shadow.
9. Out of the woods
Relax in the shade with this rustic and nature-inspired pergola concept. Made of natural woods, this vine-clad structure gives the Mediterranean feel, too!

10. Sleek terrace
A simple and yet sophisticated-looking outdoor lounge area that promises a serene ambience. This extended pergola is positioned on a site next to the woods.
11. Cool and dramatic
An ordinary cottage transformed into a contemporary patio with dramatic pergola features. It's a fantastic design choice if you're thinking of installing one near the pool.

12. Futuristic
There's no way you'd find something like this in your neighbourhood or your hometown! Perfect for outdoor spaces, especially in rooftop patios.
Add customised awning or fabric for further shade.
13. Grilling extension
Get your BBQ a rightful place in your backyard – something like this! A minimalist trendy tile patio with pergola extension for the grill.

14. White fabric canopies
Relax in style from the regal white seating in this pergola. The fabric canopies draped along the roof, and slatted in sides protects you from the harsh UV rays.
Check out our Garden Canopy Ideas for more!
15. Trellis concept
Let the natural beauty of your garden shine with this simple trellis slash pergola. The white colour offers a clean and soft view, perfect for alfresco dining in the summertime.

16. Traditional sense
A pergola styled in a more traditional sense. The roof frames and outdoor deck serves as an outdoor living extension. Match the deck with indoor flooring for nice design detail.

17. Lattice
An airy pergola design that invites you into the midst of a perfumed English garden. The roof slats support a lattice with large openings. Meanwhile, the vines on the trellis act as a backdrop.
Add furniture sets to host a small garden party, tea, or relaxation.
18. Rooftop dining
Draw inspiration from this outdoor kitchen that takes you to the Manhattan skyline! Complete with lush greenery, outdoor kitchen and room for hosting. Plus, the pergola provides a multi-season entertaining oasis.

19. Pair it with a fire pit
A fire pit sheltered by a pergola creates a more inviting outdoor living space. But you'll want to make sure to have a clearance between the flames and overhead structure.

20. Outdoor hot tub
Add a unique feature to your patio – like this outdoor hot tub set-up! A pergola filters the sun above your secluded spa, allowing you to linger in the water longer.
Add drapes or partial walls for an extra level of privacy.

21. Fibreglass
Also known as composite, fibreglass offers many perks for a pergola. One, it is lighter than wood yet stronger than steel.
It can span larger areas without extra posts, offering a clean, contemporary look. It may cost you a bit up front, but it'll be worthwhile in the long run.
22. Vinyl 'picket fence'
Vinyl is a sturdy, maintenance-free, and UV resistant material. A classic white vinyl pergola would look fabulous in your traditional patio setting.

23. Wall-mounted
A pergola style that can act as an extension to your home, deck, entryway, or even garage. If you have a small patio, a wall-mounted pergola is your best bet.
Install a polycarbonate roof for extra protection from rain and harmful UV rays.
24. Stone columns
Pillars of stone look amazing on a classic, natural or rustic style patio. When used as posts for a pergola, they exude interesting textural touch. Mix wood posts on stone bases – just like in the photo below!
25. Austere arch
Have a look at this simple patio framed by a sleek pergola, forming a sort of an arch. It's linked at the top of the exterior wall to the building's roof. It looks like a traditional pergola but with thinner lines and a bit of modern geometry.
26. Made for movie nights
A backyard can offer your dream outdoor cinema, especially when it's well decorated. Install a TV or projector with a white screen to create a spot for alfresco viewing.
The addition of a pergola offers protection from the elements and creates a boundary.

27. Big posts framework
One of our favourite pergolas ideas, and we thought you might like it, too! Featuring a simple and classic roofline with big posts that gives the space a cosy and intimate feel.

28. House-like frame on deck
A framework that literally looks like an unfinished section of a house. Yet, it emanates interesting design, preserving the house's dimensions. At the same time, optimising the layout of the backyard.
29. Poolside
Cool off with this dreamy poolside pergola! It provides a shaded retreat large enough for hosting. If you own a pool, it can be a standout feature in your backyard while anchoring the landscape.

30. Over a bar
If you take pleasure in alfresco refreshment in your garden, a bar is a must! Perch a pergola over your backyard pub and enjoy a year-round hangout.
Go full-on tiki or something modern like this one!
Round-up
What an effortless way to style your garden and patio! Indeed, pergolas are stylish structures that enhance how you enjoy your outdoor space.
Our curated list of patio pergola ideas is tailored for everyone. We hope there's a style that suits your taste and lifestyle.
Most especially, a design that will help you add dynamic definition to your landscape!
Shop Gazebos
FAQs