So you've decided to introduce a garden building into your outdoor space. Good for you. But what's next? Do you have any plans for it this holiday season?
Making it feel 'left out' when the whole neighbourhood is in the Christmas spirit should not be it. Here are some practical decorating ideas to align your backyard getaway with the festive celebration.
Impress your neighbours, including Santa, and let's get started!
---
Christmas Fixtures & Styling
---
1. Lighting scheme
Symbolising the stars, Christmas lights have become a part of the whole tradition. Hanging rope lights on the facade of your shed adds a lovely whimsical touch.
Intertwine lights on a garland or on a tiny potted tree nearby, and you'll have a simple yet Christmassy backyard display.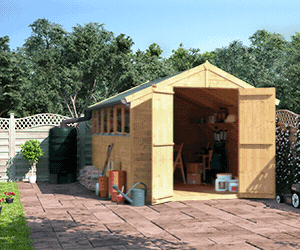 2. Get creative with colours
Red and green are the staple colours, but consider getting creative with your hues this holiday. There's no reason your decorations shouldn't be unique this Christmas!
Pick one of two extra colours but stick to a palette to keep things classy.

3. Cosy fireplace hearth
Fire up your holiday spirit with a warm and welcoming fireplace. Bring a bit of cheer by adding rope lights, small ornaments like angel displays and Christmas socks around it.
A simple setup like this will warm the hearts of your family as they gather around your holiday hearth.

4.  Charming table centrepiece setting
Add festive cheer to your dining space by adding a centrepiece that holds a great table together. Round up scented candles with some Holly and other greenery to recreate this look.

5. Set up a Christmas tree
The hallmark of Christmas decorations and the holiday season, itself – the tree! Wreaths, ornaments, dolls, stockings, bells, and lights can transform an ordinary tree into a magical one.
(The gifts underneath make the tradition even more special).

---
Christmas DIY Decor
---
6. Paper trees
Who would've thought you could make a tiny vintage Christmas tree display out of music sheets? This easy DIY project only takes a few sheets of music cut into triangles, a small slice of wood, and an extra-long toothpick.

7. Wreath with unexpected elegance
Take a cue from this extraordinary wreath project. Gather around a cluster of colourful branches, and get creative. This is an effortlessly cool alternative over a traditional wreath.

8. Snow globe
Your snow globe display doesn't have to be that expensive; you can even make one by yourself to save money. After all, it's fun and easy to create. This is also a great holiday gift idea.

9. Stockings
Let a once-beautiful quilt be transformed into a set of Christmas stockings for your family. Show off the outcome of your holiday project by displaying them on the mantle, on your cabin door or Christmas tree!

10. Christmas pedestal
If you have an extra and unused birdbath, take inspiration from this DIY pedestal. Add evergreen bows and a massive red ornament to make your once-forlorn birdbath come to life again.
---
Christmas Interior Themes
---
11. Rustic cheer
There's cosy, then there's this log cabin below. Everything about this interior screams the perfect, rustic-themed Christmas space.
The colour and lighting scheme, the fireplace, and the idyllic surroundings impeccably complement the look.
12. The winter wonderland display
Your very own windowsill winter wonderland! The glass walls allow the small Christmas tree decorations and lights to stand out from the view outdoors.
Invite your family, friends and neighbours to admire your holiday display.
13. French country interior
Simple but elegant (and vintage!) is what best describes a French rustic interior. Get the authentic French country Christmas feel by adding vintage pieces like mirrors and planters to the setting.

14. The Scandinavian route
This Scandinavian Christmas decor gives off simplicity and cosiness. It's a theme that's ideal for those who are in a rush to decorate their outdoor building.

15. One with nature
Decorating your space with elements from the great outdoors can bring a winter wonderland to your home. Spruce the mantle with lush greenery and maybe even a faux deer head.
Display a tree and, for a wow factor, a rich berry-red flower arrangement in the centre of your table.
---
Christmas Exterior Setting
---
16. Made with reclaimed materials
With a small budget, you can still create a Christmassy cabin porch with elements found in nature and recycling. Have a look at this corner setup: the potted tree and candles are enough to bring a lively touch to the simple wooden table.
17. Hang lanterns
Despite the cold weather outside, you can create a warm holiday atmosphere with outdoor Christmas lights. Give your snowy garden a simple festive look with candle and lanterns.

18. Greenhouse alfresco dining
Convert your greenhouse into an alfresco dining area for the holiday. Complete the look with evergreens, lights and candles.
Voila! You now have the perfect place to have dinner with your loved ones over Christmas.
19. Display oversized garden ornaments
Giant ornaments look great occupying many garden spaces – and this is a sign for you to jump on the bandwagon! You can either shop online or make your own so you can customise them to your liking.

20. Showcase a sled with snow
Antiques never fail to add charm to garden spaces, regardless of the season. If you have an old sled lying around, lean it against the wall next to your patio or outbuilding's door this holiday.
It would look magnificent if you could add some pile of snow around it and a few more Christmas decorations.

Wrapping It Up
Expand your horizons when you decorate your garden building for Christmas this year! Don't be bound by tradition. Find the style and colours that suit your needs no matter the decorating approach you take.
We hope our ideas will bring as much as drinking a glass of eggnog and exchanging gifts to you and to everyone. Most importantly, help your outdoor space be seen and admired by all.
For more design inspiration, check out our list of Christmas Garden Ideas next!
Shop Rattan Garden Furniture