Are you torn between gas barbecues and charcoal barbecues? Why not have both? Hybrid barbecues serve up the perfect solution for you.
There are two main types of grills: gas and charcoal. These two alone can cater for several cooking options in terms of fuel and heat source.
With classic charcoal grills, briquettes and pellets deliver authentic taste and smokey flavours. Meanwhile, burner gas barbecue grills provide instant heat, temperature control, and flexible cooking.
It's understandable if you can't choose right away which type of barbecue grill is right for you. But what if we tell you that you can combine the advantages of each into one?
Here, we present the hybrid BBQ grill to you, giving you the flexibility to benefit from the advantages of both gas and charcoal cooking. Are you ready for some effortless grilling on your next outdoor cooking?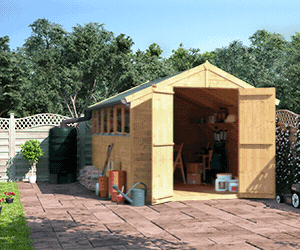 Key takeaways:
Hybrid BBQ lets you cook with both gas and charcoal. It's fast becoming one of the most popular types of barbecue in the UK, thanks to its versatility.
Some people own more than one grill. A charcoal BBQ for slow cooking, a midsize burner gas BBQ for unplanned outdoor cookouts, and a portable barbecue for trips, for instance. Hybrids cut out the need for this!
To help you with your buying choices, we have something to offer that you'll surely love and benefit from for years to come. Hint: It's more than a dual fuel BBQ grill.

What Is a Hybrid BBQ?
There's nothing like the smoky flavour of a charcoal BBQ. Plus, the convenience of gas burners. But nothing beats a grill that offers both, a.k.a. a hybrid BBQ.
Basically, a hybrid is a type of BBQ grill that allows consumers to choose either gas or charcoal cooking all in one place. This means you can get the authentic taste of charcoal-grilled food with the ease of a gas-powered grill.
While gas and charcoal grills both have their pros and cons, hybrids can give you the best of both worlds. For one, you have instant cooking options.
If you want faster and easier cooking methods, you can use the grill on the gas setting. And when you have people coming over, you can use the other grill on the hybrid with charcoal to achieve that smoky taste.
Hybrid BBQs are one piece of equipment loaded with heaps of convenience. They're a real game-changer for UK barbecuing!

How does it work?
Within a few minutes, you could convert a gas grill into a charcoal one.
Wondering how it works? You'd have to follow these three (3) steps:
First, remove the cast iron grates and place the patented charcoal tray into the grill. The charcoal tray ensures the cooking heat is fairly distributed without flaring up. Note: Do this if you used the gas setting first, then planning to switch to charcoal. Or vice versa.
Next, fairly distribute the coal and put the grate back in place. There should be enough space between the cooking grate and the coal. Plus, the bottom of the tray should be covered. Be careful not to put too much coal in the tray, too, or you'd end up waiting for hours for the coal to fire up.
You're basically done with the first two steps, but if you wish to ignite the charcoal with the gas burners, here's what you need to do. Turn on the burners and wait for 10-15 minutes with the lid closed. Then, open the cover and turn off the stainless steel burners. After 5 minutes, the coals should turn white, and your grilling session can get rolling!
But with a hybrid BBQ you don't have to do any of this (or clean up after!)

The benefits
The main advantage of hybrid BBQ grills over separate gas and charcoal is they can do both (all without breaking the bank). A hybrid grill can be used for outdoor cooking with charcoal and can cook the same way as a conventional gas grill.
Considering a hybrid is a dual fuel grill, this means it can offer you a generous cooking space – one of the key features that many users favour! Plus, you can use the grill for whatever kind of charcoal or gas cooking you want with two cooking options and fuel types.
This includes:
Indirect cooking (with indirect heat)
Direct cooking (with direct heat)
Slow cooking
Or even use the grill as a pizza oven


Plenty of space means not only flexible cooking but space for plenty of sausages and cuts of meat to get cooking. Go get those meat juices vapourised from cooking over charcoal and achieve a fuller flavour. Or cook low and slow on a gas grill to serve the best barbecue in town!
Things to Consider When Choosing Hybrid Barbecues
To find the best hybrid grill on the market, there are a few things you need to take into account. What type of hybrid grill do you think will fit your outdoor spaces?
Which type will suit your BBQ needs? What are the features should you look out for?
Do you need individual burners or dual fuel gas burners (e.g. a classic 4 burner)? What's the ideal material for the grates or grill grids? The exterior, the typical price, and more!
Size and space
It's essential to consider the amount of space you have outdoors. Once you have the measurement, check both the unit's physical size and cooking areas you wish to invest in.
For grilling space, most experts recommend around 70 square inches per person. You should also look at the power of the gas section. The BTU (British Thermal Units) rating is ideal.

Features: burners
The spacing of the gas burners is also important to note. Most hybrid grills come with three or four (even up to six) burners.
Although having two works wonders, more heating zones can distribute even heat over the entire cooking surface. A side burner is a valuable extra, too.
This feature can act as warming racks, giving you a place to warm sauces or place a bottle opener, gas bottles, to name a few. On the charcoal side, most units are adjustable in terms of height, so you've got some temperature control.
Storage space or lift-out drawer/tray is also a nice feature, making it easier for you to dispose of the ash after.

Grates/grill grids/cooking grids/grids for charcoal
When it comes to grates, the ideal materials are:
Stainless steel (easy to clean)
Cast iron (better at conducting heat, yet not easy to clean)
Porcelain-coated cast iron (best of both worlds!)
Warming racks are an excellent addition, too, as you can use them as a side table for prepping food. Watch out for a storage shelf for extra storage space.
Shelves are great for keeping your spices organised (with a spice rack) and cooking utensils (with tool hooks). Or even storing a removable grease tray, for instance.
Pricing: the typical price of hybrid grills
You can find some hybrid BBQ grills for under £300. But the typical price for a family-sized model runs from £400 to £800, which are the most popular ones as their overall quality is superb!
In short, they are already an excellent investment. But other high-end brands can cost up to more than £13,500.
Speaking of a win-win investment, why not take a look at our best offer for a hybrid BBQ grill?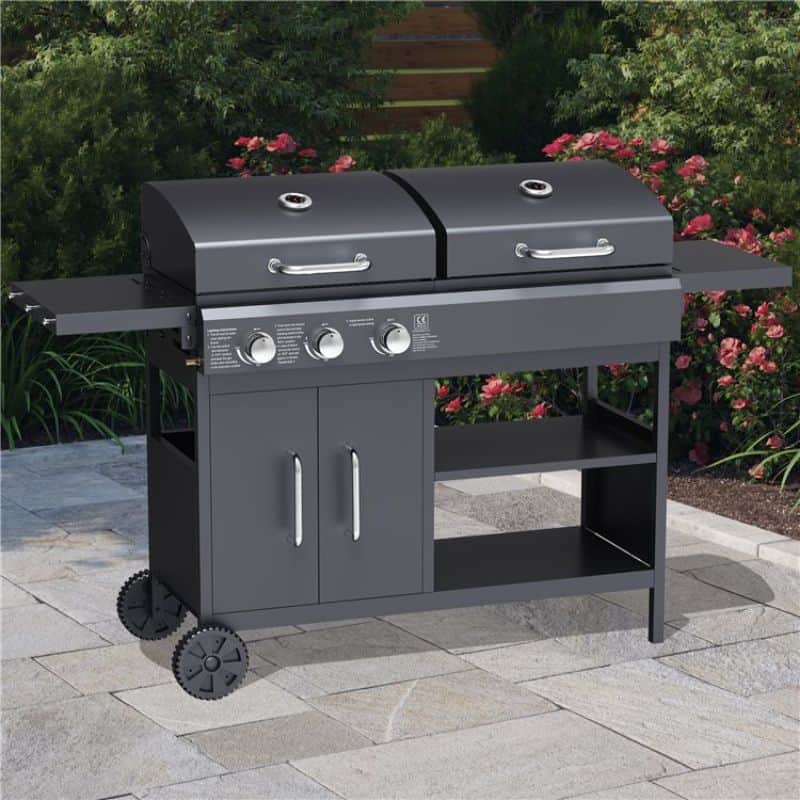 Best Hybrid BBQ UK: BillyOh Montana
The product name says it all – the best of both worlds. This hybrid BBQ grill is our number 1 favourite!
The Montana is one of the most versatile outdoor BBQs you'll find on the UK market. For one, it provides the smoky flavour of a traditional charcoal BBQ combined with the simplicity of a built-in gas cooker.
I mean, what more could you ask for?
And with this dual fuel BBQ, storage couldn't be more straightforward. There are two shelves on either side of the grill, some shelves below, and even cabinet storage.
This model also comes with a regulator, hose, in-built thermometer, and a PVC cover to keep it protected for its next use.
The frame with wheels allows you to move the grill outdoors and around your garden or patio with ease. The included cover also means you can even keep your hybrid BBQ away in storage over the cold months.
Talk about tidiness, organisation, and easy storage solution!
So what's it made from? The BillyOh Montana features stainless steel construction with a grey and silver finish. This provides the model with a sturdy build and a premium, stylish look.
The dual cookers have separate hoods and thermometers as well. You can now cook a wide range of food at the same time.
Other design insights that you'll surely can benefit from in the long run:
Dual ignition with independent temperature controls
Side tables included for utensils and preparation
Option to barbecue with gas and/or charcoal
Separate covers for the gas and charcoal grills
Get yours now only on BillyOh for just £459.00 via the button below!
Shop BBQs
FAQs