One of the perks of having a small patio is it's easy to decorate and spice up. Adding garden furniture like rattan can boost visual interest without adding garish colour.
In this blog, we've curated 35 ideas to help you add more functionality to your humble garden space. Are you ready to make the most of your tiny outdoor hangout?
Create your dreamy outdoor oasis with these ideas!
1. Go for contemporary garden furnishings
Even if you own a small garden, you have the opportunity to enjoy it. Flaunt it with contemporary furniture like these and they'll surely stand out.
Add a functional fire pit at the centre to complete the look.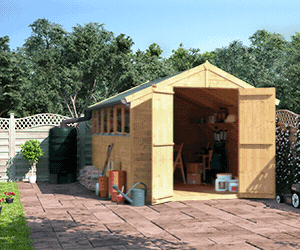 2. Tile clad patio with matching timber table and bench
Make magic with your tiny patio space with a sensual tone grey flooring with a wooden outdoor dining area. Add decor pieces to make the space more you.
In addition to the plants, scatter cushions in various colours or add a tablecloth with a vase and flowers.

3. Mini gazebo with rattan furniture
There's a wide selection of gazebos that can fit into your small yard. If you already have one, rattan furniture and other decor pieces can enhance the welcoming factor of your outdoor living space!

4. Hanging bench swing
Relax on your porch in style with this wooden hanging bench swing! You can buy a ready-made one or make it on your own.
If you prefer the latter, customise it with stylish and comfy cushions. What's a perfect spot to watch the sunset while softly swaying in the breeze.

5. Front porch rocking chairs
Rocking chairs are the epitome of relaxation and they can fit well in small patios or front porches. Pop a little table next to this comfy chair so you can place your lemonade there while enjoying some fresh air.

6. Flower shaped wicker chair
Forget about the usual garden furniture for a while and take a look at these wicker chairs! It features a flower shape structure which has the potential to enhance your outdoor space.
7. Minimal outdoor dining set with unique lighting setup
A simple gardening dining set can look luxurious when designed with wall art and mirrors on garden shrubs. The spectacular curved outdoor chandelier creates a focal point.

8. Patio fire pit tables
Sitting around an open fire on your patio is an incomparable outdoor experience. With a cosy rattan set and a heat source like this, you can now make the most of your patio all winter long!
Learn more about fire pit tables here.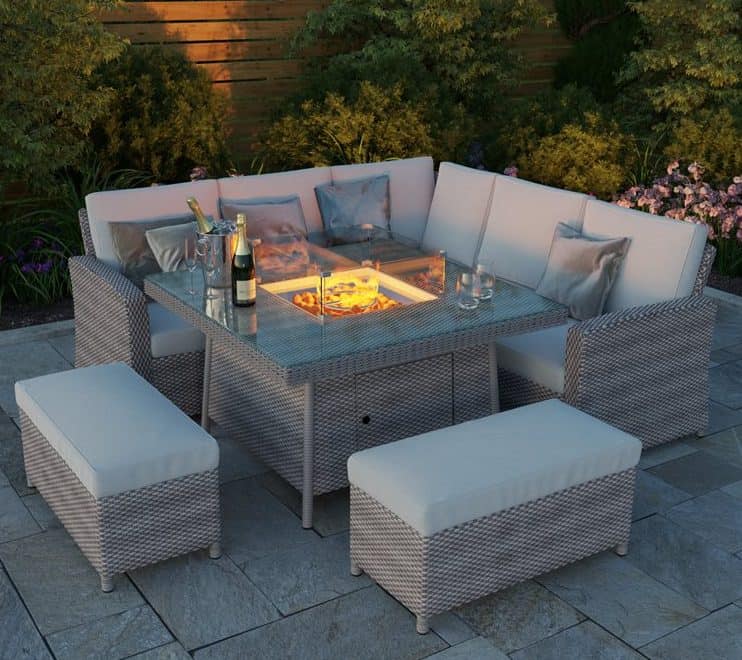 9. Incorporating L-shaped couch with stylish shading
Rattan corner sofas and sets fit perfectly well in small and corner gardens. A great way to enhance the practicality factor of an L-shaped couch is adding a stylish source of shade.
Wooden pergolas and parasols can complement your existing furnishings.

10. Creative singular garden bench
Garden benches are perfect for sunny areas. With a creative design seating area like this, you'd have the best afternoon lounging experience!

11. Go back to basics
The best garden furniture doesn't have to be always fancy. Sometimes we have to be practical; don't be afraid to go with the basics.
Synthetic rattan garden furniture makes a great example. Out in the garden, they look pretty and stylish.

12. Aluminium furniture for low maintenance
Aluminium garden furniture is one of the favourite outdoor furniture materials in the UK. Sets are rust-proof, lightweight, cost-effective, and easy to clean.

13. Outdoor patio refreshment table
Having high-top tables like this on your small patio is ideal for everyone's convenience. Your guests will have a place to hold their drinks and plates during small get-togethers.

14. DIY end table with built-in corner
This do-it-yourself project is truly a space-saver furniture. It makes an excellent addition along with a small corner sofa on your patio or backyard space.
Could this be any cooler? This repurposed old pallet is great for entertaining or  having a little family BBQ.
15. Woven lawn chair
Have you been using the same chair with a broken frame for years? In this case, give it a brand new lease on life with this DIY weaving project.
There are so many unique weaving techniques you can find online! Instead of throwing that chair, reuse what you already have in a way like this.
16. Pallet hammock frame
Small garden owners always favour having hammocks in their space. For one, a hammock offers a relaxing spot without compromising so much space.
Take a look at this pallet hammock frame. You can get yourself from the market or do it yourself from scratch!
17. Outdoor bar countertop
To add more utility in your humble patio, why not consider adding an outdoor bar countertop? This pallet bar table would look nice while adding a lovely touch to your outside seating zone.
Top tip: Don't forget adding bar stools or let it be a companion prep table for your BBQ grill!

18. A pair of Adirondack chairs
Adirondack chairs scream classic and vintage vibes. But this type of outdoor chair will never go out of style; it's as comfortable as can be!

19. Add a picnic table for the kids
Nothing's more fitting than this version of a picnic table for the youngsters in your small garden. Of course, adults are welcome, too.
This fun little table is perfect for colouring and craft projects. Plus, for eating s'mores and hot dogs on BBQ night.

20. Go funky with a bottomed patio chair
This outdoor chair design has a fun and cool feel to it. It's a great piece of furniture to rest, sip a drink on, or read a book.
It's also very easy to recreate for your own tiny garden.
21. Concrete side table planter
Do you want to have a unique and interesting garden table? Then this moulded planter with a wooden top and concrete structure might be the one for you!
22. 2-tier patio tables made from old tyres
If you have some old tyres at home, why not try this amazing DIY garden project this weekend? Stack the tyres depending on the number of tiers you like, paint them and put a glass on top.
You'll have a new garden table ready in no time!

23. Old milk jug as decor and table stand
One of the things you can make something cool out of old milk jugs is a table stand. When newly painted, it can look great as an outdoor decor piece.
24. Outdoor table with hammock underneath
The kids will surely love this one! This old frame table made from pallets features a hiding place beneath; with a hammock tied on it.
It's one of our favourite DIY pallet projects!
25. Summer splendour basket swing chair
Looking for ways to maximise your small patio space? This basket swing chair can be the perfect solution for you.
It provides a comfortable spot to read a good book in the afternoon.

26. Grey cushion dining set under the lights
Set the mood with a wide, lit-up fire pit and some string lights while chilling or having dinner in your garden. This outdoor dining set up would be brilliant for a romantic night!
27. Storage bench (DIY ottoman)
A DIY wooden bench can serve two purposes: a seating area and a storage. It's small yet functional; and most importantly, it's suitable for a patio with limited spaces.
Add cushions to make seating more comfortable. When not in use, store the pillows inside.

28. Stick with rattan cube furniture
Rattan cubes offer some extra perks concerning storage. On top of luxury and comfort, rattan cube sets are excellent space-savers.
They aren't called cubes for nothing; they fit best in small gardens and patios.

29. Cool milk crate stools and table
Another way to have seats in your garden is to make use of your old milk crates (if you have any!). They make cool and creative stools that you can move anytime.
Be sure to place a solid structure like wood pallets on the top for sturdier seating.
30. Slatted garden bench
This slatted garden bench is just the right size for a love seat! It comfortably seats two, flaunting a classic with a touch of modern vibes.
31. Tahitian style reclining chaise
This reclining chair is a fantastic way to add resort style to your backyard. The angled shape makes the furniture neither too small nor too big.
It can perfectly nestle even in a small yard. Plus, the cedar boards are durable and attractive that are sure to last for many seasons of outdoor fun!
32. A serene balcony with single seating area and petite table
A vintage slipper chair paired with a petite table is the perfect backdrop for a romantic afternoon lounge. You can now enjoy sunset viewing at the comfort of your balcony all-year-round.

33. Country house patio style furniture
Don't let the corner of your patio look dull. These brown Adirondack chairs look stunning with fall themed throw pillows.
The start pendant gives off a 17th-century mood. The overall furniture creates a relaxing escape.
34. Corner bench with table
This charming wooden corner seat has an in-built end table. It provides a comfortable place to sit as well as a place to add plants and decorations to your porch.

35. Blend a garden sculpture for a graceful patio
If you have a formal garden theme, you're going to love this design idea! You can add one in your space to have a focal point and achieve a pleasant, quaint backyard.

Round-up
Your new favourite hangout spot is just outside your door! We hope this list of our small garden ideas and garden furniture pieces will help you choose the right furnishing and a patio theme.
You can always refer back when you need some inspiration – these style concepts can work for balcony gardens, too!
Shop Rattan Garden Furniture