With the emergence of man caves, it's only fair that women should also have their own garden escape. This is where the she shed trend comes into the picture.
She sheds are a cosy little hideaway for ladies to call their own. You get to spend in a relaxing environment you created for yourself and have that much-needed "me" time.
Somewhere to breathe and ease anxiety and stress – a stellar backyard getaway! If you're looking for some inspiration, we've rounded up our favourite she shed ideas from the web.
Here's your first step in creating the perfect ladies garden hideaway!
1. Shabby chic
Vintage furniture and lighting with a blend of rustic and ornate styles are what this design is all about. Mix wooden accents like furniture to create the ultimate rustic and shabby-chic look.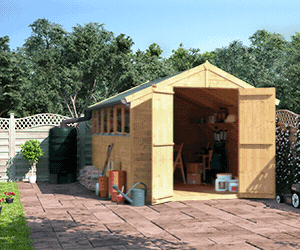 2. Artist's studio
Draw from ample natural light and the beauty of your surroundings in your art studio she shed. Tailor the space to fit the needs of your own creative expression.
Draw inspiration from this Victorian greenhouse meets Alabama farmhouse theme she shed.

3. Ladies night out
Ditch your dining room and go for a cosier setting and elegant alfresco dining room scene. Put together an intimate space in your she shed for a girls night out.
Maximise the space and use it as a breakfast nook or for afternoon tea hosting as well!
4. Bohemian getaway
Set up your she shed with an inviting area where you and the guests have enough room to mingle. Boho offers a more personal and relaxed approach. Add a sofa and lounge chairs with bohemian-inspired pouffes where everyone can gather.
5. Portal library
Create a mini-retreat that acts as a tranquil place to disappear with a book. Floating shelves and built-in ones can provide a place to store your beloved books. These also help keep your she shed free of clutter.

6. Charming cottage
Cottage garden ideas bring out the magic and enchantment of an outdoor space. And a cottage-inspired she shed like this is no exception. 
Escape from the hustle and bustle and enter into a new world – your world.

7. A touch of lighting fixtures
Lighting doesn't just make it easier to see when you're in your she shed at night, but it works as decor, too! Hang a chandelier or pendant lights in the centre to create a focal point.
Bring in string lights or small candles to create a relaxing spot both inside and on the outside.

8. Highlight the entryway
Extend the cosiness inside and out by decorating around the door, a.k.a. the entryway! Hang a seasonal wreath, place a doormat, and include a colourful planter near the entrance. A bistro set would also look amazing for outdoor seating.

9. Landscape is key
Spruce up the beauty of your she shed exterior with landscaping garden design ideas! Add a stone path to your shed and hedges or bushes to make your small hideaway feel like an escape in your backyard.

10. Let in natural light
This she shed was rebuilt using salvaged windows and a new tempered-glass roof. The design lets mother nature provides the natural colour and light. Talk about outdoor glamour!

11. Keep it country
Leave the wall as it is and re-purpose frames, shelves and art from your home, then hang them. Add globe lights to tie the room together. A daybed can make the space more inviting, paired with colourful throws and sheets.
12. Studio for the yogis
A yoga studio is always on the top of the garden room ideas list. Use your shed as your Zen space and have the room to work through your poses.

13. Potting she shed
Your she shed can be the potting haven of your dreams. Inside, organise all your garden tools and build a table to hold extra soil, pot plants and seedlings. 
Outside, add plenty of greenery and water supplies along with a cute seating area.

14. Home gym conversion
Treat yourself to a dedicated area where you can do your routine without disturbance. Load your she shed with cardio equipment and weights to keep up with your workout regimen.
A home gym is a better option if you're more into HIIT exercises rather than a yoga studio.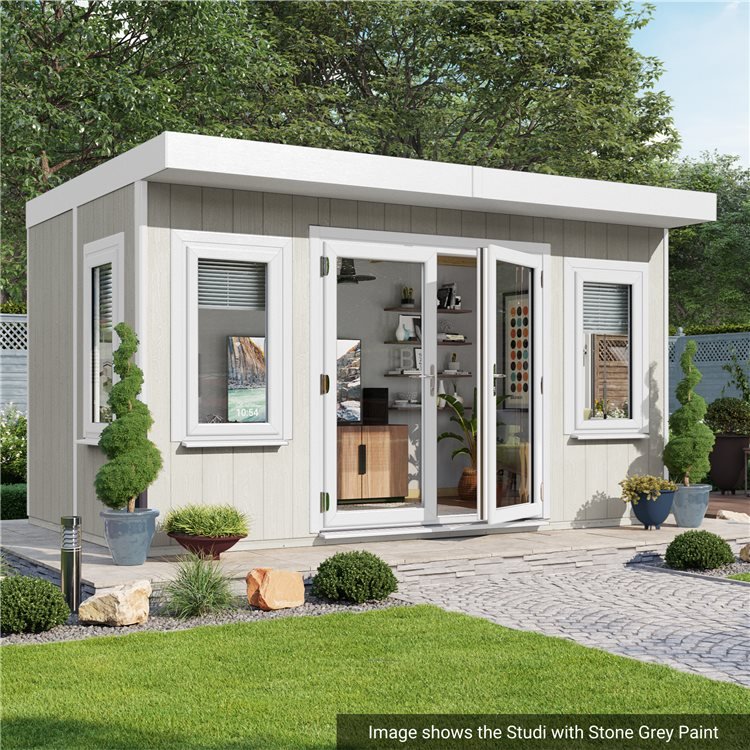 15. Consider built-in storage furniture
Most she sheds tend to be small, so it's best to utilise the space with built-in storage furniture. Desks, side tables, and coffee tables with drawers are a good place to start.
Or invest in a cube rattan furniture set that's easy to store away when not in use.

16. Garden pub for her
The good thing about garden bar ideas is that they're ideal for everyone. But to make it more feminine, stick to the she shed garden bar concept. Display your favourite wine, add floral arrangements, and use light and soft colours.
17. The ultimate spa getaway
Get that luxury spa day in the comfort of your own backyard. Transform your she shed into a tranquil spa haven and treat yourself with much-needed pampering and relaxation.
18. Tucked away
Place your she shed in the corner of your yard and surround it with lush greenery. Add a natural stone path to the entrance to make the vibe more dreamy. Use the garden room as a greenhouse, a hideaway, or whatever you need it to be.
19. Hostess she shed
If you love hosting mini get-togethers, entertaining guests – in general, a she shed with plenty of seating options is perfect for you! Have a look at this cosy entertainment room. Here, you can host elegant dinners or have friends over for a craft night, or just pamper in solitude.
20. Mini lounge area
A mini lounge area in your backyard can be a great addition to your existing garden bar. Fill your tiny she shed with cosy seating and whimsical decor. This is where you can serve your guests your top-notch cocktails!

21. Writing retreat
The neutral white painted walls against the wood create a calm atmosphere. While the floating desk saves a lot of floor space in this she shed. The interior is simple, yet it achieved the perfect vibe for a writing retreat.

22. With faux fireplace
Installing a fireplace in a tiny shed is possible, but it can be expensive and time-consuming. Alas, you can get the same cosy effect with a faux version such as candles, as in this picturesque she shed.

23. Herb garden accent
To add a touch of garden accent to your she shed, consider this simple DIY vertical herb garden solution. It saves space while adding functional green decor.

24. Straight out of a fairytale
Adopt a similar dreamy look in your secret hideaway by decorating it with natural decor pieces. Include a variety of dried flowers to achieve that enchanting visual interest.

25. Music studio
If you enjoy making music and playing various instruments, set up your own studio by way of a she shed. Decorate with your instruments, favourite band posters, and enjoy playing freely!

26. Made from shipping containers
Shipping containers are perfect for creating all sorts of makeshift garden rooms. If you're building your she shed from scratch, a shipping container is a good starting point!
Get a pre-existing shipping container wired for electricity. Give it a fresh coat of paint, and you'll be well on the way to creating your own little haven.
27. Quiet office space
Distractions from inside the house can hinder your productivity. Transform your she shed into your own garden office to stay focused and get your work done. Decorate the space that suits your personal style to help keep yourself motivated!

28. Sewing room
If sewing is your greatest hobby (or you'd like it to be), a she shed sewing room is the perfect solution for you! Feel free to hone your skills without worrying about cluttering your home living room, or garage.

29. The pink palace
Pink is a calming colour and is often associated with love and femininity. It has grown in popularity in interior design that some designers consider it as a neutral colour.
Incorporate it into your she shed design to feel calm and loving as soon as you enter the space.
30. Stylish summer house
A summer house makes an excellent building option for a she shed too! Make it open to the rest of the seating area for a sociable scheme.
Keep it simple with a bench that can double as a daybed and a patio heater. Looking for more summer house ideas?

She Shed Ideas: Round-up
She shed endless options, but a list of inspiration like this is a great starting point. We hope our curated she shed ideas will help you bring your outdoor oasis to life.
Read our garden room ideas next for more creative ways to make use of your outbuildings. We've also put together a list of FAQs to answer more of your questions, so make sure to check them out!
Shop Rattan Garden Furniture
FAQs