Aluminium is a common type of metal used to make garden furniture. But what makes it a perfect choice for outdoor garden furniture?
Apart from rattan patio furniture sets, aluminium garden furniture is a favourite choice in the UK. Giving off a modern touch, it's a great choice of furniture when creating a new and fresh environment.
Like any other outdoor patio furniture, aluminium has its own perks and quirks. So in this buyer's guide aluminium outdoor furniture, we'll tell you everything you need to know.
Outdoor Furniture: Key takeaways
When it comes to metal garden furniture, you have several options. But the most popular among them is aluminium.
Metal garden furniture made from aluminium is rust and corrosion-resistant (even better if it's been powder-coated). It's relatively maintenance-free and far lighter than steel or iron.
Aluminium is a sturdy yet lightweight material. If you like to change the layout of your outdoor space, aluminium furniture mgbe your best bet.
If you want to read more on deciding between metal and rattan garden furniture, check out this post we wrote about just that.
Different Types of Metal Garden Furniture
In addition to aluminium, there are different types of metal used for outdoor furniture making. This includes steel, wrought iron, and patinated zinc.

Steel
Steel is one of the strongest materials on this list, making it heavy and more expensive in contrast to other metals. In addition, due to its weight, steel furniture isn't as easy to manoeuvre.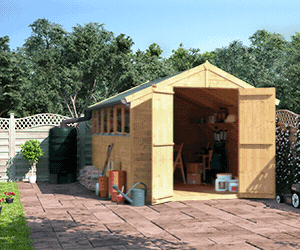 When exposed to outside elements, it can be susceptible to rust and corrosion. But it can prevent dents or any type of damage to its surface so it makes durable garden tables.
Steel and aluminium look similar, and consumers often think they're the same. Although aluminium isn't as dense and strong as steel, it's considered a premium material.

Wrought iron
When it comes to design, wrought iron gives off a classic and traditional look. This type of metal is heated and hammered into shape by hand, usually crafted in the wrought style, hence the name.
But compared to aluminium, it requires more maintenance and is a less contemporary style. It's very strong in itself, though, but it may chip or get scratched over time.

Zinc
Having this type of furniture in your outdoor space means you won't have to worry much about maintenance. For one, its natural properties resist corrosion.
This can radiate a unique look with an industrial vibe. Plus, patinated zinc will age beautifully, creating an antique appearance.
It's solid, antimicrobial, and like cast aluminium furniture, it's easy to clean because of its smooth surface. You can wash it with dilute soapy water in a few simple steps.
Yet, because of its softness, it makes garden furniture that can easily get scratched.
Garden tips: Patinated means a metal surface has formed a corrosive green layer or brown film due to oxidation.

Aluminium
When thinking of outdoor furniture material choices, aluminium is at the top of many homeowner's lists.
What is aluminium? It's a robust, lightweight, and corrosion-resistant material that consumers and manufacturers love.
Aluminium patio sets are far lighter than alternatives like steel or iron. But, unlike them, outdoor dining sets made from aluminium won't rust and are surprisingly durable.
Offering a more chromatic style, most aluminium garden furniture frames have also been powder-coated. This makes the set resistant to fading and UV light, as well as rust-proof and is an ideal choice for modern gardens.

Aluminium Garden Furniture: Why Buy?
Inexpensive yet solid and lightweight are the qualities that make aluminium a tiptop metal material. These are excellent advantages if you plan to move the furniture around your outdoor space. And with a wide selection on offer, you can find an aluminium set to tie in with your wildest garden ideas.
On top of this, aluminium garden furniture is resistant to extreme weather conditions. Unlike steel and iron, which are prone to eroding and may require a lot of maintenance, you can leave aluminium pieces outdoors without worrying too much.
All thanks to its special protective coating, aluminium garden furniture can withstand the effect of even harsh UK weather conditions.
While aluminium patio furniture is durable, dents and bending may occur if misused. Plus, its lightness is a great advantage but can become a problem if not stored during strong weather.
But these concerns can easily be solved if you give your set special care. By this, we mean investing in back and seat cushions and furniture covers as well as clearing and storing it properly.
Padded cushions can act as a barrier between the solid surface of the furniture and your body. Not only can this increase your comfort level, but it also prevents wear and scratches.
Although aluminium garden furniture can endure harsh weather conditions, it's always best to cover it. This is especially true during the winter season.
Garden furniture covers are a great way to keep the pristine look of your set for longer. At the same time, to protect the set against outdoor elements.
If you're currently on the hunt for the best furniture cover on the market, look no further than the BillyOh Deluxe Cover.
Made from PE, this cover is guaranteed waterproof and UV-resistant. Not only that, but it can also help extend the lifespan of your set, ensuring its good shape lasts for years.
Other features include:
100% waterproof
UV-resistant
Rust-proof eyelets for a secure fit
Made from durable woven polythene (PE)

Aluminium Outdoor Patio Furniture: Price
The pricing may vary due to different brands and if the product is high-end. For example, our metal garden furniture range starts at £999.00 to £1,6450 which, considering powder-coating, wood effects, and included cushions is a bargain!
Plus, if you compare it with rattan garden furniture sets, there is only a small difference in the price tag. We guarantee that neither range skimps on quality!

Aluminium Outdoor Patio Furniture: Comfort
No matter what type of metal garden furniture you own, it can be quite uncomfortable if you sit on it bare for too long. With aluminium furniture's solid base, adding cushions is the perfect solution.
Luckily for you, our metal garden furniture sets come with high-backed seat cushions for ultimate comfort no matter what the garden furniture material.

Best Metal Garden Furniture
When talking about supreme durability and weather resistant qualities, metal (aluminium) outdoor furniture is always on the top list. And when we say metal patio furniture brands, there's only one name that screams excellent value for money — BillyOh.
Our collection of metal garden furniture offers unmatched longevity and functionality. Browse through our best metal patio furniture sets now and improve the look of your outdoor space!
Shop Metal Garden Furniture
FAQs