Are you considering upgrading your garden furniture? Look no further than aluminium. In the realm of metal garden furniture, it stands out as a popular choice, and for good reason.
When creating a contemporary ambience, aluminium garden furniture effortlessly delivers. Its sleek and modern design adds a fresh touch to any outdoor setting. But what sets aluminium apart from other materials?
In this guide, we will delve into its perks and quirks. From its durability to low maintenance, we'll tell you everything you need to know. Say goodbye to mundane garden decor and embrace the allure of aluminium!
Key takeaways
Among the various options for metal garden furniture, aluminium is a favoured choice.

Aluminium garden furniture boasts rust and corrosion resistance, especially when it is powder-coated. It requires minimal maintenance and is significantly lighter than steel or iron.

It's the perfect choice if you prefer rearranging your outdoor space frequently. Thanks to its combination of strength and lightweight nature.
Different Types of Metal Garden Furniture
In addition to aluminium, there are different types of metal used for outdoor furniture making. This includes steel, wrought iron, and patinated zinc.

1. Steel
Steel, renowned for its incredible strength, stands out as one of the sturdiest on this list. However, its weight and higher cost set it apart from other metals. Manoeuvring steel furniture can prove to be challenging due to its heaviness.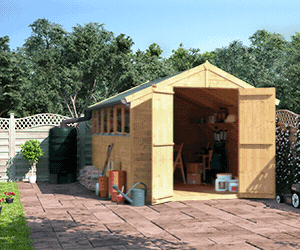 When exposed to outdoor conditions, steel is vulnerable to rust and corrosion. Nevertheless, its robust surface remains resistant to dents and damage. This makes it an excellent choice for durable garden tables.

2. Wrought iron
Wrought iron, with its classic and timeless aesthetics, exudes a traditional charm. This metal is meticulously heated and hand-hammered. It's crafted in a distinct wrought style, giving it its name.
But unlike aluminium, it demands greater maintenance and embodies a less contemporary style. While it is robust, it's susceptible to chipping and scratching over time.

3. Zinc
Owning this furniture ensures minimal maintenance worries, thanks to its resistance to corrosion. Notably, zinc emanates a distinctive industrial vibe. Plus, with the added charm of ageing and acquiring an antique look through patination.
Furthermore, this furniture boasts solidity and antimicrobial properties. Like cast aluminium, its smooth surface facilitates easy cleaning. However, its softness renders it susceptible to scratches, necessitating careful handling.
The term "patinated" refers to the formation of a green or brown oxidised layer on a metal surface.

Aluminium
When it comes to selecting outdoor furniture materials, aluminium reigns supreme. But what makes it so special? It combines strength, lightweight nature, and impressive corrosion resistance. This makes it a beloved material among consumers and manufacturers alike.
Compared to alternatives like steel or iron, aluminium patio sets are significantly lighter. Remarkably durable, they withstand the test of time without succumbing to rust.
Most aluminium garden furniture frames feature a powder-coated finish. This not only adds a touch of chromatic style but also provides fade and UV light resistance. Overall, it guarantees a rust-proof and long-lasting option for modern gardens.

Why Choose Aluminium Garden Furniture?
The remarkable qualities of aluminium make it an ideal material for outdoor furniture. And maybe the best choice for your garden space.
Aluminium garden furniture surpasses steel in terms of weight. Aluminium is significantly lighter. This allows for easier manoeuvrability and flexibility in rearranging your outdoor space. Unlike steel, which can be cumbersome and challenging to handle.
Wrought iron requires more maintenance compared to aluminium. Aluminium garden furniture requires minimal upkeep due to its natural corrosion resistance. Meaning it can withstand the elements without losing its charm. This makes it a practical and convenient choice for outdoor settings.
Zinc lacks the lightweight and durability aspects that aluminium possesses. Additionally, zinc furniture may be prone to scratching due to its softness.
If you're in search of high-quality aluminium garden furniture, we've got you covered! BillyOh offers a wide range of beautifully designed and expertly crafted aluminium pieces.
Our furniture features rust and corrosion resistance and powder-coated finishes. The overall design ensures longevity and protection against fading and UV light. Have a look at our newest selection below:

A smart, minimalist garden sofa set with comfortable seating for four people. Set in smooth graphite with ashen cushions, this set boasts a two-tone grey colour scheme.
It draws inspiration from the Bauhaus movement, perfectly suited for contemporary environments. Aluminium framing and a powder coating keep the Tuscan in good condition for years!
Design insights:
4-piece garden sofa set in grey

2-person sofa and two deep-set armchairs

Rectangular coffee table with 5mm black tempered glass

Comfortable wide-set armrests

8cm polyester cushions for added comfort

Spread out and relax or organise a get-together with the roomy corner sofa. With space for at least five people, it gives you options for relaxing or socialising in your garden.
The Verona also has useful functionality with the in-built synthetic wood side tables. They are wide and table, providing the perfect place to put down your drink.
The graphite framing and white cushions provide a simple, minimalistic style. Meanwhile, the synthetic timber adds an old-school accent.

The spacious Roman sofa set contains a three-person seater and two individual armchairs. It creates a cosy spot to relax or socialise around the fixture of the coffee table.
The smooth, simple design of the aluminium framing takes on a retro twist. Plus, with the synthetic timber slats on the armrests and tabletop. And like the Verona, this chic set adopts a minimalist approach.
It features knocked-down components and comes with straightforward assembly instructions. This means you can have your furniture set up and ready to enjoy in no time!
Round-up
Aluminium garden furniture emerges as the perfect choice for outdoor spaces. With minimal maintenance requirements and a contemporary aesthetic, it offers durability and convenience. So, what are you waiting for? Elevate your outdoor oasis with the charm and functionality of aluminium. Explore the BillyOh collection today!
Shop Metal Garden Furniture
FAQs