Plastic may not be your first or second choice when it comes to patio sets due to the material being "weak". But plastic garden furniture hasn't come a long way in recent years for nothing. Today, they make affordable, durable, low-maintenance, and stylish options — so think again!
What makes them a smart choice is what this guide will highlight, along with the best products on the market. So keep reading, and we'll take a closer look at the pieces you never knew you needed.
Plastic Furniture Over the Years

At first, plastic furniture was perceived as cheap and unattractive. But as technology advanced in furniture manufacturers, so did the quality and design.
Manufacturers began using new materials, such as polyethene (PE) and resin. This made the furniture more durable and weather-resistant. The best part is it still reigns as the cheapest material – no quality compromised.
They also began to offer a wider range of colours and styles, making the sets more appealing to consumers. Today, plastic is not only cheap and easy to care for but also stylish and practical outdoor pieces.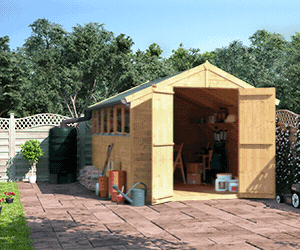 Plastic garden furniture has evolved to meet the demands of modern consumers.
Many Names, One Raw Material
The most common materials used in plastic garden furniture are:
Polypropylene

. Polypropylene (PP) is a strong, flexible thermoplastic polymer. It's resistant to UV rays and water damage.

Polyethene.

Polyethene is known for its durability and resistance to impact and temperature changes. A popular variety is

high-density polyethene (HDPE)

.
The rest include models made of polyrattan and polywood, which are synthetic materials. Polyrattan is a synthetic material made from HDPE woven into a rattan-like pattern. Polywood, in contrast, is a type of plastic lumber made from recycled plastic. Both offer a sustainable alternative to traditional rattan and wood furniture.
To see how these materials work and look in solid form, check our selection of garden furniture below:

Spruce up your patio with this compact, HDPE-made scandi-inspired bistro set. Crafted in a clean, minimalist style, it suits modern gardens best. But thanks to its muted colour scheme, Sölback fits in with traditional surroundings, too.
The compact table may be small, but it's perfect for outdoor dining for two. The strong, rust-free aluminium frame ensures you can enjoy al fresco for years.

Here, we present the all-around table with a wide variety of uses, both indoors and outdoors. Just throw on a tablecloth to dress it up for extra special moments!
The HDPE tabletop is resistant to stains, and the steel framework is powder-coated. The legs lock into place to ensure that the table doesn't fold when in use. What's more, it's incredibly lightweight, making it even more portable.
It's a timeless piece to have, perfect for all sorts of occasions.

This elegant Adirondack chair will add a touch of contemporary to your outdoor space. The reclined seating position and wide armrest make it the ultimate lounging companion.
Thanks to the hard-wearing HDPE, it can stay outdoors all year round. Barely any maintenance is also required to keep this chair looking good as new. Bjørn has been designed to provide a great blend of quality and sustainability.

This garden rattan armchair is the complete package. Having not only a beautiful, contemporary finish but also great durability and versatility.
Made from polyrattan, it has a stylish demeanour that makes it a perfect fit for gardens of all kinds. Marbella is also contrasted with cream cushions, making the seat look more inviting. 
Virtually no maintenance is required to keep it in good condition. But for armchairs with cushions, a furniture cover is recommended.

The design of this coffee table mimics the look of a genuine material but is tougher and more durable. This centrepiece is practical, offering plenty of space on top and beneath. Also, it's tightly woven and stable thanks to secure feet positioned at the bottom. It's heaven-sent if you have children or pets always running around full of energy!

Designed in a minimalist, contemporary style with contrasting grey colours. This corner sofa gives you somewhere to sit and relax, eat and drink and put your feet up. With the coffee table and stools, you'll have a whole entertainment space within one great set.
With click-together technology, assembly is quick and easy. Take advantage of the hard-wearing polyrattan material and spend no time maintaining it. What's more, the glass tabletop has weatherproof qualities for long-term protection.
Enjoy al fresco and make the most of your home and garden in every way possible!
What Makes Them Worthwhile Investments?
Here's why plastic garden furniture deserves a spot in your outdoor space:
1. Cost-effective
Plastic furniture is often cheaper than other materials such as wood and metal. This makes it a great option to furnish your patio without breaking the bank.
2. Low maintenance
Unlike solid wood furniture, plastic doesn't need to be sealed or stained. It also doesn't rust or corrode like the metal ones. Plastic furniture can simply be wiped down with soap and water to keep it looking clean and fresh.
3. Durable
Plastic garden furniture is also known for its durability. It can withstand the elements, e.g. rain, wind, and sun, without fading, cracking or warping.
4. Variety of styles and colours
The variety of styles and colours makes it easy to find a set that matches your taste and decor.
5. Sustainable
Many manufacturers like BillyOh use recycled materials to produce quality furniture. This method helps reduce waste and conserve resources. And since plastic in furniture is durable, it can last for years. In return, this reduces the need for frequent replacements.
Round-up
Outdoor furniture faces all the consequences of being exposed to harsh weather conditions. Although built for that purpose, some materials can't simply stand it for a long time. This is especially true without regular upkeep.
Wooden sets require a maintenance routine. The same goes for metal pieces to keep them in top condition. But plastic patio furniture remains the superior thanks to its durability and easy-care.
If you're looking for a cost-effective and long-lasting solution, plastic outdoor furniture is the way to go!
Shop Rattan Garden Furniture