Remarkable durability, natural beauty, and timeless appeal. What better choice than teak for garden furniture? This wood has become the go-to option for discerning homeowners and outdoor enthusiasts.
In this buying guide, we will take you on a journey through the world of teak garden furniture. We'll begin by highlighting the fascinating properties of teak wood. From there, we'll break down some of the factors you need to consider, mainly on:
different teak furniture types

quality and craftsmanship

budgeting and pricing
Ready to look for the perfect teak furniture style for your outdoor haven?
Teak Wood Unravelled

Teak wood originates from the Tectona grandis tree, primarily in Southeast Asia. Myanmar, Indonesia, and Thailand, in particular. The material has been used for centuries in furniture, boats, and outdoor structures. It has long been prized for its remarkable properties, exceptional quality and beauty.
Let's start with its natural durability. Teak wood contains high levels of natural oils and resins that make it resistant to rot, decay, and pests. This feature allows teak furniture to withstand the rigours of outdoor use.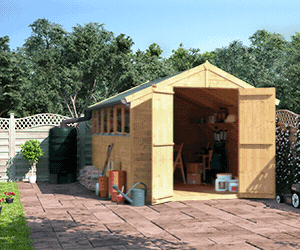 Teak's remarkable weather resistance is another standout characteristic. It can endure extreme temperature variations, high humidity, and prolonged exposure to sunlight. All these are without warping, cracking, or fading.
Additionally, teak wood furniture possesses unique insect-repellent qualities. The natural oils found in the teak act as a deterrent to termites and other wood-boring insects. This ensures the longevity of teak furniture, even in insect-prone areas.
These exceptional properties make teak an ideal material for garden furniture, indeed!
Exploring Different Teak Furniture Styles

Wooden furniture using teak comes in a wide range of styles. Dining sets, for one, are a popular choice for outdoor gatherings and meals. Teak dining tables with matching chairs offer a timeless elegance. Look for designs that feature sturdy construction, ample seating, and options for extension.

If you're seeking a laid-back atmosphere, teak lounge chairs make the perfect solution. Look for ergonomic designs with adjustable reclining positions and comfortable cushions. Also, for convenient features like built-in side tables or wheels for easy mobility.
Teak benches are also versatile additions to any outdoor space. They offer seating options that can be placed in gardens, patios, or along pathways. From traditional backless designs to ones with intricate detailing and curved armrests. Overall, they provide both functionality and aesthetic appeal.
If you have a smaller space or prefer a more intimate setting, teak bistro sets and teak tables are excellent choices. These compact furniture arrangements typically consist of a small table and two chairs. They create an inviting spot for enjoying a cup of coffee or engaging in conversations.
When choosing a teak furniture style, go for features that resonate with your taste. For instance, clean lines, graceful curves, or intricate detailing. Also, think about the intended use of the furniture and how it will complement your outdoor space.
By considering these factors, you can select the most suitable teak furniture for your outdoor lounging needs.
Quality and Craftsmanship

Assessing the quality and craftsmanship of teak furniture ensures a long-lasting investment. High-quality ones not only offer superior durability but also showcase exceptional aesthetics.
When evaluating teak furniture, pay attention to the wood grade. Grade A teak is the highest quality, featuring a dense grain, rich colour, and minimal knots. Grade B and Grade C teak may have more variations in grain and colour but can still be of good quality.
Examine the joinery techniques used in the construction of the furniture. Look for sturdy mortise and tenon joints, which indicate solid craftsmanship. Avoid furniture held together solely by nails or staples. For one, they are prone to weakness and instability over time.
Finishing details are also important indicators of quality. Smooth and well-sanded surfaces demonstrate meticulous craftsmanship. Look for even and consistent application of protective finishes. Such features enhance the natural beauty of the teak while providing protection.
Budgeting and Pricing

The pricing of teak garden furniture can vary based on several factors. Wood grade plays a significant role, with Grade A teak being the highest quality and typically commanding a higher price. Design complexity, intricacy, and craftsmanship also impact pricing. More intricate designs require additional labour and expertise.
Brand reputation can also influence pricing, as well-established brands often carry a premium. Lesser-known brands can still offer excellent quality at more affordable prices. But speaking of a reliable brand, you can never go wrong with BillyOh when it comes to garden furniture!
When setting a budget for teak furniture, consider your needs and preferences. Determine the specific pieces and styles you require for your outdoor space. Most importantly, allocate a realistic budget accordingly.
Prioritise quality over quantity. Investing in durable, well-constructed teak furniture will be more cost-effective in the long run. Top tip: To save costs, keep an eye out for off-season sales or promotions when prices may be more favourable.
Round-up
Now you're equipped to make a wise and informed purchase decision! May this guide help you create an outdoor space of enduring beauty and functionality. 
Embrace the timeless elegance and remarkable resilience of teak garden furniture!