We know the struggle of choosing the best furniture for your garden. But it doesn't have to be that hard, especially when you have a buying guide!
Furniture shopping can be exciting but at the same time, it can be a challenge. It requires a lot of patience in selecting items that best fit your taste, budget, and space. No wonder why choosing a perfect sofa set or a dining set for your garden has never been easy.
But with a buying guide, things can run smoothly. We'll tell you everything you need to know about rattan garden furniture, including some buying tips.
Key takeaways:
A buying guide is built to help you before you buy.
We'll help you choose: type, size, and price range to get the rattan garden furniture set that's best for you.
When talking about the best garden furniture, rattan is a popular choice for UK homeowners and home interior enthusiasts. What makes it so popular? You're about to find it out!
What Is Rattan Garden Furniture?
First things first, what is rattan? Rattan is a palm tree plant native to the tropics and subtropics.
80% of the world's rattan resources grow in Indonesia. Its places of origins in Southeast Asia, apart from Jakarta, include the Philippines, Malaysia, and Vietnam.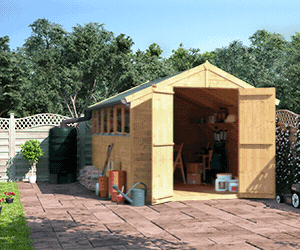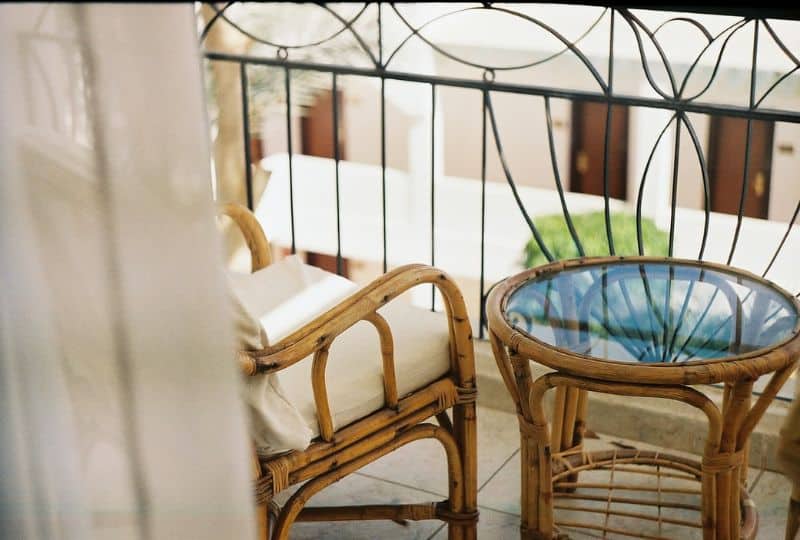 Rattan Outdoor Furniture
The durable and natural material of rattan can be weaved into various things, including furniture. Moreover, thanks to its flexible quality, rattan is ideal for complex and delicate designs.
Since the 1970s, rattan furniture has undergone weaving techniques using natural rattan. Fast forward to the 21st century; many manufacturers have started to develop fresh modern ways to revive the rattan trend.
Made from synthetic fibres, artisans call this new product synthetic rattan. Today, most rattan furniture sets are engineered with natural-looking and long-lasting synthetic rattan. Synthetic rattan is also an awesome weatherproof alternative to natural rattan.
Why buy rattan?
Rattan garden furniture, particularly synthetic, has been known for its weatherproof properties. Not only that, but it also comes in all sizes, colours and designs.
If you're looking for comfortable yet strong garden furniture, synthetic rattan is your best bet. It's designed to look like natural rattan but with colour variations throughout the material.
The synthetic material offers the look of natural rattan, from sofa sets to dining sets and bistro sets.
Plus, it can withstand outdoor elements, including damp and humid conditions. Its weatherproof features make it stand out among natural rattans.
Garden furniture with weather-resistant traits also guarantees you an outdoor set that'll last for years to come. And that's what synthetic rattan garden furniture is all about!
How long does rattan furniture last?
If you want more answers on the lifespan of rattan garden furniture, check out our post: how long does rattan furniture last?
How to care for rattan furniture?
And if you want some more info on care and maintenance, head over to our post on
how to clean rattan furniture.
So why choose rattan garden furniture? Below, we have listed the features that rattan furniture gives to any garden setting.
Synthetic Rattan vs Other Materials
Lightweight and sturdy – just a couple of the best qualities that natural rattan furniture has. Yet, it's not best to leave it outside as it's not weatherproof.
When exposed to the elements, genuine rattan furniture tends to lose strands over time.
Meanwhile, wooden and metal furniture can rot or rust if left outdoors, especially in extreme weather, for long periods. Keep in mind that high temperatures can also cause this furniture to fade, let alone crack.
They're not the best option if you don't have a place to store them in bad weather. Which is where synthetic rattan trumps metal and wooden garden furniture.
What is PE synthetic rattan?
Modern, synthetic rattan garden furniture is made from durable plastic polyethene (PE). It's the most popular type out of PE, polyurethane (PU), and polyvinyl chloride (PVC).
This type of synthetic material is also not affected by sun, rain or high temperatures. Therefore, synthetic rattan makes for the perfect piece and our best bet for garden furniture.
Thanks to its modern materials, it's stronger, weatherproof and more lightweight than natural alternatives. It's UV-resistant and weatherproof too, making it low maintenance and ideal for use as garden furniture.
Moreover, it's easy to maintain and clean, so it's a simple task to improve its lifespan!
Unlike natural rattan, the weaves on top-grade synthetic rattan furniture won't break easily. As a result, it has the benefit of handling all types of weather, including humid or damp conditions.
It's a great alternative to natural rattan, wooden, metal and wicker furniture as high-grade PE is much more durable and better equipped for the outdoors.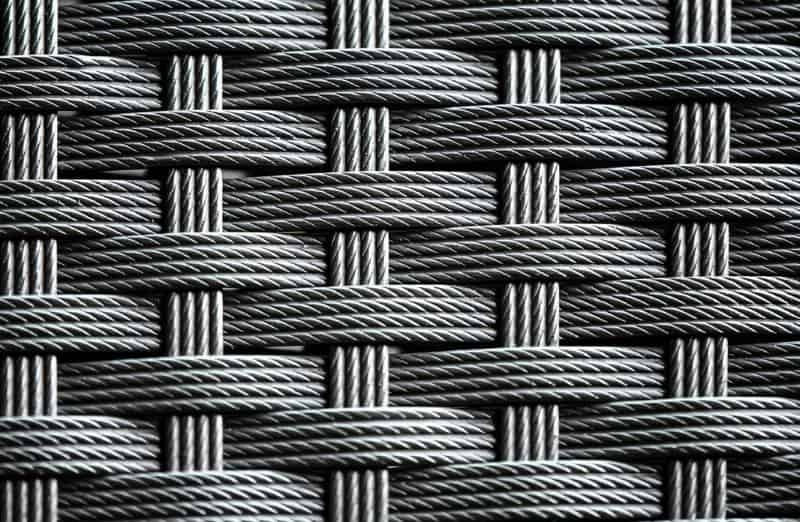 Recap: Why is synthetic rattan furniture good?
It's weatherproof
Resistant to damp, rot, or mould
UV-resistant and won't fade in the sun or crack
Stronger and more durable than natural rattan
More lightweight than traditional rattan
Low maintenance garden furniture
Flexible and easily styled with other garden furniture and patio designs
Tips for Choosing the Right Rattan Garden Furniture
High-quality synthetic rattan furniture needs to be UV-protected and weatherproof. This means it can withstand harmful UV rays and extreme British weather.
Opt for a powder-coated steel frame as it offers more strength and durability.
Look for a set that comes with padded cushions (and even a cushion cover). They add long term comfort while helping to ensure that the furniture won't get nicked and scratched.
Luckily for you, most synthetic rattan sets come with soft cushions to sink yourself into!
Whether you're shopping online or in-store, get the measurements of the furniture you're eyeing up. Compare these against your available space. Take into account the space of entranceways!
Top tip: Take some blue painter tape and map it out in your outdoor space. Be sure to leave room for space to walk around.
Different Types of Rattan Garden Furniture Sets
If you're looking to pick up a rattan garden set to suit your outdoor space, go see our post on the best outdoor dining sets for this year. Below, we'll explain the different types.
Rattan Sofa Set/Corner Set
Rattan sofa sets are an increasingly popular choice for those with gardens or a patio with limited space. They can come in four to nine seaters, and some units also include a coffee table and ottomans for extra seating.
Perfect for afternoon lounging, rattan corner sets can be your ultimate outdoor companion. If you're thinking of investing in one, we recommend opting for a model that's made from a weather-resistant flat weave and powder-coated steel frame.
By now, you should already know why!
Take a look at the BillyOh Salerno corner sofa. It's made from weather-resistant synthetic rattan with a powder-coated steel framework.
What's more, it comes with soft, inviting cushions to sink yourself into. In addition, the set includes a two-seater sofa (seats 4), a tempered glass-topped coffee table and a storage box.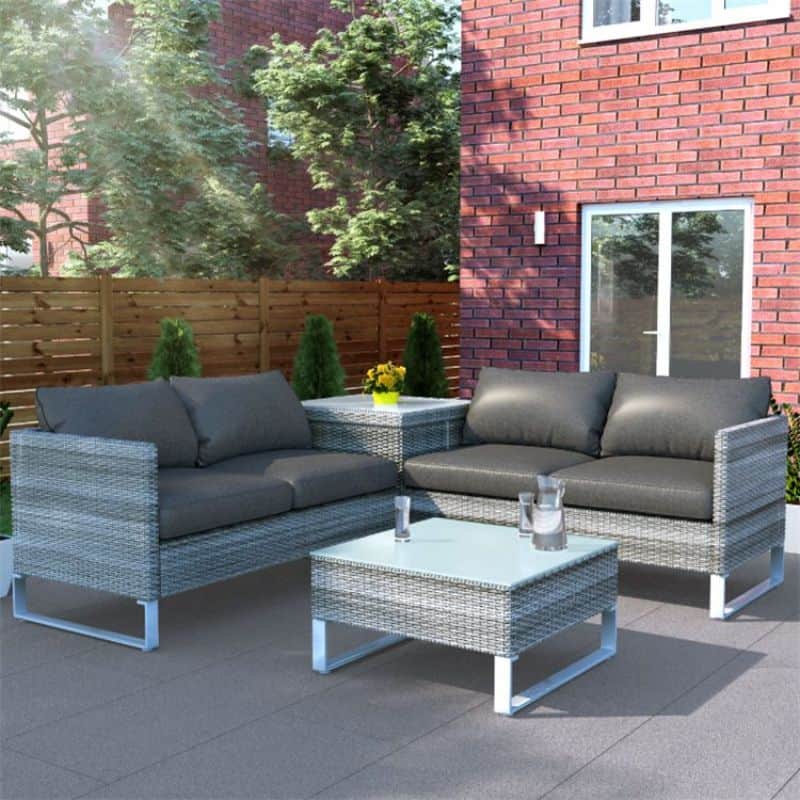 Rattan Cube Set
If you have a more compact garden or patio space, rattan cube sets can utilise an outdoor living area without taking up all the space. Rattan cubes are a real space-saver – they aren't called cubes for nothing.
The term 'cube' comes from their ingenious design. It lets you tuck the chairs under the table when not in use, forming a perfect cube.
Just take a look at the BillyOh Modica cube set. You can now make your dream al fresco dining with this spacious yet space-saving rattan furniture.
The Modica features a contemporary and stylish design. This provides you with a timeless grey rattan furniture set that won't go out of style.
Thanks to its compact storage design, the parts can fit together compactly when not being used. This makes the set easy to store away and create more space in your garden.
It also comes with a luxury seat and back cushions, and ottomans at no added cost for maximum comfort. Overall, the set includes four cube chairs, four ottomans and a tempered glass table.
More info on rattan cube sets
And if you want, you can always read up over at – rattan cube furniture – all you need to know.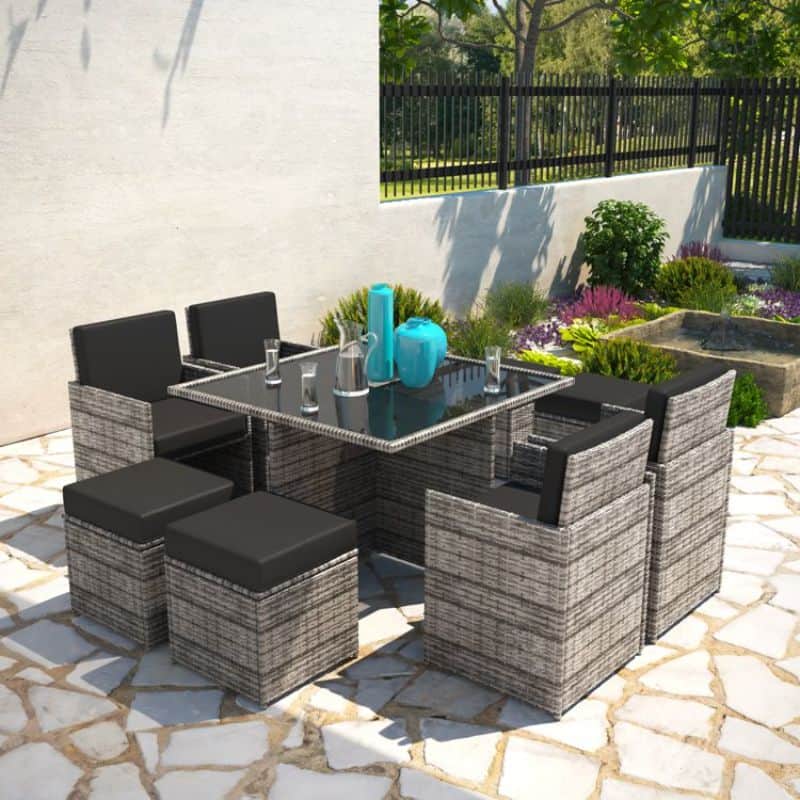 Rattan Set with Fire Pit Table
Click if you want some more info on fire pit and fire pit tables in our great explainer post.
But if you haven't heard about fire pit tables, then this type of rattan dining table is making its way onto the hot trend list! You get to enjoy the experience of an open fire even in the wintertime with an outdoor fire pit table.
As the name suggests, it's a fire pit in an actual table. Hence, it provides convenient light and warmth as well as a level surface to put things down.
A fire pit table is an excellent choice if you love to have night conversations while making s'mores on the patio. Or hosting al fresco dining during chilly nights.
Take a look at the BillyOh Capri, it's the perfect blend of functional design, comfort, and style. In addition, this fire pit table comes with glass surrounding the pit for extra protection from any minor sparks.
It's carefully crafted using reliable polythene rattan with a powder-coated steel framework. This means it's UV-resistant, anti-fade and anti-mould.
Moreover, the convenient corner design enhances the space in your garden. The additional double benches are great for providing extra seating, or they can double up as footstools.
Garden Trends and Styling Rattan
And if you want to learn more about blending rattan furniture with your patio or garden, check out our post on styling rattan furniture.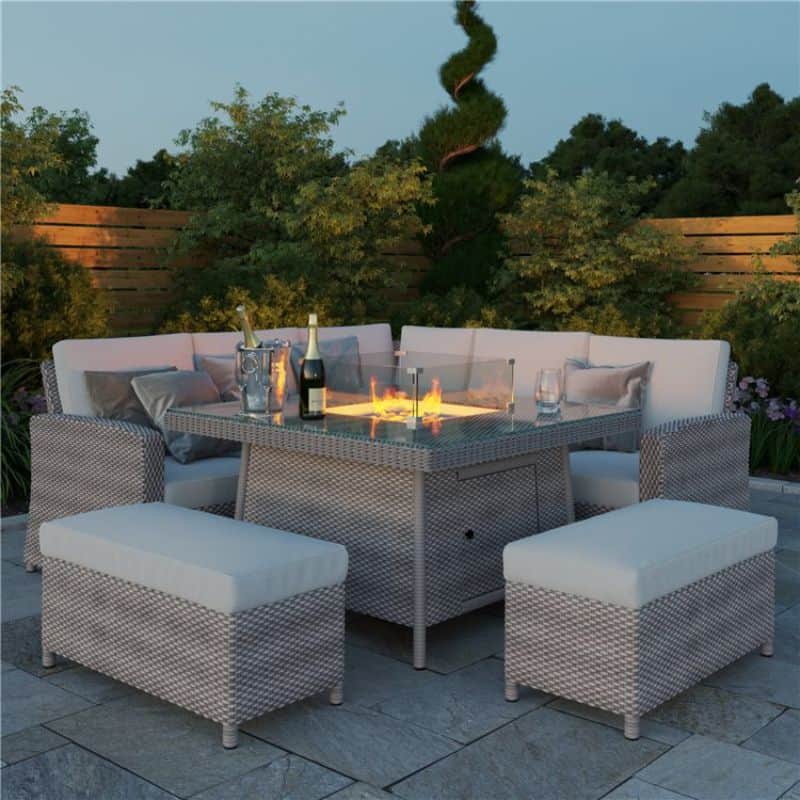 Rattan Sofa Dining Set
Nothing beats al fresco dining on a rattan dining set! Not only does it provide the perfect set-up for outdoor dining, but also it can be a quiet spot to relax in peace by yourself around a large table.
Take a look at the BillyOh Siena dining set. Designed for alfresco dining, the long, tempered glass-topped table offers enough space for larger feasts and get-togethers!
Like with the rest of our rattan sets, the Siena also comes with thick, luxurious seat cushions. These add further comfort and relaxation.
And of course, the set is crafted from high-quality PE rattan and a powder-coated steel frame. Guaranteed to last for years to come, it's a worthwhile investment for your entertaining outdoor needs.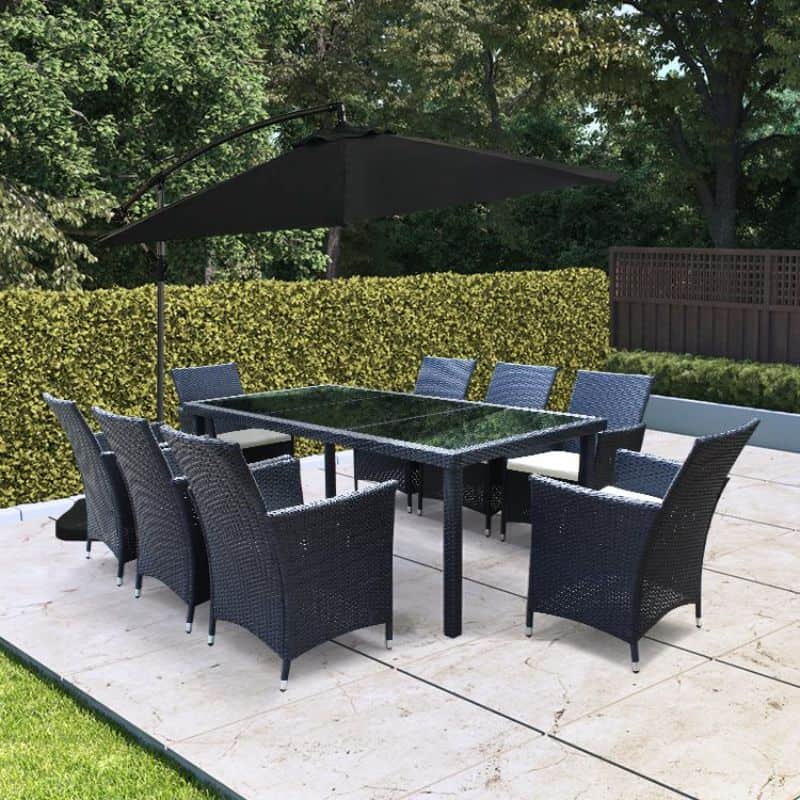 Rattan Outdoor Patio Furniture
When it comes to garden furniture, rattan sets are a great choice of outdoor furniture pieces
. With modern synthetic rattan furniture, you can equip your outdoor space with furniture that's:
Weatherproof/weather resistant/waterproof

Great for comfortable seating (with padded seat cushions)
Whether you have a limited or large patio, you're likely to find rattan furniture that'll suit your needs. You can choose a rattan corner set or a cube one if you've got a small backyard or patio.
A rattan fire pit table or a rectangular rattan dining set, in contrast, is a perfect choice for larger feasts and big spaces
.
Shop Rattan Garden Furniture
FAQs