It's not always straightforward choosing the perfect sofa set or dining set for your garden. If you're looking for low maintenance garden furniture, which is strong and comfortable, synthetic rattan is a great choice! As popular as ever due to it's durable and weatherproof properties, rattan garden furniture comes in all sizes, designs, and colours. With so many varieties of furniture available, it's not always easy to choose which is best for your garden furniture uk.
Modern alternative to natural rattan 
The palm which is used to make rattan furniture originates from the forests of Malaysia, Singapore, and the Philippines. It was imported during the late 19th and early 20th centuries and became hugely popular for decorating drawing rooms and conservatories.
Although lightweight and stylish, rattan isn't at all suited to the outdoors. This is why a decade ago, garden furniture manufacturers developed a synthetic alternative to wood which was durable enough to be left outside.
Best garden furniture to leave outside

Synthetic rattan is now used as a weatherproof rattan garden furniture alternative. Sofa sets to dining sets and bistro sets, the synthetic material offers the look of natural rattan but with modern features that will keep it protected from the elements.
Harsh rain and sun won't effect synthetic rattan garden furniture. The UV protection means the furniture colour won't fade in the sun or become brittle. It can also withstand being left outside all year round without corroding or rotting due to the modern materials it is constructed from.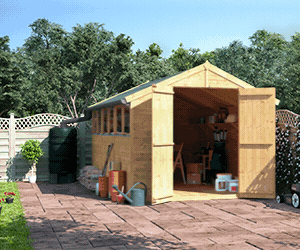 Rattan sofa sets can seat the whole family
The great thing about rattan garden furniture is that it offers your family and friends a space to enjoy the garden in comfort and style all year round. Rattan sofa sets can seat eight people or more which is ideal if you've got a big family or love to host garden parties in summer!  
If you're looking for modern styles, cube designs provide you with the flexibility to move the sets around and create garden furniture which works for you. Alternatively, there are traditional rattan sofa sets available which will complement a traditional garden setting perfectly.
If you're tight on garden space, a corner sofa set can be a perfect solution. You can provide a comfy corner of your garden which takes up little room in your garden. Choose from modern or traditional styles in a range of colours and qualities.
Rattan dining sets offer low maintenance alfresco dining

There's no better place to be during warmer months than the garden, with a rattan dining set you can enjoy your family BBQ or home cooked meal in comfort. When it comes to outdoor dining, it doesn't get any easier than rattan dining sets. Made to be durable and strong, they take little cleaning and maintenance to look good all year round.
White rattan garden furniture offers a fabulous holiday feel to a garden. Sit back and sip on a pina colada while you relax with luxury rattan garden furniture set. Alternatively, a cube rattan dining set can give any garden a modern feel.
Bistro sets offer ideal seating for a patio or balcony

Luxury garden furniture isn't limited to just large gardens. You can add style to a small patio area or even a balcony with rattan garden furniture! Bistro sets are perfect small gardens. They offer the perfect place to sit and enjoy a catch up with a friend or your morning cup of coffee.
Top Tips for choosing the right rattan garden furniture
High-quality synthetic rattan furniture needs to be UV protected or it will become brittle and fade.

Look for the irregular scraped surface to give a duller, more realistic look than a plastic shine.

Powder coated aluminum frames offer more strength and durability for the set.
Find out about BillyOh reviews here.