Cottage gardens use an informal design filled with dense planting and timeless garden furniture pieces. Whether you have a very small garden or a long yard space, these ideas can come in handy!
We've compiled 50 design inspirations to transform your cottage garden into a homely, yet functional garden space you can enjoy.
Let's take a look!
1. Flowers on iron arch
Place an archway at your garden entrance and decorate it with pretty climbing flowers for a beautiful walkway. 

2. Lavender flowers
Add beautiful, fragrant flowers that add colour and scent to your cottage garden.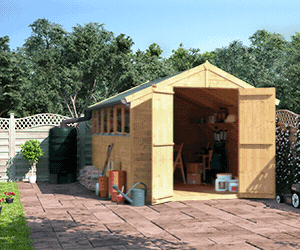 3. Wooden fence and entrance
Add a wooden picket fence or any garden screen ideas to the borders for a natural, informal look. Climbing flowers will bring beautiful, natural colour to your entrance. 

4. DIY raised trellis
You could craft your own trellis tent with different climbing plants or flowers to create a cute garden focal point. 

5. Bench under flowers
Grab yourself a seat in the shade beneath your flowering trees for a beautiful spot to relax and enjoy a cold drink on those sunny days. 

6. Small path and flowers
Decorate the sides of your garden path with some pretty flowers of different colours, so you enjoy the natural look every time you take your afternoon walk.

7. Relaxing backyard with flowers
Sometimes, all you need is a comfy chair to enjoy the view of your garden and relax every day.

8. Colourful garden bed
Add a variety of coloured flowers and plants of different sizes to create a unique, wild-looking flower bed in your cosy cottage garden. 

9. Glass and wood garden shed
A nice place to read or relax in the afternoons while still making the most out of the sunlight.

10. Cosy gardening patio
Make your patio more cosy with scattered plant pots, climbing vines, and a mini garden pond!

11. Front yard flower garden
You could add a small bird bath amongst your colourful blooms to attract some winged friends and other wildlife to your garden.

12. Cut flower garden
Start your own cutting flower garden today! Use flowers that are suitable for table arrangements and vases that will last a while once they've been cut.
Roses, sunflowers, sweet peas and tulips would make a great addition to your space.

13. Grass and flowers
You could go for a simple setup and have some neatly cut grass amongst your flower beds to enjoy in your garden.

14. Garden corner with tree
A tree will provide an area of natural shade in your cottage garden to enjoy on a hot, sunny day.  

15. Garden backdoor with gravel
Decorate the entrance to your garden with some colourful flowers, and add a winding gravel path with stepping stones to avoid slipping on a rainy day. 
16. Shed and small table
Add a cosy seating area outside your shed to enjoy some fresh air while getting some shade.

17. Modern black shed
Give your shed a contemporary feel with a black finish to help your colourful planting stand out further. 

18. Garden door with trellis and flowers
Spruce up the doorway to your home with some trellis and pretty climbing flowers. 

19. Old steps as vertical garden
A great way to give an old ladder a second life is by transforming it into a vertical garden to place your pots. This DIY project would look perfect in balcony gardens, as well!
20. Flowers and table on black wall
Some colourful or white flowers against a black fence or wall provide a beautiful backdrop for a seating area. 
21. Recycled staircase
Add some colourful flowers or plants and you'll have an appealing garden decoration on a budget.
22. Blue tones
Try matching your garden furniture with your flowers to give your garden a colour theme. 

23. Colourful front yard
Passersby will stop and admire your front yard with an appealing flower arrangement like this one.

24. Path with flower arch
You won't want to miss your afternoon walk passing below this beautiful, natural arch.

25.
Fairy tale

 pergola

A simple, rustic wooden pergola is transformed into a beautiful walkway when it's decorated with colourful flowers.
26. English cottage garden
Billowing beds of beautiful, coloured flowers will provide the perfect setting to complement the cottage architecture. 

27. Gravel garden with pots
Gravel is a budget friendly way to overhaul your garden space. It's easier to maintain than grass and you can still have plants or flowers using pots and raised planters.
28. Flower crate
Recycle an old wine box to create some appealing raised flower beds that you can place anywhere in your garden, or even inside your house.

29. Tiny cottage garden
Small, peaceful and colourful. You don't need much else to have a cosy, relaxing spot in your backyard.
30. Bricks and flowers
These dazzling hollyhocks provide a beautiful border to this garden path. 
31. Plant and flower baskets
Recycle unused baskets as plant pots to decorate small spots in your garden, such as the area around the base of tree trunks. 

32. Backyard rustic corner
Add rustic shutters and chairs to transform a corner of your cottage garden into a cosy seating area.  
33. Corner seating spot
Create your own cosy nook for a spot of reading and relaxation in an unused corner of your garden. Add some climbing vines to decorate your mini hideaway. 

34. Stone steps and grass
These unique circular stone steps are the perfect addition to a sloped garden to create multiple levels instead. The hidden planting between steps adds a splash of colour. 
35. Fence with flowers
Be sure to pick the right colours for your garden. With purple flowers, it's best to go with a light wood fence for good colour contrast.

36. Small corner with gravel and table
If you're short on space, be sure to make the most of every inch. Add a dining table and chairs to create a cosy nook for dinners with friends. 
37. White and green
If you prefer a more formal cottage garden, you could stick to adding white flowers amongst the greenery. 
38. Slim garden with deck and flowers
You could use weathered boards for your decked path and add planting of different heights and textures to complement the cottage garden theme. 
39. Bench with flower shade
Add some pretty flowers or a trellis above your garden bench to create a cool shade for when you're relaxing on a sunny afternoon.

40. Lavender and brick path
Place a simple brick path in your garden so you don't damage your grass when walking. 
41. Table under flower arch
Perfect for those outdoor meals whilst you enjoy the beauty and fragrance of the flowers.
42. Garden window or mirror
Place a window or a mirror in an unexpected wall of your garden to make it look bigger and add extra light in an enclosed area. 
43. Trees and plants in pots
Pots are a great choice if you don't have much space to grow plants or flowers in your garden but you still want to add some colour against a plain backdrop.

44. Heavenly arranged garden
For a more formal cottage garden, use symmetrical planting and simple colours to create a beautiful courtyard space. 

45. Raised garden bed for trees
Place a raised bed around the trunk of your trees to add some grass or colourful flowers for extra decoration.
46. Cosy cottage
Stepping stones make the perfect pathway for a natural cottage garden. Line the path with scattered flowers of different colours and heights.
47. Backyard garden with long path
Add a long path to reach every corner of your evergreen garden.

48. Brick shed
Build a cosy, tucked away space that's perfect to work or read a book in peace and quiet.

49. Stone path with small flowers
Plant some tiny flowers to grow between your stepping stones to create the most appealing pathway in the whole village.
50. Garden pond and bridge
There's nothing like a water feature or stream in your backyard to help you relax while listening to the calming sound of running water. 

Round-up
Cottage gardens are seen as romantic, whimsical spaces with an informal feel and an 'anything goes' type of style. Whether you're looking for planting ideas or the best suggestions for your cottage garden path, we hope you've found some inspiration in our list!
So why not sit out and enjoy your new cottage garden on some BillyOh furniture? Just click the button below to browse.
Shop Rattan Garden Furniture