Chinese gardens provide a place of peace and serenity for busy people who require much-needed respite from a noisy, stress-filled world. Most Chinese gardens include architecture of some kind – a water feature or a rock garden, plants, and mostly, wooden outdoor pieces.
If this is what you're aiming for, it's important to plan out your garden carefully before you begin. Don't know where to start? We're here to help!
Let's take a look at some options for your garden!
1. Green dominance
Chinese gardens usually contain a variety of plants to provide beauty for each season. Stones can indicate stability and strength, so it's important to include some in your garden. 

2. Oriental garden with bridge
If you're not keen on adding a water feature (like a garden pond), incorporate a dry stone river bed into your garden design. You could even include an oriental-style bridge to cross it.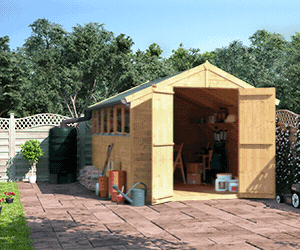 3. Bridge on wooden deck
Or go for the real thing with this dramatic stone water feature and decorative bridge. 

4. Bamboo and gravel
Bamboo will give your garden an oriental look and make a great backdrop for a Chinese garden. Add some garden pebble decorations, like a pagoda, to complete the look.

5. Feng shui modern garden
If you prefer a more spacious, open garden, try going for more minimalist decorations, focusing on the plants and trees.

6. Lots of colour
When choosing plants for your Chinese garden, you could include Acers (Japanese maple) and bamboo, and even a bonsai tree. 

7. Pond and small waterfall
A water feature is often the focal point of a Chinese garden. Nothing helps you relax more than the peaceful sound of running water. 

8. Moon gate and path
This circular archway is traditionally called a Moon Gate, and is thought to offer good fortune to those who pass through it. The use of trellis for the surrounding fencing allows light to pass through, giving a feeling of further openness. 

9. DIY garden pagoda
If you're on a tight budget, get creative to design your own pagoda using items you already have, such as leftover paving slabs and stones.

10. Oriental pavilion 
If you have the space, install a Chinese-style pavilion to provide a place for reflection and to escape the sun's harsh rays.

11. Perfectly trimmed plants
Bonsai trees can be seen as symbols of harmony, balance, patience or luck. Many people simply use them as living ornaments for interior design and in zen gardens.
While Zen Buddhists believe they are an object of meditation or contemplation. 

12. Oriental corner with fountain
If you're short on space or only want to dedicate a corner of your garden, add a simple water feature and pagoda decoration, with some neatly trimmed Chinese plants.  
13. Pond and plants
Create a natural-looking pond edged with rocks and surrounded by Chinese plants and decorations to transform the look of your garden. This concept is perfect for large gardens.

14. Narrow
Chinese

 backyard

Even if you don't have much space, you can still create a Chinese garden to be proud of. Add plenty of neatly trimmed trees and rocks, but remember to leave yourself a pathway so you can admire your handiwork. 

15. Bush and rock garden
Rocks are a key element of Chinese gardens. It's easy to create your own rock garden in an existing flower bed.
Just arrange the rocks to look like a mountain landscape, with irregular positions and different heights. 

16. Amazing bridge
If you have the space for a spectacular bridge like this one, then go for it!
17. Gravel and bridge
Or create a rock creek and a dry gravel garden space and place a bridge over it for a great effect. Use stone pagodas and Chinese trees for decoration. 
18. Stepping stones on river
If your river or creek is shallow, you could add some stepping stones to cross it. Add a large stone pagoda as a focal point. 

19. Garden moon gate
This more traditional stone moon gate provides the perfect entrance for a Chinese garden. It gives a beautiful snapshot of the garden beyond. 
20. Wooden deck next to tree
You could add a large singular tree as a focal point and allow it space to grow naturally, without crowding it with other plants or trees. 
21. Chinese pergola with DIY stepping stones
If you're a creative person with time to spare, you could craft personalised stepping stones with some pebbles (and plenty of patience).
22. Floating path
Instead of the traditional Chinese bridge, you could add a stepping stone path across your pond. 
23. Backyard river
Build your backyard deck inspired by Chinese architecture and enjoy sunsets by the river.

24. Stone pagoda
Use stone pagodas as decorations to give your Chinese garden a traditional look. 

25. Meditation stone
You could use stones shaped like the sun and moon to enhance your rock garden. 

26. Neat bonsai trees
You should raise your bonsai up so you can see them, so these columns are perfect to create a focal point in your garden and also make the bonsai easier to maintain.

27. Black pebble river
Add some decorative bridges to a dry river bed made of pebbles, to create an amazing outdoor space with close to no maintenance.

28. Moon door for side garden
Great for the entrance to your private side garden and to achieve a Chinese effect.
29. Succulent porch garden
Large succulent pots are a great way to add some colour to your patio area in a simple, portable way. 

30. Chinese red pavilions with pond
Paint your Chinese pavilions in a bright colour to bring your garden to life. They provide a place to rest and get some shade.
31. Moon door in bamboo wall
It's easy to craft a moon door into almost any type of wall. Bamboo is used in Chinese architecture and it's relatively low cost and hardwearing, so it makes a great material for a wall or fence.
32. Pagoda garden ornament
Pagodas are great for adding some appeal to your Chinese garden. You could even add some candles for some lighting.
33. Small
Asian

 garden with stepping stones

You don't need a huge space to create your own relaxing Chinese garden. Just keep it simple with a rock garden and a few Chinese plants, like bamboo. 
34. Tiny pebble pond
You can create water features of any shape and size in your garden, even a shallow one like this example if you don't have much space. 

35. Chinese privet
You can still have a privet style hedgerow with a Chinese garden; this example uses a variegated form of Chinese ligustrum.

36. Wooden deck over black gravel
The use of gravel gives this Chinese garden a zen feel. The carefully raked patterns represent the natural flow of water, and the large rocks symbolise mountains. 
37. Oriental umbrellas
Add an oriental touch to your seating area by adding a luxury garden parasol to get some relief from the hot sun. 
38. Chinese sculptures
You could add Chinese sculptured columns to your garden design to create a focal point. 

39. Chinese trimmed bushes
Some nicely-shaped topiary are the perfect addition to a Chinese garden.
40. Deck and trees
Chinese juniper trees are perfect for a garden centrepiece as they're evergreen and don't need watering very often. 
41. Single moon gate
A moon gate doesn't have to be the entrance to your garden, it could just be a simple decoration to make your walkway more appealing. 
42. Tiny zen garden
You can still create a zen garden in a very small garden space, or even on a balcony. Just use small plants that can be easily maintained and add a small water feature to help you relax. 

43. Aluminium trellis panel
A trellis is a classic way to help your plants grow tall. This aluminium design would bring a contemporary vibe to your garden. 
44. Stone and pebble path
Chinese gardens often have natural, winding pathways that you can follow around the space. You could use stones and smaller pebbles to recreate this style in your own garden.
45. Red 
moon gate
Add some colour to your moon gate with a splash of red like this example. It creates an attractive entrance and provides a great view of the garden beyond.
Round-up
You can bring Chinese inspiration into your garden just by using specific planting or creating a rock garden in your flower bed. Or you can start from scratch and give your space an overhaul to create a relaxing, peaceful garden you can enjoy. 
We hope our list of suggestions has helped give you some ideas for creating your own tranquil space to relax in after a busy day!
Shop at BillyOh