We love to catch up with our customers to see how they're getting on with their garden buildings. So today, we caught up with mother of two Kim, to see how she had made the most of her new BillyOh purchase.
Kim is a very talented artist, who imagines and creates wonderful sketches and drawings for her Instagram followers. She also loves to entertain her two children, Abigail (5) and Benjamin (2) with her wonderful creations.
However, with her eldest getting to that age now where she wants to play outdoors, Kim decided that she needed to make space in her garden. Somewhere Abigail can frolic and play at all hours…and a place where her son can do the same when he gets a little older.
After hours of browsing the internet for playhouses, Kim finally found BillyOh and stumbled upon our Lollipop Junior Playhouse – as it was the perfect fit for her garden.
'It's quite compact which is what we wanted for the space we had available. It has lots of windows to let light in; the stable door is really fun for the kids, and the picket fence is super cute.'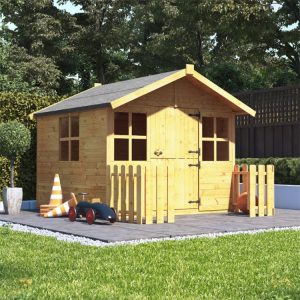 After a speedy delivery, Kim wasted no time in putting her artistic prowess to use and started planning decor. After a quick installation using our pre-fabricated materials and easy-to-follow instructions, she set herself upon painting the building inside and out, and decorating accordingly.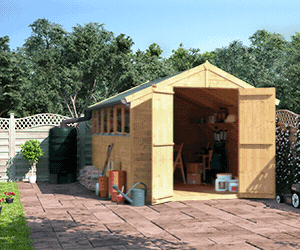 'We're outside a lot of the time now – the kids have somewhere which is their own outside space (grown-ups are not normally allowed in)!'
She decided that she wanted to theme the playhouse around nature and the great outdoors, painting the exterior an icy blue with a white trim. The inside was coated with a pure white and decorated with insect posters, shelving full of nature literature, and a sink to wash-up in on those mucky days.
'We have themed it around nature and being outdoors. There are a lot of books on minibeasts inside as well as posters to identify trees, birds and insects.'
However, Kim shows great creative ingenuity by re-decorating the playhouse year round, matching it with the seasons.
'We also change the decorations throughout the year e.g. for Halloween and Christmas.' 
You can see the full extent of Kim's makeover below:
Wow, it sounds like Kim and her children are really making the most out of their BillyOh Lollipop Junior Playhouse. If you want to see more of her makeovers and artwork, check out her Instagram – @finkpinkart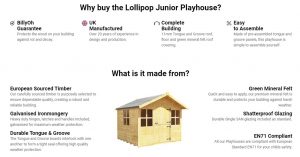 And if you've got a fantastic story about your BillyOh shed, summerhouse, or playhouse conversion – we'd love to hear it! Simply get in touch with us on social media for a chance to feature here.
And if you want, you can check out more customer stories right here.
Shop Playhouses