We love to catch up with our customers to see how they're getting on with their garden buildings. So today, we've got someone special with a great story about how they transformed their BillyOh purchase.
Hi there, what's your name?
Hi, my name's Matthew.
And Matthew, which outdoor garden building did you go for?
I went for your BillyOh Mia log cabin.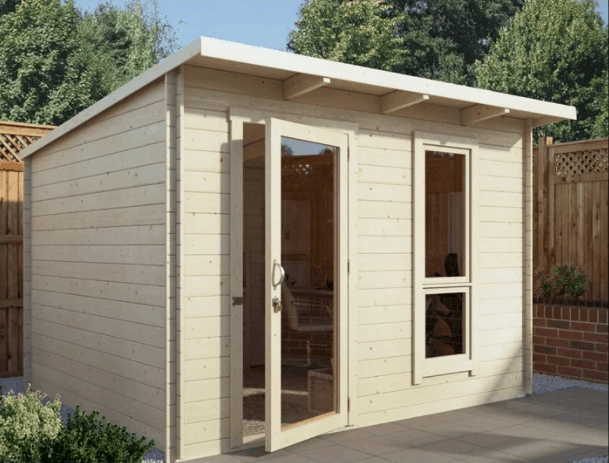 And what size did you get your Mia log cabin in?
I picked the 3 x 2.5m model.
What made you pick this particular model?
The good price.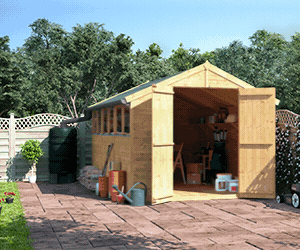 Sounds like you made a great choice! So, what're you using your outdoor building for?
I'm using my Mia log cabin as a salon.
What would you say your new garden building has allowed you to do that you couldn't before?
Definitely work from home.
Building a BillyOh Mia Log Cabin
Fantastic. Have you decorated your garden building then?
I've painted the outside and then insulated the inside and finished it with drywall then plaster.
Sounds great. What's your favourite thing about your building?
Easy to erect!
BillyOh Mia Log Cabin Interior
And what made you choose Garden Buildings Direct?
I'd say the faster than average delivery.
Good answer, Matthew. And how was your experience with us?
Very good.
Almost done – any top tips for anyone wanting to create their own salon cabin?
However much money and time you think it will be, double it!
BillyOh Mia Log Cabin Exterior
Fair enough, Matthew, and thanks again!
Wow, it sounds like Matthew is really making the most out of his Mia log cabin. So if you've got a fantastic story about your BillyOh shed, summerhouse, or log cabin conversion – we'd love to hear. Simply get in touch with us on social media for a chance to feature here.
And if you want, you can check out more customer stories right here.