We love to catch up with our customers to see how they're getting on with their garden buildings. So this week, we caught up with East London-based renovator Kerry, to see how she was coming along with her new BillyOh building!
We're no stranger to a huge garden space. Over the years we've seen some seriously extravagant plots from across the UK thanks to our customers sharing photos of their conversions and makeovers. However, this client really blew us away with all the free space they had to play with!
Kerry and her boyfriend came to BillyOh with two separate ideas: Kerry wanted a summer house for the bottom of their garden. Whereas, her boyfriend wanted a more practical shed to store paint and tools in.
They argued endlessly about who would get their own way to no avail. But then they stumbled across our Tianna Summerhouse which offers the best of both worlds with its side storage compartment.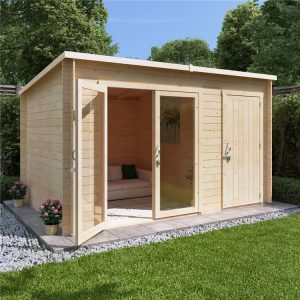 'I wanted a summerhouse and my boyfriend wanted a shed, so this was a great compromise! We did need some outside storage, so this was perfect. It looks good; but is also practical.'
Kerry and her partner knew then and there that the Tianna was a perfect match to fulfill their needs, and wasted no time in ordering it.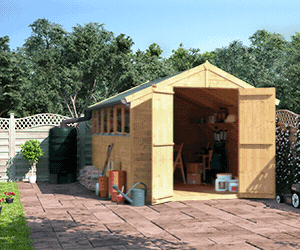 Once it arrived, they set to work on constructing the building – using their DIY savvy and renovation experience to help them along the way. Paired with our pre-cut materials and easy-to-follow instructions, they had it up and fit for use in practically no time at all!
'I was struggling to find something that looked good but was affordable. I saw the Tianna on Pinterest and clicked the link expecting it to be crazy expensive and I was very pleasantly surprised!'
Upon completion they began the decoration process, coating the timber exterior with a slate grey paint. They decided to hang solar lighting from the roof and added greenery to give it a homely touch.
The inside of the summer house was painted off-white to make it feel more like a garden room than a shed, and since completion the building has served multiple purposes, from being a gym to a comfy snug – such versatility!
'The shed part is full of the usual tools, paint tins, gardening bits and bobs. The summerhouse will eventually be a lovely little office area or maybe just a relaxing place to sit and have a read. At the moment it's a gym, because of lockdown shutting ours!'
You can see the full extent of Kerry's makeover below:
Yet another fantastic use of a BillyOh building, by an ingenuitive and hardworking pair of customers. If you want to see more of Kerry's summer house, as well as her exciting home renovations, check out her Instagram – @decoandhues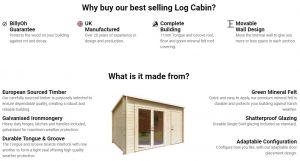 And if you've got a great story about your BillyOh shed, summerhouse, or playhouse conversion – we'd love to hear it! Simply get in touch with us on social media for a chance to feature here.
And if you want, you can check out more customer stories right here.
Shop Summer Houses