We love to catch up with our customers to see how they're getting on with their garden buildings. So today, we've got someone special with a great story about how they transformed their BillyOh purchase.
Hi there, what's your name?
Hey, I'm Sarah. 
And Sarah, which outdoor garden building did you go for?
I went for your BillyOh Lily apex summerhouse.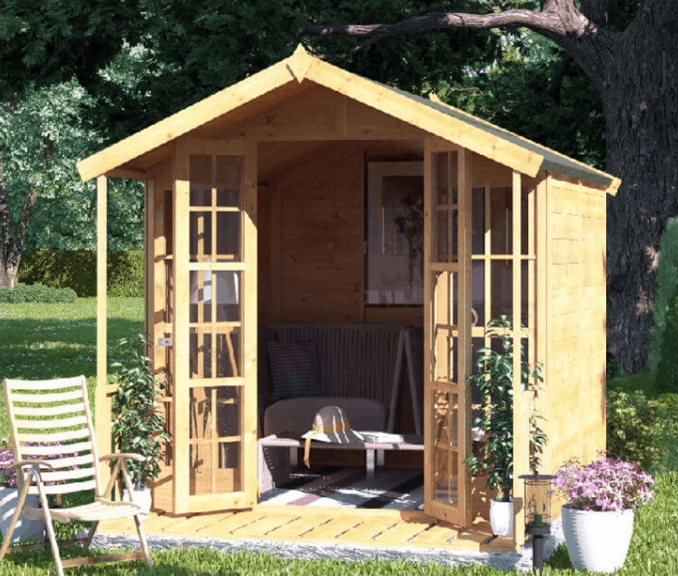 And what size did you get your Lily summerhouse in?
I chose the 10×8 model.
What made you pick this particular model?
It was the right size for us and had the look we wanted with the double opening doors and pitched roof.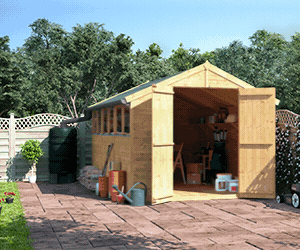 BillyOh Lily Summer House Exterior
Sounds like you made a great choice! So, what're you using your outdoor building for?
It has so many uses in the garden; its a retreat in the shade when it's too hot in the sun. It's a den for the children and it also means that we can enjoy our garden and view even on gloomy weather days. It's a wonderful, cosy space to enjoy outside.
What would you say your new garden building has allowed you to do that you couldn't before?
It has allowed us to be able to enjoy our garden all year round. Rain or shine, we can all cosy up in the summer house and enjoy our garden.
BillyOh Lily Summer House Interior
Fantastic. Have you decorated your garden building then?
We've painted the exterior to match our pastel colour scheme with a sage green. We have yet to decorate the inside but we do like the log cabin feel of the exposed wood.
We've furnished the space like a garden room with comfortable seating and cushions, a rug and coffee table. In the Winter, I add blankets and candles so we can cosy up with a hot chocolate and watch a film on our portable projector. It's great fun.
Sounds great. What's your favourite thing about your building?
My favourite thing is being able to have an additional outside space that we can use all year round. We are contemplating freeing up some space in our cottage and turning the summerhouse into a home office for me.
And what made you choose Garden Buildings Direct?
Very reasonably priced and great design and quality!
Aw, thanks Sarah. And how was your experience with us?
A very enjoyable and easy one.
Almost done – any top tips for anyone wanting to create their own summer house retreat?
Treat the space as an extension to your home and decorate it with as much passion as you would your interior.
Good thought Sarah and thanks again. Where can people see more of your garden building?
They can find me at @cannscottage on Instagram. 
Wow, it sounds like Sarah is really making the most out of her Lily summer house. So if you've got a fantastic story about your BillyOh shed, summerhouse, or log cabin conversion – we'd love to hear. Simply get in touch with us on social media for a chance to feature here.
And if you want, you can check out more customer stories right here.
Shop Summer Houses