We love to catch up with our customers to see how they're getting on with their garden buildings. So this week, we caught up with one of our recent buyers to see how they'd made the most of their new BillyOh purchase.
Lockdown was a strange time for us all, and due to restrictions preventing people from leaving the house, many decided to take on DIY projects to pass the time.
That's why Damian decided to visit our website searching for a home project of his own – to build a snug at the bottom of his garden.
'I chose BillyOh due to the price for the size of the building.'
It seemed like a real no-brainer for Damian! He would get stuck into building and decorating the new space to entertain himself, while in turn adding value to his property!
After a little time spent browsing our huge variety of high-quality products, he finally decided to go with our Petra Reverse Apex Summerhouse due to its options for larger sizes and wide-open look.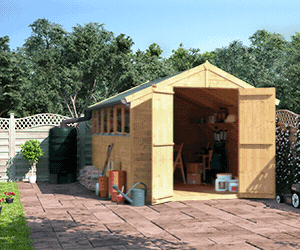 'I went for this building because of its size and also for the windows, so we can overlook the garden and the pond.'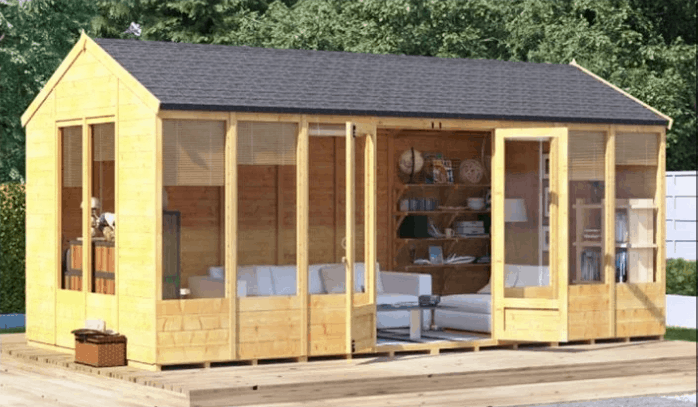 After a speedy delivery, Damian got right to work on building his new garden unit. And after a reasonably easy and stress-free process, he had his new summer house constructed in no time at all.
He decided to paint it space grey on the outside to match his existing fittings, and decorated it with external lighting to make it stand out at nighttime.
The inside was coated with a brilliant white and he coupled it up with slate grey beams to break the room up a bit. He furnished it with a comfy sofa, shelving and a large flat screen TV so he could relax and unwind in peace!
'I'm using it as a summer house in the evenings for watching TV, and also as a BBQ area to enjoy the garden more.'
You can see the full extent of Damian's makeover below:
Yet again, brilliant work from one of our fantastic customers. We hope Damian has hours of fun in his new relaxing snug!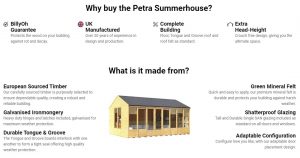 And if you've got a great story about your BillyOh shed, summerhouse, or playhouse conversion – we'd love to hear it! Simply get in touch with us on social media for a chance to feature here.
And if you want, you can check out more customer stories right here.
Shop Summer Houses