We love to catch up with our customers to see how they're getting on with their garden buildings. So today, we've got someone special with a great story about how they transformed their BillyOh purchase.
Hi there, what's your name?
Hi, I'm Gemma.
And Gemma, which playhouse did you go for?
I went for you Bunny Max Tower playhouse.
Bunny Max Tower Exterior
What made you pick this particular model?
The fact that it was on stilts, the slide, and it was plain so I could do my own thing to it.
Sounds great – and has your playhouse got a name?
Yep – Freddie's House.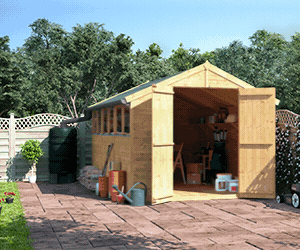 What would you say your new playhouse has allowed you to do that you couldn't before?
My son to have his own space and let his imagination run wild.
Fantastic.
Does your playhouse have a theme, then?
Yeah – a grey & white beach house theme.
And what's your favourite thing about your playhouse?
As an adult even I enjoy looking at it in my garden!
Bunny Max Tower From The House
So what made you choose Garden Buildings Direct?
The quality.
Aw, thanks, Gemma. And how was your experience with us?
Excellent, no issues.
And would you recommend GBD to a friend?
Of course!
Bunny Max Tower Interior

Almost done – any top tips for anyone wanting to create their own dream playhouse?
Go to BillyOh.
Good thought Gemma! And where can people see more of your garden building?
They can find me at @blackmore2015 on Instagram. 
Wow, it sounds like Gemma and co are really making the most out of their Bunny Max Tower playhouse. So if you've got a fantastic story about your BillyOh shed, summerhouse, or playhouse conversion – we'd love to hear. Simply get in touch with us on social media for a chance to feature here.
And if you want, you can check out more customer stories right here.
Shop Playhouses