We love to catch up with our customers to see how they're getting on with their garden buildings. That's why today, we caught up with Gloucestershire-based mother Gemma, to find out how she had made the most of her new BillyOh product.
We all know that little boys love nothing more than action, adventure and exploring. And as they grow, they need to be playing outdoors where they can be whoever they want to be.
Based in Churchdown, Gemma and her little boy Freddie are no strangers to the countryside and the vast and luscious greenery it has to offer. But due to a busy work schedule, she can't always spare the time to take her young one out exploring as much as she'd like to.
So she came up with the idea of buying little Freddie a playhouse for her back garden. A place where he could spend hours making memories and adventuring until his heart was content. 
'My son needed to have his own space and let his imagination run wild.'
She decided to visit BillyOh after hearing stellar reviews from friends and family, and decided to browse our range of high-quality products.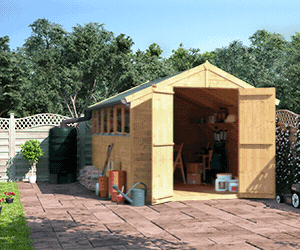 In the end, she decided to go with our Bunny Max Tower Playhouse due to its quality and exciting visage.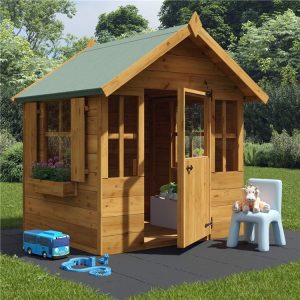 'As an adult, even I enjoy looking at it in my garden!'
She wasted no time constructing her little one's new playhouse upon delivery, and once complete got right to work with the decoration process.
For starters, she decided to paint the exterior grey with a white trim for that beach house theme. Gemma then added a ship's steering wheel so that little Freddie could be the captain of his own adventures.
The inside was decorated with grey velvet carpeting, and filled with seating and toys to keep Freddie amused for hours and hours.
'I love the fact that it's on stilts, has a slide, and it arrived plain so I could do my own thing to it.'
You can see the full makeover below:

Yet another perfect use of a BillyOh playhouse, by a caring and loving mother. If you want to see more of Gemma's playhouse, as well as her exciting family adventures, check out her Instagram – @blackmore2015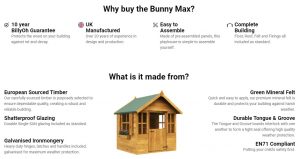 And if you've got a great story about your BillyOh shed, summerhouse, or playhouse conversion – we'd love to hear it! Simply get in touch with us on social media for a chance to feature here.
Shop Playhouses