Rainy days may bring a refreshing change to our surroundings. But the case is different for barbecue enthusiasts. Nothing dampens the spirits of outdoor cooking quite like a sudden downpour. And to ensure your BBQ's longevity and performance, protect it from rain.
This guide will walk you through the essential tips on how to do so. From investing in the right accessories to clever DIY solutions, we've got you covered! Ready to embrace the joy of seamless grilling, rain or shine?
1. Invest in a Quality Grill Cover
A BBQ cover is a simple yet highly effective way to shield your grill from the elements. It provides good protection against the detrimental effects of rain, including:
harsh sun

moisture

dust

pollen
When investing in one, consider the dimensions of your barbecue; take a kettle BBQ, for instance. The right cover guarantees a snug fit, covering the entire grill. Also, opt for products made from durable and wear-resistant materials. Polythene or vinyl is your best bet, as both resist tearing and fading over time.

In this case, getting the BillyOh Deluxe PE Kettle BBQ Cover is a smart choice. Made from durable woven polyethene, this cover is 100% waterproof and UV-resistant. It's designed to fit your dome-shaped grill.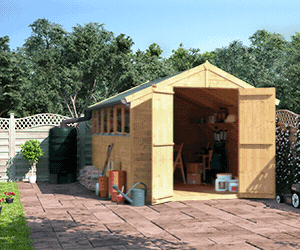 2. Choose a Suitable Location
The placement of your barbecue can make all the difference in shielding it from rain. Ideally, choose an area that provides natural shelter or coverage. This can be a patio awning, gazebo, or even under the eaves of your house. Any of these spots will reduce its exposure to rain and direct sunlight. Thus, preventing water from seeping into sensitive components and potentially causing damage.
Avoid placing the grill in areas prone to flooding or where water might accumulate. Puddles or standing water is a big NO. Not only can it damage the grill's electrical parts, but it also leads to rust and corrosion on metal surfaces. Additionally, a wet cooking surface can hinder proper heat distribution.
3. Build a Permanent or Temporary Shelter
Building a BBQ shelter can be a rewarding and cost-effective DIY project. Here are some creative ideas to get you started:
Permanent shelter

Construct a sturdy wooden pergola above your grill, offering a permanent cover. Or repurpose an old garden wooden shed. Alternatively, build a custom-sized roof structure adjacent to your cooking area.
Temporary shelter
Consider a retractable awning or a parasol with adjustable legs. They should provide enough flexibility to cover your grill when needed. The best part? You can store it away during fair weather, along with its temporary cover.
Start by building a simple wooden frame using treated lumber. Add a slanted roof to allow rainwater to run off. Cover the roof with weatherproof material, ensuring it extends past the grill's edges. Secure the shelter to the ground, providing stability during windy conditions.
For the shelter's materials and design, opt for weather-resistant. The common choices are pressure-treated wood, aluminium, or PVC. Top tip: Add UV-resistant polycarbonate panels for natural light.
4. Opt for Weather-Resistant Materials
Among the top choices, stainless steel and cast iron stand out, and for good reasons.
Stainless steel can withstand moisture and elements without succumbing to rust or corrosion. It maintains its sleek appearance and structural integrity. Thus, making it an ideal choice for grates, burners, and other critical components.
Cast iron is another excellent option. For one, its seasoned surface develops a protective layer that guards against rust. What's more, it provides superior heat retention and distribution.
Regular maintenance is key to preserving these materials in top condition. After each use, clean the grill thoroughly. Remove any residue and moisture that could lead to corrosion. Apply a light coat of oil to cast iron surfaces to maintain their seasoned coating.
Top tip: Store your barbecue and accessories in a dry area during prolonged periods of non-use.
5. Consider Portable BBQs or Collapsible Options
Portable and collapsible barbecue options offer invaluable benefits. They make outdoor cooking hassle-free and convenient. All thanks to their compact size and lightweight design that allow for easy storage when not in use.
Popular portable grill models and features from BillyOh:

The BillyOh Table Top Portable Gas BBQ Grill is the ultimate travel BBQ! It features an enamel bowl, lid, grill, folding legs, and carry handle. Plus, it comes with a single valve and the option to operate it with propane or butane to provide the heat source.
The foldable metal legs on this mini BBQ mean it can be set up or packed away in seconds. And, with a carry handle, transporting it is convenient.

A fantastic classic-style charcoal grill with a wide opening lid and large grill. The highlight is its stainless steel finished with black powder coating. A remarkable finish that offers a durable yet stylish look that is low-maintenance.
And thanks to the large cooking area, there's an extra space for utensils or plates, with an extra table on the side. This model comes with two wheels, allowing for easy manoeuvre.

Nothing beats treating yourself to lovely homemade pizza. Thanks to today's technology, you no longer have to wait forever for it to be cooked and ready via the kitchen oven. And lucky for you, products like our Mini BBQ Pizza Oven get the job done much faster! With one, you can ensure family and friends can all tuck in and enjoy too.
The portable size is what really makes this a winner, meaning it doesn't just have to be stuck in one place forever. Any time you want to move it to a new location in the garden, you can do so with ease. It also comes with a pizza stone that lets the pizza cook perfectly inside the oven.
6. Maintaining and Storing
Clean after every use:

Remove grease and food residue promptly to prevent corrosion.

Store indoors:

During rainy seasons, keep the grill in a dry, sheltered area.

Protective covers:

Invest in a custom-fit cover to shield the grill from rain and dust.

Regular inspections:

Check for wear and tear, and replace any damaged parts promptly.
Round-up
Embracing the joy of outdoor grilling doesn't have to be at the mercy of rain showers. With these tips, you can effectively shield your beloved BBQ from rain and other elements. Make sure to prioritise proper maintenance and storage to preserve its pristine condition!
Unsure about which type of barbecue to invest in? Let our charcoal vs gas grill guide assist you in making the perfect choice. You might even discover the best of both worlds and opt for a hybrid BBQ! Explore our wide range of Barbecues and accessories for all your outdoor cooking needs. Visit us now!