Choosing the Best Wooden Garden Furniture and How To Keep Them Looking Good as New
The appearance of your garden doesn't solely depend on the types of trees or flowering plants you have around.
Whilst these take a big portion of the overall look of your patio, you have to consider that having garden furniture sets amplify the theme of your garden area. Great way to make the most of your rather dull patio area.
Patio furniture sets, with wooden garden furniture as the most common type, not only provide you with an exciting take on your outdoor area but also offer comfortable seating especially if you plan to utilise the space as a receiving area or a venue for family gatherings.

Normally made of timber or processed wood, patio pieces are usually treated to hurdle extreme weather conditions.
Although this may be the case, it goes without saying that exposing them to too elements such as heat and humidity may have a big impact on their durability and strength—something you need to nip in the bud right away. You have to go by the fact that anything that you set out in your patio exposed to external elements need repairing and maintaining from time to time.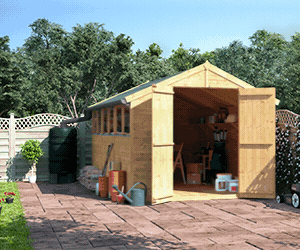 How do you choose the best furniture piece?
Zero in on your needs and personal preferences. What do you intend to use the piece for? Are you the type who always hosts outdoor parties or frequently expects guests?

The answers to these questions will lead you to determining what kind of piece you want to purchase.
A relatively small 3 to 4-seater garden set may be enough to accommodate a small family—for simply zoning out, after-meal conversations, or coffee or tea breaks.
You can always have extra seating by getting a few benches or garden storages that double as seats.
In terms of the build and quality of the material, we have what we call as hardwood and softwood.
The words themselves do not make deciphering what they mean hard. You can already tell that hardwood is hard and softwood, well, soft.
Whilst that may be particularly telling, we can take it scientifically by identifying the former as one that comes from non-monocot angiosperm trees and the latter from gymnosperms with needles and trees.
High-quality (and more expensive) furniture pieces often use hardwood as this has a higher density than softwood. Also, hardwood's strong suit is it has a higher fire resistance than its counterpart.
Buying pieces made from hardwood is the smarter option. Although more expensive, you are, however, assured you're having them around for a longer period.
But generally, patio pieces made from softwood may well be used as common pieces if you do not intend to use them for heavy purposes.
Again, it all boils down to how you intend to use the furniture. So settling this before checking out is tantamount to getting your money's worth.
How do you keep the pieces looking good as new?
As a quick fix, you can head to your local DIY store and get regular treatments. You're lucky if your furniture sets are pre-treated. But this doesn't mean that you're excused from having to clean the pieces.
Another thing you can do is keep them in a storage or cover them when not in use.
Remember that the longevity of your piece depends on how often you clean or apply treatment to them. As with any other types of home accessories, you don't just set them out expecting they'd win over the worst of the British weather. That's why it also pays to choose quality products over cheap ones but with poorer build.
The general rule is you have to clean them whenever you can. A simple water-and-sponge maintenance goes a long way.
For those who have a handful to clean, you can always have spray or pressure washers.
But you have to take note that if what you have are pieces made from slightly delicate materials such as eucalyptus, using pressure washers may not be the best option as they might damage the pieces more than clean them up.
For some, furniture oil proves to be an effective cleaning and polishing agent.

After cleaning the sets, you can apply the oil to make them more water-resistant. The wax adds an extra layer of protection against external elements such as dust, dirt, and water.
Conclusion:
Cleaning your garden pieces doesn't have to be tedious. You have to remember that keeping them looking good as new or restoring their appearance by regularly cleaning them is more practical than setting them out in your garden uncared for, and eventually getting new ones to replace them damaged, utterly unusable outdoor pieces.