An Italian garden setting captivates those who appreciate timeless design. Moreover, a fascination with history and affection for the sun-soaked Mediterranian ambience. Much like the picturesque charm of a Parisian garden, they boast a Renaissance scheme.
Such an outdoor theme represents a blend of classical symmetry and dramatic exuberance. When coupled with modern approaches, expect a heightened sense of drama and intrigue. Just imagine dining al fresco with your cube rattan dining set under pine groves!
Discover an exceptional compilation of Italian garden ideas below. Get ready to infuse your humble retreat with 'An Italian Romance'!
1. Start with a beautiful gateway
Make an entrance with reclaimed timber or intricate ironwork. Training roses, and adding climbers and shrubs can evoke a sense of grandeur to the garden.
A pergola-covered pathway also looks inviting, perfect for evoking that Italian romance.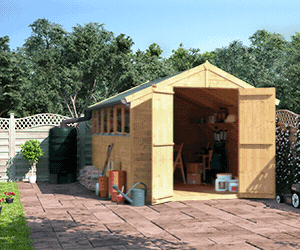 2. Feel the citrus in the air
A citrus grove will not only look beautiful, but it'll also fill the air with a refreshing aroma. Besides lemons, you can establish limes, grapefruit, bergamont and shaddock trees in terracotta.
These potted trees also make natural accents along the path, near a vineyard, or set in the outdoor dining.

3. Create a hideaway for silent sanctuary
Tuck a secret garden behind hedges or cypress trees or under a lush pergola – steer away from the patio. The space is intended to be quiet and intimate, where you can relax and enjoy the Italian ambience.

4. Scatter a few statues throughout the yard
Your Italian courtyard should be decorated accordingly, and sculptures are common elements. Place them alongside pathways to break the monotony of the decor. Or to accentuate a curve or a more secluded area of your garden.

5. Line up a pine grove
The beautiful silhouettes of Italian Cypress can adorn the entrance of your garden. The tree is also featured in so many works of art – the work of Van Gogh, "The Starry Night", is a great example.
Line them up to divide spaces or create a monumental element in your landscape.
6. Grow the toughest plants
If your plot is exposed to intense wind, sun, and salt, grow the toughest plants that can cope with the weather. Other than the grey cloud of Artemisia, thriving bushes of rosemary, Cistus, and myrtle. These sturdy greens can survive such conditions.
7. Train climbing roses
Italy has some of the globe's finest rose gardens, particularly the gardens of the Riviera. Perfect for walls, arbours, fences, and other structures, roses offer divine fragrance and elegance.
Pair them with lavenders to bring colour and delight to your plot all summer.

8. Add tranquillity with a water feature
The gentle trickle of a fountain is part of the idyllic soundscape in Italian gardens. A garden pond can fit in any garden shape, or you can mix a pond and a fountain for a stunning water feature piece in your garden.

9. Go extra with parterres
The concept of a parterre is to plant ornamental shrubs and flowers in a symmetrical pattern. It's like knot landscaping, except that it can be divided into quarters with narrow paths.
They need careful manicuring for the best effect and are recommended for passionate gardeners. If that's you, go for it!

10. Include topiary trees into the mix
Finish off your perfectly symmetrical garden plan with topiary trees! Include box shrubs and Junipers, and plant them as borders to paths or a part of the parterre.
Top tip: Trim them to symmetrical perfection to create an amazing piece for your garden.

11. Grow vertical with trellises
Trellises offer functional vine support, ideal for climbing plants like rose and ivy. They're a superb way to bring greenery and blooms, especially in yards where you might be short on the soil.
You can also try clematis or a trumpet vine for variety.

12. Dine alfresco under the tree
It's a classic Italian scene: having open-air dining beneath the boughs of a beautiful tree. The best trees to make this a reality are weeping willow or yew trees.
But if you already have an established one, it's best to work with that! Go for vintage wooden dining sets or iron – or a combination.
13. Inject neutral colour schemes
Make sure you're leaning towards warmer shades for your colour scheme. Ecru, linen tones, peachy, and tan-rose sandstone colours are lovely choices. For planters, you can never go wrong with terracotta pots.
14. Invest in a wrought-iron furniture
Your furniture quality should be able to stay outside year-round. Thus, invest in sturdy, weather-tolerant materials. A wrought-iron dining set is elegant and has that Italian romance we all love.
Cast aluminium material works, too, and has the look of a wrought-iron one but is more lightweight.

15. Garden urn planters
Garden urns are a chic way to achieve that Italian-country look. Unlike the usual pots, they have more detailed designs, making them a swish decoration.
Experiment with different positions to see what works best.

16. Window shutter flower box
Wooden window shutters are virtually a staple of many Italian homes. The natural place to hang them is next to your kitchen windows, and add a flower box to grow herbs or blooms.
The shutters also look good on the side of a large mirror, giving it a window-like effect and the illusion of space.

17. Seek shade in a pergola
A pergola alone wouldn't be enough, and Italians know this. Smother the structure in Wisteria or Jasmine for a romantic scene in your outdoor space.
The open design provides shelter and shade, hitting all the notes for a true Italian vibe.

18. Have symmetry in mind
To make the most of your garden, divide your space in a balanced and symmetrical manner. Use rows of hedges or trees, statues or columns to achieve an effect of stability.
This method creates a style that shapes nature.

19. Bring in a touch of Portofino
Neatly clipped hedging, parterres, plants grown in urns, and a striking mosaic floor. Here, we present a Portofino garden enhanced by the Italian charm. It's especially known for its Romanesque architectural details.

20. Italianate your terrace or balcony
Revamp your terrace for the arrival of spring and summer with a steal from the Italian coast. This Tuscan and Mediterranean-inspired outdoor dining room sure is inviting enough to dine.
Opt for bright and summery colours with patterns to fit the warmer weather.

21. Let the vines invade the columns
When growing vines in columns, your best option is Boston Ivy. It thrives in a temperate, moist climate and can anchor itself to almost anything.
Top tip: Attach a fishing line for the vine to climb on without damaging the columns or walls.

22. Decorate the steps with flower pots
This garden staircase covers centuries-old brick with flower pots on each step. Even better, hanging pots and climbers of the wall add romance and ancient touch.
If you have a cobblestone alley or path, scatter a few terracotta pots around.

23. Light up your yard with antique lamp posts
When it comes to your outdoor lighting such as lamp posts, you'll want them made from copper and brass. They offer both vintage and modern designs.
Install a few along your garden path, near a bench or your entrance. For a whimsical look, train climbing roses on the posts.

24. Landscaping with ornamental grasses
Modernise your Tuscan garden theme with ornamental grasses. Besides textural variety, they add a bold, flowing element to the landscape. Recommended varieties include muhly grasses and deer grass.

25. Cultivate a mini herb garden
The country itself is famous for its culinary focus. And it only makes sense that most gardens incorporate herbs. Sage, rosemary – particularly 'Tuscan Blue', and oregano will suit your aromatic patch.

26. Mediterranean mosaics
Adorning your garden with Mediterranean mosaics infuses an air of cultural richness. These intricate patterns, reminiscent of Italian artistry, create a captivating visual tapestry. They seamlessly transform walkways and patios into vibrant works of outdoor art.
27. Aromatic pathways
Aromatic pathways engage your senses in an Italian olfactory experience. Lined with aromatic herbs like lavender and rosemary, these paths release fragrant scents. They enhance your garden stroll with a symphony of delightful aromas.

28. Rustic pergola swing
A rustic pergola swing combines relaxation and charm. This idyllic feature offers a serene retreat within your garden. It allows you to swing gently amid nature's beauty while adding a touch of romantic allure to the landscape.
Alternatively, consider a folding hammock if you lack space. You may attach it to the pergola itself for a sturdier set-up.

(Image Credit: Wallpaper Flare)
29. Cypress Alleys
Cypres alleys evoke the elegance of Italian countryside estates. With their natural beauty, they present a visually enchanting garden element. When grown in a row, they create picturesque pathways that draw your gaze toward the horizon. Overall, they enhance the overall grandeur of the space.

(Image Credit: Wallpaper Flare)
30. Sundial garden
A sundial garden marries art and timekeeping in a serene blend. Set amidst flourishing blooms and a wooden 3 seater bench, the sundial becomes a focal point. It invites contemplative moments as you observe the sun's passage.

(Image Credit: Wallpaper Flare)
31. Romanesque statuary
Romanesque statuary adds timeless grace to your garden. These sculptures stand as a testament to the enduring allure of art. They fill your outdoor haven with an air of sophistication and cultural reverence.
32. Tuscan terracotta
Tuscan terracotta evokes old-world charm. The use of these pots and planters brings rustic authenticity to your garden. The earthy tones create a sense of connection to the region's artistic heritage.
33. Vineyard rows
Capturing the essence of vineyards, rows of grapevines bring elegance and purpose. These orderly lines hold the promise of a bountiful harvest. They also symbolise the connection between nature, culture, and sustenance.

34. Courtyard courting bench
A courtyard courting bench adds intimacy to your garden. This Jack and Jill seat makes an excellent example! Nestled within a secluded nook, where cherished conversations unfold. It allows you and someone to escape into a world of shared connection and affection.

35. Italian cypress edging
Italian cypress edging imparts refined boundaries. These tall and slender trees delineate spaces while echoing the landscapes of Italy. The edging not only adds structure but also serves as a nod to the inherent Italian garden design.
36. Bocce court
A bocce court infuses lively tradition into your garden. This Italian favourite fosters friendly competition and camaraderie. It transforms your outdoor space into a social hub. Consider adding a bar shed if the space allows for the ultimate gathering!

37. Fountain courtyard
A fountain courtyard creates a serene oasis within your garden. Centred around a timeless fountain, this charming space invites contemplation and relaxation. Place an outdoor wood bench nearby to enjoy the soothing sound of flowing water!

38. Heritage olive grove
A heritage olive grove pays homage to Italy's cultural roots. These iconic trees exude Mediterranean elegance. Even better, they connect your garden to the country's rich culinary heritage. They offer a timeless reminder of Italy's centuries-old agricultural traditions.
39. Climbing bougainvillaea
Climbing bougainvillaea adds vibrant allure to your garden. These cascading vines drape trellises and arches with a burst of vivid colour. They mimic nature's own artwork, infusing your outdoor space with a sense of exuberance.

(Image Credit: Wikimedia Commons)
40. Renaissance art features
Renaissance art features bring a touch of sophistication to your garden. Nature and art coalesce in a harmonious blend of beauty and historical resonance. Replicas of sculptures from this era give your garden cultural significance, to add.
Round-up
The hallmark of an Italophile garden is order. A formal landscape design perfected in Renaissance Italy. It is marked by reliance on hardscaped features and manicured evergreens, to name a few.
As seen from the list, Mediterranean plants are also part of the horticultural aspect. Stealing the design for your garden requires planning and lots of inspiration.
This list of Italian garden ideas is guaranteed to help you think outside the local garden box!
Enhance your evenings with a cosy fire pit to extend your leisure into late nights. Elevate the ambience further with dependable outdoor lighting. If space permits, consider a wooden gazebo to elevate your Italian al fresco dining!
What you should read next: Garden Room Ideas to Upgrade Your Property