Add Gallic flair to your outdoor space with these French garden ideas!
There's no secret behind French landscape design. All you need is a list with a handful of ideas to achieve a romantic Parisian-style outdoor space.
In our recent posts, we shared a handful of Greek and English garden ideas. Today, we'll focus more on the formal Versailles-inspired ideas to help you add that je ne sais quoi to your backyard.
1. Focus on symmetry
Embracing the concept of symmetry is key to carrying off a French garden. Balance is soothing – and these trees and bushes lining the path of this jardin make the perfect example.
Plant repeat shrubs and planting schemes on opposite sides for a calm and leisurely feel.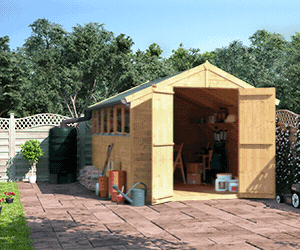 2. Use geometric patterns
Geometric patterns add a playful and eye-catching element to an otherwise plain garden. When designing, make sure to divide the space into two halves or quarters for a clean look.
Garden hardscaping with geometric design also provides a tidy aesthetic.
3. Highlight the topiary
Topiary, especially when cut in shapes like animals, make for an interesting focal point. For an easier approach, go for common lollipop shapes. But if you want to add extravagance, take inspiration from the anials below.
4. Grow citrus trees in pots
You can never go wrong with fruit trees whether it's for a  container garden idea or a French-style one. A citrus free, for one, can fill the space with fragrance and a burst of summery colour. 
5.  Introduce stonework for added interest
French gardens incorporate stonework to add more clean lines to the space. This idea can also serve as a centrepiece or focal point.
A great example of this is a fountain, a water feature or flagstones. A pea gravel path is also a classic staple.
6. Opt for slow-growing plants
French gardens are all about tidiness, which is where slow-growing plants come in. Fill your planting beds with such varieties to reduce maintenance.
Lavender makes a perfect choice, adding a colour accent, beauty and fragrance to your space.
7. Consider incorporating borders
A straightforward trick to making a clean line in your garden is by adding borders. Whatever garden border ideas you have, they can help reinforce the feeling of control and organisation in the space.
8. Grow wall climbing plants
Climbing plants provide depth and complexity to gardening spaces. When grown on walls, they make a beautiful addition, giving colour and blooms at eye level.
Here, the roses draw the eye up from the ground, increasing the impact and visual depth of the maison.
9. Sculptures as the focal point
This remarkable garden combines experimental topiary with open-air sculptures. The concept is avant-garde, featuring a wide variety of local plants.
But the highlight of the design is the topiary's shape and the face sculptures in the middle.
10. The addition of a gazebo
Structures such as gazebos, pergolas, and trellises frequently decorate French gardens. A white or timber gazebo with growing vines on the posts complements a tidy yard setting well.
Check out these garden gazebo ideas for more design inspiration!

11. Boxwood hedges
Hedging plants are a key structural design element of a French garden. They add necessary straight lines and visual borders. Take a cue from the neat boxwood hedges in the courtyard.
12. Emphasise a balanced look
Strict planning and measuring are crucial when designing the garden. This is to ensure the outcome feels deliberate and precise. Come up with a meticulous plan to achieve a balanced-looking garden.
13. A rustic fountain centrepiece
Garden fountains create a sense of tranquillity, and they're a must in every French yard. Recreate this courtyard entrance, distinguished by an antique stone fountain from France. 
Define the space with hedges of clipped bay trees.
14. Seating area for viewing
Enjoy the view of your garden's lush labyrinths and sunny allées with the seating! Garden bench ideas are a great choice, but a companion love seat can add a romantic touch.

15. Fix a pergola
Build a pergola over the dining terrace or a garden corner and cloak it with grapevines. This will give your outdoor space a classic French touch while creating cooling shade.
16. Grow magnificent flowerbeds
When designing your flowerbed, pick plants in certain colours. This will make the whole arrangement even more impressive. This idea is also suitable for any type of property, regardless of size.
17. A brick pond element
Large French gardens wouldn't exist without at least one water-based element. You can decide on a beautiful pond or fountain, depending on the available space.
18. Display antique pieces
Interesting and distinct objects are encouraged in this concept. Scatter them around the area to gain each space a unique character. This could be in the form of furniture, a vintage fountain, or outdoor lighting ideas.
19. Go for a swing chair
The soothing motions of swinging in the air on a bright and sunny day will set you in a state of deep relaxation. For added shade, suspend the swing chair under a tree or a pergola. A hammock also makes a perfect addition.
20. Enchanting wishing well
Stone wishing wells are common in many French villages, specifically in the countryside. One can add extra charm to the space. And when no longer working, it can provide enough tub space for bedding plants.
21. Unusual outdoor shower setup
Although an outdoor shower isn't common in French gardens, it can add value to the property. Take this gold vintage shower that sets off the modern French patio.
Emulate this same shower in a private section of your garden!
22. Add ornamental grasses into the mix
Ornamental grasses are universal plants, perfect for any garden, including one in a French style. They'll look extra amazing when planted next to lavender. They also add a unique texture and meadow vibe to the landscape.
23. Wisteria arbour
When it comes to garden arbour ideas, Wisterias always give that romantic touch. Building the fragrant flower on an arbour will combine beauty and functionality – perfect for a contemplative retreat in your garden!
24. French Riviera-inspired
The French Riviera is known for cultivating beautiful open gardens, making alfresco dining common in every yard. A simple dining setup like this is perfectly suited for lingering lunches on a summer day.
25. Groves of Cypress trees
Cypress trees can make your home feel like French and Mediterranean villas. A cypress-lined path will also make your yard look like it was pulled straight from a storybook!
Even better, with a classical-inspired garden with fountains and parterres.
26. French country front garden
This exquisite porch and front garden give an English and French countryside vibe. It's decked out with a rose arch, box halls, and benches.
27. Muted French patio
A muted scheme is the best way to contrast a white palette with your patio subtly. Here, grey and black undertones are implemented through seating and stone tiling.
The surrounding greenery adds a defining and inviting spot for alfresco meals.
28. Don't forget your garden room
Take this opportunity to have a garden room makeover to fit in your yard's French setting. Go bespoke to install beautiful French doors for your summer house.
Complement the outdoor nook with an assortment of galvanised pots and beach chairs.
29. Opt for metal furniture pieces
An iron bench, pergola, or armchair helps the greenery look lusher. Go for zinc tabletops, corrugated planters, or rusty watering cans. Aluminium and cast-iron fixtures are also recommended.

30. Reflect on the sky
Garden mirrors are one of our favourite decor pieces for inviting light and magic to yards. The mirror can be in the form of a wall mirror, a water feature, or glass walls for a garden building or covered patio.
31. Showcase plant zoning
In this small garden, the owner found a way to cultivate a variety of plants by zoning them. Each plant grown in the in-ground planter is trimmed, pruned, and well-maintained.
The bushes cut in clean lines also help put together the overall look of this mini le jardin getaway.
32. A classic mini courtyard
Even if your back garden is small, make space for eating and relaxing with furniture like a bistro set. This will make you feel like you're dining in the French countryside.

33. A modern citrus approach
If you live in a climate zone and want to add French flair to the space, take a cue from this concept. It features crushed gravel beds, well-trimmed border hedges, and bright citrus trees.
The gazing ball centrepiece provides modern charm.
34. French provincial garden
French provincial architecture has a more stately, manor-like appearance. The garden should at least feature traditional designs, like brick or stone facades. Symmetry for the plants, of course, is key.
35. Make your house the focal point
In traditional French gardens, the home is the centre of the garden. Stucco or stonework homes are ideal focal points, but other styles of homes can work, too. Add window boxes to blend your home into the landscape.
Round-up
We bet you've seen a lot of Versailles gardens in photos (if not in person), and somehow, you wished your yard to be like them. Luckily for you, there are tons of French garden ideas available online – and our guide is one of them!
Focus on clean lines with a controlled and balanced style. Go back to our design ideas for inspiration. The right scheme will help you bring a sense of le jardin to your very own backyard.