Besides garden sheds, there's something about the log cabin aesthetic that many UK homeowners love.
For one, the environment with earthy tones and textures, paired with a crisp crackling fire, makes it an ideal setting to stay close to nature and enjoy the rustic ambience.
If you own a cabin in your backyard, there are countless ways to transform it into your own private retreat. And we're here to help you figure them out!
Below are our top favourite log cabin decor ideas, from the interior to fixtures to DIY garden room ideas. These inspirations will give you a place to escape in harmony, far away from the hustle and bustle.
Let's get into the list!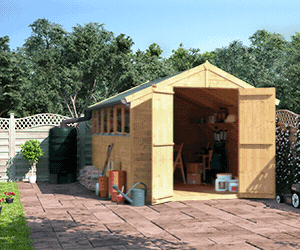 1. Add warm furnishings
When decorating your cabin, go for furnishings that offer warmth and comfort to complement the space. At the same time, it helps to balance the rustic surroundings.
A low-cost heating alternative like a small electric fireplace is a great piece to add value to your log cabin.

2. Consider natural materials for rustic design
Decorations made from wood, stone, cotton or wool are your best bet when designing your cabin. Add a modern resting armchair like this and place it near the window to add a cosy impression to your space.

3. Statement lighting fixtures
Not only does a good lighting fixture enhance the aesthetic appeal, but also sets the mood and ambience of the space. Make sure to have a good source of light in your cabin, such as globe lights, a table lamp or a even a grand chandelier.

4. Utilise pale woods throughout the room
Adding too much colour or detail can be overwhelming; utilising pale woods, such as pinewood, is a great option. This type of timber adds a bit of contrast that can be useful to highlight any part of the cabin.
5. Log interior walls
When you walk through your front door, what do you want to see? The planning process can be just as involved as it is for the home's exterior when it comes to your cabin walls.
You can opt for walls with faux finishing, tongue-and-groove panels, or even a mixture of exposed wood and concrete or stone.

6. The power of greenery
Bringing plants in your log cabin is a great way to soften the overall wooden structure. They can help purify the air, while flowers can add a feminine touch, especially if your log home has a more masculine interior.

7. Choose modern and sleek furniture
Modern and sleek furnishings are perfect for adding a contemporary vibe to your log cabin. Take a cue from this black leather sofa; it instantly adds a modern and classy vibe to the space. If you're looking for a great selection of garden furniture, visit the BillyOh store.

8. Drapes or blinds for the windows
Typically, log cabin owners leave their windows uncovered. But if you want to consider adding blinds (opt for neutral, light or textured fabric for drapes), to create a cosy and private atmosphere.

9. All in one backyard retreat
Whether you have a big or small cabin, you can turn it into a quick backyard retreat! Have a look at this tiny space that was transformed into a comfy area! It has been furnished with a living room, insulated outdoor office and reading nook.

10. Man cave cabin
Most gentlemen find peace when they spend their time in their place, a.k.a. in the man cave. Even a small garden building like this can be converted into a cool man cave or she-shed.

11. Get into the holiday spirit
Many enjoy spending Christmas in log cabin retreats, but if you have one in your yard, you can make your own holiday escape. Add a Christmas tree and ornaments, lively cushions and blankets in red and green colour.
Don't forget to add your source of heat and a cup of hot cocoa!

12. The hobbit fairy tale
This tiny cabin will remind you of the hobbit-holes from the Shire, giving you a taste of Middle Earth. The majority of the woods were hand sculpted to achieve that unique texture.
If you're a fan of The Hobbit or The Lord of the Rings, we thought this cabin design would be worth a try!

13. Pub in the log house
Thinking about building a garden bar? Grab a beer and get inspired with this simple bar shed design.
The owner of this humble pub added a small round dining table set, perfect for hosting little get-togethers.

14. Go for a 19th century style
This 19-century log cabin features charming and fresh interiors, despite their storied past. A classic church pew was repurposed, with cushions for added comfort; the individual vintage chairs offer extra seating.
15. Antler whitetail chandelier
This cabin-style chandelier will surely add that majestic look you've been dreaming of! Featuring antlers made with reproductions of whitetail deer, it's a must-have fixture in every log cabin – see if you can find an imitation, animal-friendly replicate.

16. Diamond plate spiral staircase
This concept is perfect if you have a log cabin on the second floor. The interior spiral staircase is a raised diamond pattern tread with a round aluminium handrail, which is powder-coated in black.
17. Outdoor hot tub experience
For many, no log cabin retreat is complete with a hot tub shed with a breathtaking view. It could be the view of the forest, nature, or perhaps your own garden!
Hot tub garden ideas are a great way to add instant luxury to your backyard.
Not all cabin kitchens are traditional; some, like this one, call for a more modern design. The designer of this space used a concrete wall to separate the kitchen from the living room.
19. Tree trunk bunk beds
If you use your log cabin as a guest house, lucky for you, we have a bedroom idea that you and your visitors will surely be going to admire. This customised bunk bed is made with tree trunks, from the bed frames, slats, and even stairs.
What a perfect way to save and utilise the space!
20. The ultimate lounge area
Everything in this space brings the 'best of the best' of the log cabin. From the ceiling patterns, unique lighting fixtures, vintage furniture setup, the carpet – literally everything! You might want to give this concept a try.

21. Cosy fireplace nook

To create a fireplace nook in your log cabin, start by selecting a corner with ample space. Install a stone or brick fireplace with a rustic mantel as the focal point. Add comfortable seating like plush sofas or armchairs around it. Make sure they're arranged to encourage conversation and relaxation.
Enhance the atmosphere with soft throw blankets and textured pillows. Don't forget to include some ambient lighting to set the mood.
22. Wildlife-inspired decors
Bring the outdoors inside by incorporating wildlife-themed decor. Choose bear rugs, deer antler accents, or nature-inspired artwork as focal points. To avoid overwhelming the space, use these elements sparingly. Also, aim to balance them with neutral tones and natural materials.
Consider wall-mounted animal heads or animal print textiles for a subtler touch. This decor will infuse your log cabin summer house with a rustic, nature-inspired vibe.
23. Reclaimed wood accents

(Image Credit: Wallpaper Flare)
Incorporating reclaimed wood accents adds character and sustainability to your cabin's interior. Look for reclaimed timber from old barns, fences, or pallets. Use these materials to create unique shelving, picture frames, or a headboard for your bed. Sand and finish to highlight its natural beauty while preserving its rustic charm. These accents not only add warmth and texture but also tell a story of repurposing.
Top tip: Don't miss out on these pallet wood ideas!
24. Open concept living
Open-concept living enhances the cabin's sense of togetherness. Opting for an open floor plan maximises space and creates an airy feel. Knockdown unnecessary walls to create a flow between the kitchen and living areas. Use area rugs and strategically placed furniture to define distinct zones. Ensure adequate lighting throughout. Also, choose a cohesive colour palette to maintain a harmonious atmosphere.
25. Cabin-inspired colour palette
Selecting a cabin-inspired colour palette helps create a cosy and harmonious interior. Earthy tones, for one, complement the natural log walls perfectly. You may choose from forest green, deep brown, and warm beige.
Paint the walls in these colours or use them for furniture upholstery and curtains. To prevent the space from feeling too dark, mix in white or cream accents for contrast. Natural materials like wood and stone also work well with this palette.
26. Vintage ski lodge theme
To achieve this theme, decorate with wooden skis, vintage posters, and woollen blankets. Opt for a vintage fireplace or a wood-burning stove to add authenticity and warmth. Use wooden furniture with a weathered finish. Consider installing wooden beams on the ceiling to enhance the cabin ambience. Complete the look with vintage ski equipment displayed on the walls.
27. Rustic wine cellar

A rustic wine cellar cabin begins with reclaimed wood wine racks. Install stone walls or faux stone panels for a cave-like atmosphere. Use dimmed, warm lighting to showcase your wine collection. Consider temperature control and humidity to preserve your wines properly. Add a rustic wooden table or a wine barrel as a tasting area. Incorporate wine-related decor, like corkscrew art or wine barrel furniture.
28. Fishing retreat
For a fishing retreat theme, decorate your cabin with vintage fishing gear. It could be fishing rods, reels, and lures. Hang fish-themed art on the walls and use fishnets or fishing baskets. Create a cosy den with fishing-inspired decor where you can unwind after fishing. Use plaid upholstery, nautical-themed textiles, and driftwood accents to complete the look.
29. Cabin spa

(Image Credit: Small Hotels in Greece)
To create a log cabin spa, focus on the bathroom area. Install a deep soaking inflatable hot tub heater with a view of nature, if possible. Incorporate a sauna for relaxation. Use natural stone or wood finishes to maintain a rustic, tranquil atmosphere.
Add soft, fluffy towels, bathrobes, and scented candles for a spa-like ambience. Consider heated floors and a rainfall showerhead to enhance the luxurious feel.
30. Cabin-inspired bar
Designing a cabin-inspired bar area begins with a wooden bar top as the centrepiece. Collect a variety of whiskey or wine bottles for display and serve guests with style. Use reclaimed wood or distressed wood for the bar's construction. Select rustic bar stools with comfortable cushions and sturdy backs.
Enhance the atmosphere with dimmed lighting, vintage barware, and cabin-themed decor. For instance, hang antler chandeliers or decorate log wall accents.
Round-up
There you have it! Indeed, there are so many ways you can decorate a log cabin, achieving that rustic modern style.
Consider any of these decorating ideas for log homes to get you started. We hope this list of ideas will help you achieve the rustic look you've always wanted for your garden cabin.
Want to make a change from the classic style to a more modern version? Or do you simply wish to purchase that long-dreamed-of living space for your backyard? Here at BillyOh, we make that dream or change come alive with our vast range of modern cabins. Browse through our catalogue now!
Dive into this suggested read: Christmas Log Cabin Ideas: Exterior and Interior
Shop Log Cabins