Investing in garden furniture that requires minimal care while offering maximum enjoyment. In our quest to find the best low-maintenance sets, we turn to the famed collection from BillyOh.
If you're investing in one soon, this guide will come in handy. Here, we will help you create a serene outdoor space without the constant upkeep!
Low-Maintenance Garden Furniture

Low-maintenance garden furniture becomes evident when considering the time, effort, and cost savings. Designed for minimal upkeep, you can reclaim your leisure time.
With easy cleaning and minimal upkeep, you can spend less time scrubbing or polishing. You'll have more time to enjoy your garden. This convenience is invaluable if you have hectic schedules.  You can unwind and relax without the added burden of extensive maintenance.
Choosing durable and weather-resistant materials is key to achieving a low-maintenance outdoor space. Take these materials, for example: synthetic rattan and aluminium. Not only can they withstand the elements, but they also require little to no maintenance. They resist fading, rusting, and deterioration, ensuring your furniture remains in top condition.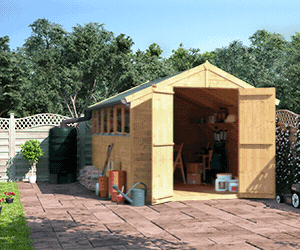 Factors to Consider When Choosing Low-Maintenance Garden Furniture

Material selection plays a crucial role. Opting for the right materials can significantly reduce the need for constant upkeep. Common popular choices known for their durability and low-maintenance qualities, and these are:
Aluminium is lightweight, resistant to rust, and easy to clean. It's durable and can withstand various weather conditions. In contrast, synthetic rattan offers enhanced weather resistance. It mimics the look of natural rattan and is often made from high-quality polyethene. What's more, it's resistant to UV rays, fading, and cracking, making it ideal for outdoor use.
Look for materials with specific qualities. UV resistance ensures anti-fade protection when exposed to sunlight for extended periods. Waterproof features protect against rain and moisture, preventing mould or rot. Rust-proof qualities are also crucial.
Other factors to consider include weight, sturdiness, and practicality. Lightweight furniture is easier to move and store. Sturdiness ensures that the furniture can withstand regular use without becoming damaged. Practicality in terms of storage and mobility means considering foldable options. Such a design only requires minimal space when not in use.
Top Recommendations from BillyOh
BillyOh has established itself as a trusted brand in the realm of garden furniture. Below is a curated list of some of their best-selling low-maintenance outdoor pieces:

Create a social space full of character with this fantastic Aluminium Bistro Set! It comes with a beautiful aluminium table with a floral tabletop and two matching chairs.
The table and chairs are fitted with wide-set legs that make them very difficult to tip or push over. Each leg is fitted with a rubber foot that grips the floor for extra security and peace of mind.
Select from sleek matte black, modern white, or a classic bronze design. Better yet, each colour table features a completely different chair and table design!

The spacious Roman sofa set contains a three-person seater and two individual armchairs. It creates a cosy spot to relax or socialise around the fixture of the coffee table.
The smooth, simple design of the aluminium framing takes on a retro twist. Plus, with the synthetic timber slats on the armrests and tabletop. And like the Verona, this chic set adopts a minimalist approach.
It features knocked-down components and comes with straightforward assembly instructions. This means you can have your furniture set up and ready to enjoy in no time!

This 3 piece rattan garden egg set features a pair of comfy chairs in a lovely modern style. Made from synthetic rattan, the egg rattan bistro set is durable and weatherproof. Comes with a glass-topped table that can be stored inside the chairs. And the best part?  The table and cushions can be stored inside the chairs for a short-term storage solution!

The Marbella rattan sofa set with a coffee table won't fail to impress once it is introduced to your home. Thanks to its contemporary design, it adds a whole new dimension to your outdoor space.
The modern colour scheme with UV resistance will also remain vibrant for years to come. This means it won't be affected by direct sunlight no matter how long it is out in the hot weather.
Round-up
When creating a maintenance-free garden oasis, choosing the right furniture is key. Consider factors like material selection, durability, and practicality. Invest in high-quality outdoor sets. Lucky for you, BillyOh offers a range of trusted options that combine style, durability, and minimal upkeep.
Ready to embrace the convenience and time-saving benefits of low-maintenance garden furniture?