Longevity, paired with sustainability, are a few of the important qualities when shopping for furniture. And if you're eyeing up rattan garden furniture, wouldn't you like to know how long it can last?
Outdoor pieces that are built to last always make a good impression  – both on your garden and your wallet, and rattan pieces never disappoint. The material itself guarantees lasting quality.
But we're not talking about natural rattan furniture here. In case you haven't heard, PE rattan is the highest-quality rattan and is incredibly long-lasting.
But how long does it last?
Key takeaways:
Rattan garden furniture is one of the most popular decorative items for patios and outdoor areas. It's a favourite among UK homeowners.

As the popularity of outdoor rattan pieces grows, a variety of rattan materials have become common sights in gardens all over the country.

But there's one certain type of rattan that continues to draw attention to consumers:

synthetic rattan furniture.

Environmental sustainability, longevity, and being weatherproof are the top-selling points for rattan garden furniture.

Why Does Synthetic Rattan Garden Furniture Last Longer?
Natural rattan has its own unique and perfectly good qualities, but being weatherproof is definitely not one of them. It is, however, fairly lightweight and sturdy and a perfect choice for adding natural elements to any space.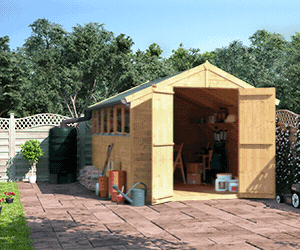 Yet, without the weather-resistant factor, it doesn't make an ideal outdoor choice. Synthetic rattan furniture, in contrast, is constructed from sustainable materials which make it:
Strong

Lightweight

Weatherproof
The PE used in garden furniture sets is specially designed and treated to ensure it doesn't pose any harm to the environment. This makes synthetic outdoor furniture eco-friendly and environmentally safe.
You're fortunate if you've found high-quality synthetic rattan sets like those at BillyOh because that means they're:
More lightweight than traditional rattan

Stronger and more durable than natural rattan

Weatherproof 

UV-resistant and won't fade in the sun or crack

Resistant to swelling, rot or mould

Low maintenance garden furniture

Synthetic rattan vs other materials
The natural woven material or rattan pieces is one of their biggest selling points. But at the same time, it's also a weak point.
By that, we mean the loosening strands over time. Meanwhile, the weaves on top-grade synthetic rattan furniture mean it won't break easily.
You don't have to worry about the aesthetic of synthetic rattan, either. For one, it mimics the look of its natural counterparts but it also adds a decidedly modern aesthetic.
This means it can give off the same look as natural rattan, but in a modern way that highlights what a top-notch material it is. Another selling point is that PE rattan can withstand outdoor elements.
It has the benefit of being able to handle all types of weather, including humid or damp conditions – unlike natural rattan.
Wooden and metal furniture can rot or rust if left out in the rain for long periods. This means they aren't always long-lasting if not treated or stored away in bad weather.
But, it isn't just the rain that can affect the longevity of garden furniture. It's also the sun and high temperatures which can cause furniture to fade and crack.
Modern, synthetic rattan garden furniture is made from durable plastic polyethene (PE). Other types include polyurethane (PU) and polyvinyl chloride (PVC), but PE is the most popular.
This type of synthetic material is also not affected by sun, rain or high temperatures. It's UV-resistant and weatherproof, making it low maintenance and ideal for use as garden furniture.

Low maintenance rattan garden furniture
Another factor contributing to it being long-lasting is the low amount of maintenance required to keep your garden furniture looking as good as new.
To clean synthetic rattan garden furniture, you simply wipe any spillages or stains with soapy water and a cloth. If you're unsure about leaving furniture set outdoors, you can cover them with a PVC or waterproof cover.
This will provide you with the ultimate protection for your rattan furniture even during harsh weather. With its tough durability, if you give your synthetic rattan furniture special care, it will last you a long time.
It's a great alternative to natural rattan for its low maintenance and durability.
How long does and should it last?
PE rattan is known for its weatherproof qualities, resistance to rain, snow, frost, and even UV rays. Hence, most garden sets made using this material often last between 5-7 years. 
This just proves how durable and robust synthetic rattan furniture can be. What's more, if you look after your furniture, its lifespan can even last longer than this.
But if you want to make sure your rattan furniture will have a longer lifecycle, there are a few things you can apply to make it happen.
Keep an eye on the frames
This can determine how long your furniture lasts.
Opting for steel frames is attractive aesthetically, but they do rust in due course. This will affect your furniture in the long run.
So you'll want to make sure the frame of your furniture is made with powder-coated aluminium frames. This type of framework guarantees to be resistant to rust, creating a huge impact on the lifespan of your set.
In short, your outdoor pieces are likely to last longer. That's why pieces like our Salerno corner sofa come powder-coated.
On top of that, the set is also made from a weather-resistant flat weave rattan for year-round use.

Keep it covered when not in use
This primarily goes for when they're not in use. In return, this will assure that your patio furniture will look pristine and be in satisfactory condition for years.
One way to do this is by purchasing a protective cover. Garden furniture covers are the easiest yet effective way to do it.
Luckily for you, there's no need to search for high-quality covers online. Here at BillyOh, we provide outdoor furniture covers designed with our products in mind. 
Our protective covers are available in polyethene (PE), which is waterproof and UV-resistant. With a cover your can protect your garden patio furniture against eve the harshest weather conditions (and the odd bird or two!).

Have a cleaning routine for your furniture
Like any garden furniture set, rattan pieces are also susceptible to dirt, spills, and stains.
Not to mention the daily use of your set, resulting in wear and tear. But don't panic; a cleaning routine can bring it to life, focusing on:
For cleaning materials or solutions, you'll need the following:
Dishwashing liquid

Warm water
As for cleaning equipment and tools, here's what you'll need:
Pressure washer (optional)

Buckets for water (or garden hose)

Duster

Rubber gloves

Soft cloths

Toothbrush

Upholstery brush

Vacuum
You can start by dusting and brushing to remove dust and dirt that has settled on the surface. Make sure to do this once you remove the cushions.
A fine toothbrush will do the trick for reaching the crevices. Or you can use a vacuum (even an air compressor, if possible) to loosen residual dust.
Then apply cleaning solutions and allow it to drip between the weaves. A garden hose can help you do the rinsing part a lot easier and faster.
To dry the furniture, use a clean towel to absorb the excess water, then let it drip and air dry. Leave it for at least 24 hours in a dry area with excellent air circulation.
Once completely dry, put the cushions back on the seat. Then your rattan garden furniture set is ready for use!
Shop Rattan Garden Furniture
FAQs