Metal garden furniture gives a modern look to your garden. In contrast, rattan garden furniture adds a natural element to your garden space. So, which do you think is best for you and your garden?
Upgrading the look of your outdoor space can be exciting. You'll be adding new pieces and, at the same time, creating a new environment.
This may sound easy, but there's so much to take into consideration. For one, how do you find garden furniture that's stylish, durable, and within your budget?
Even that bit sounds challenging, let alone the decision-making between the two. On top of that, are you into traditional style or are you more of a modern connoisseur?
Arguably, the most popular garden furniture materials around are: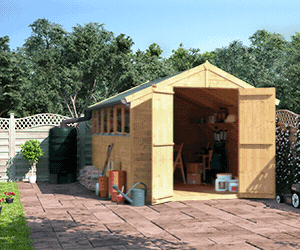 Classic

rattan garden furniture

M

odern

metal garden furniture
But you might still be on the fence as to whether to go for aluminium or rattan garden furniture. Or you might be a whizz who knows everything there is to know about rattan cube furniture.
Either way, in this post, we'll weigh up the differences between the two materials and styles. Then you can see for yourself what material suits you better and find the perfect garden furniture set for you.
Let's get into it.
Key takeaways:
It turns out there's only a bit of difference when it comes to pricing!




(Which do you think is more competitive?)

Both are lightweight.




(But one of them has a disadvantage when it comes to weather resistance.)

When it comes to comfort, rattan and aluminium furniture can both provide.




(But you'll need a certain functional accessory first).
So which does better in harsh weather? Let's start with the 70s-inspired rattan garden furniture.

All About Rattan Garden Furniture
What is rattan?
Rattan is a palm tree plant native to the tropics and subtropics. Its places of origins in Southeast Asia include the Philippines, Malaysia, Indonesia and Vietnam.
When it comes to furniture, rattan is a durable yet flexible material. With its flexibility, rattan is ideal for complex and delicate designs.
Its supple and smooth form gives an elegant, gentle impression. This is something machines can't produce unless using synthetic rattan.
What is rattan garden furniture?
Rattan garden furniture is still making waves in both interior and exterior design. It screams timeless beauty and versatility.
The natural woven material is the pride of outdoor rattan pieces. They're a great choice when creating a beautiful and inviting space. Others also consider rattan furniture an excellent alternative to wooden fixtures.

Pros of rattan garden furniture
All-round garden furniture

. The beauty of rattan garden furniture is it's suitable for any occasion. Are you planning to host alfresco dining? Or is it for lazy afternoon lounging? Rattan furniture makes a perfect outdoor companion.

It's low maintenance

. A simple brush and wash are enough to keep your rattan furniture clean and looking good. A cover can also add extra protection against the elements and harsh weather conditions.

Designed to withstand the UK's damp climate

. Don't worry about snow, frost, and heatwaves. Rattan furniture can handle them.

Features UV-resistant qualities

. The furniture won't experience rapid discolouration when exposed to sunlight.

It's practical

. Not only for year-round use but also for storage purposes.

Timelessly attractive

. It never goes out of style.

Versatile and lightweight.

Be it your living room, kitchen, bedroom, or patio and poolside area, you never go wrong with rattan. Plus, rattan furniture isn't as heavy as wooden counterparts. This makes it easier to move around.
Cons of rattan garden furniture
Can loosen slightly over time. The weaving of rattan furniture will loosen in due course.

That's why durable synthetic rattan is such a great alternative.

Can be expensive, especially for high-end brands.

That's why affordable synthetic rattan is so popular.

All About Metal Garden Furniture
When it comes to metal garden furniture, you have several options. But the most popular among them is aluminium – and for good reason.
What is aluminium?
Aluminium is a metal that's robust, lightweight, and resistant to corrosion. Many manufacturers often opt for this type of metal when producing garden furniture. 
What is metal garden furniture?
Aluminium garden furniture may offer a more chromatic style than rattan and is weatherproof, too.
Plus, aluminium garden furniture is far lighter than alternatives like steel or iron. Unlike them, it won't rust and is surprisingly durable.
Most aluminium garden furniture has also been powder-coated. This makes it resistant to fading and UV light, as well as rust-proof.

Pros of metal (aluminium) garden furniture
Sturdy and easy to manoeuvre.

This is an excellent advantage if you plan to move the furniture around your patio or garden. Great if your garden enjoys sun in one place in the morning and another in the evening.

Resistant to extreme weather conditions.

You can leave aluminium garden furniture outdoors without worrying too much.

Attractive low-cost

. Aluminium garden furniture is affordable compared to its steel and iron counterparts.

Powder-coating

. With a special protective coating, metal garden furniture can withstand the effect of changing weather conditions.
Cons of metal (aluminium) garden furniture
While metal garden furniture is low maintenance and durable, dents and some bending may occur if used improperly. 

It can be blown over. The lightness of some these pieces is an advantage but can become a problem if not stored during strong weather. 

Can become hot. If your furniture isn't powder-coated, it can become very hot to touch during sunny days. 
Metal vs Rattan: Price
When it comes to pricing, the numbers vary due to different brands and quality.
For example, our rattan furniture is just a bit more affordable than aluminium. But mind you, there's only a small difference in the price tag, and neither range skimps on quality!
Take a look at the BillyOh Minerva 7-seater Rattan Dining Sofa Set. It's made from a premium rattan and is designed and engineered to last.
Price tag: £1349.00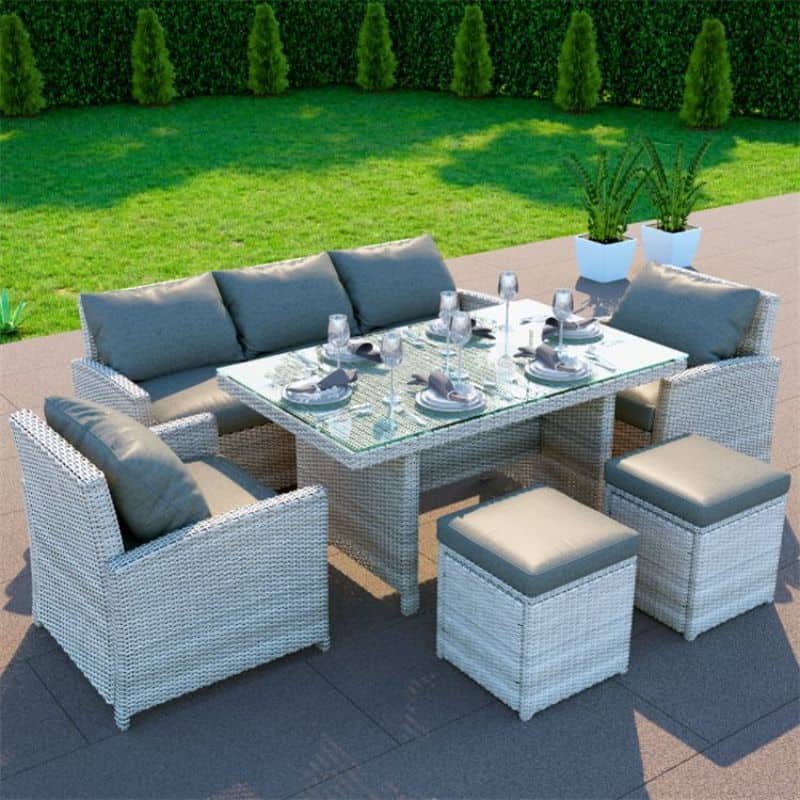 Metal vs Rattan: Who's it for?
Rattan garden furniture is perfect for those who like:
Medieval and minimal classic styles including:

Bohemian

Scandinavian

Tropical.
Aluminium garden furniture is an ideal choice for those who fancy:
Minimal, sleek, yet elegant garden furniture

A modern outdoor environment
Winner: You decide!
Metal vs Rattan: Comfort
Seating on a bare rattan or aluminium chair for too long can be a bit uncomfortable. With rattan's woven construction and aluminium's solid base, adding cushions is the solution to both.
The good thing is that all our garden furniture sets come with either cushions or high-backed seats for comfort. 
Winner: Tie.
Metal vs Rattan: Maintenance
Whether you choose rattan or metal garden furniture, you won't have to worry much about maintenance. These types of outdoor furnishings are both low maintenance.
And for even less maintenance effort, we recommend investing in furniture covers. This is the easiest way to protect your furniture all year round.
Top tip: When shopping for covers, here are the features you need to look out for:
Made from durable woven Polyethylene

100% waterproof

UV-resistant

Rust-proof eyelets for a secure fit
Winner: Another tie. (Although aluminium garden furniture would beat out natural woven rattan!)
Metal vs Rattan Garden Furniture: Who Wins?
Well, the decision is ultimately yours to make. Which material do you think works best for you and your garden?
Is it the natural-looking woven style of rattan garden furniture? Or could it be the anti-corrosion qualities and chrome style of aluminium garden furniture?
Consider the advantages and disadvantages we provided in this post. If there's one specific type of furniture that you think would suit your garden, then that's a sign!
And if you're sold on the idea of rattan garden furniture, check out our review of the best rattan dining sets for 2021.
Shop Rattan Garden Furniture
FAQs
Yes! It's one of the best values for money when buying garden furniture, and there are tons of contemporary styles to fit every budget.
Maintenance and cleaning is also a breeze. Aluminium garden furniture is a perfect choice for areas with rainy and salty climates as it doesn't rust.
Frame material is an important aspect you need to consider when buying outdoor furniture. This will help you determine how durable the furniture will be and how long it'll last.
Here's a list of the strongest garden furniture frames:
Aluminium
Powder-coated steel

(used in our rattan garden furniture sets)

Wood

Stainless steel

Wicker (Woven)

Wrought iron
If your aluminium furniture has been treated with a durable powder-coating, it could last for 15-20 years. Even better if it's well taken care of.
Top tip: To keep your furniture in good shape, don't use commercial cleaners. We recommend using a coat of auto wax or silicone spray. This will help protect furniture from rusting and pitting.