Have you ever wondered what rattan cube garden furniture is?
Rattan garden furniture is nailing the natural decor trend right now. And outdoor furniture companies have started to come up with fresh modern ways to revive the rattan trend.
Today, most rattan furniture is engineered with natural-looking and long-lasting synthetic rattan. Made from synthetic fibres, these garden furniture sets use high-quality PVC, PU and PE materials, making them UV-resistant.
Like any other rattan garden furniture, rattan cube sets offer all the benefits of the best outdoor dining sets but with some extra benefits concerning storage.
Find out everything you need to know about rattan cube garden furniture here!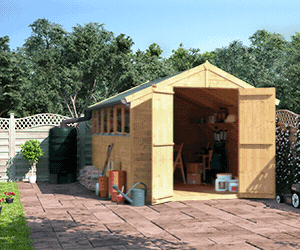 Key takeaways:
Rattan cube garden furniture sets aren't called 'cubes' for nothing.

Rattan cube furniture sets are excellent space-savers
Don't underestimate its style and size. It could be your ultimate outdoor companion for hosting alfresco dining!

Rattan cube furniture can provide luxury and practicality at an affordable price.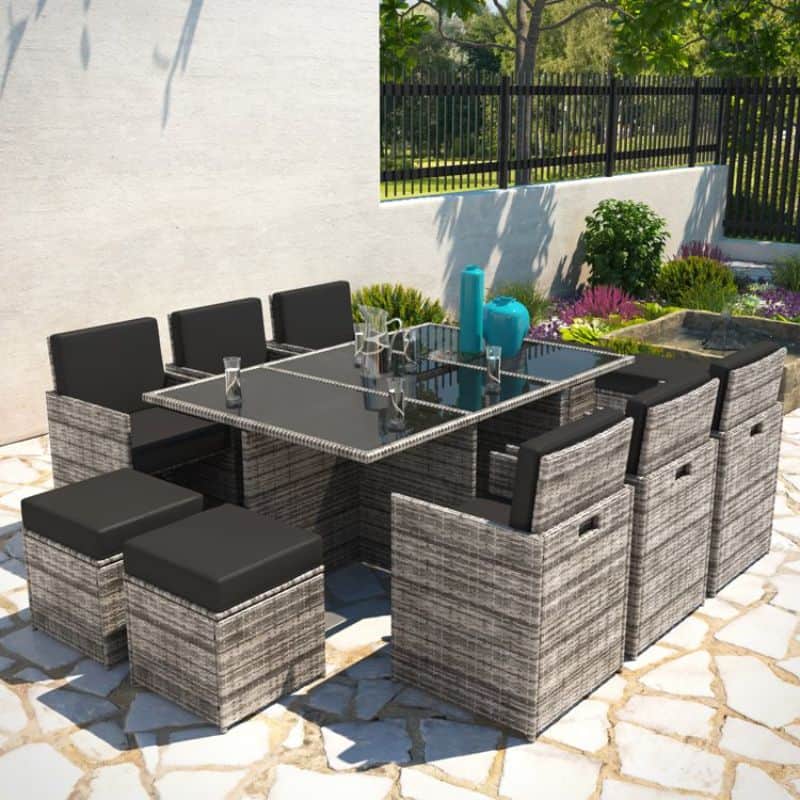 What Is Rattan Furniture?
Let's begin with the origin of rattan cube garden furniture.
In the earlier stages, rattan furniture undergoes weaving techniques using natural rattan. This method has been around since the 1970s.
But as mentioned earlier, manufacturers discovered a top-notch alternative – synthetic rattan. As rattan adapts to modern trends, many new rattan furniture styles have appeared on the market.
This includes rattan cube garden furniture. Most, if not all, rattan cube sets use synthetic rattan material.

What Is PE Rattan?
Synthetic polyethene rattan, or PE rattan, mimics the look of actual rattan, but it's man-made.
PE rattan furniture can withstand outdoor elements. It can handle humid or damp conditions, unlike natural rattan. While genuine rattan has natural beauty, it's likely to break down in wet conditions.
PE rattan is one of the types of synthetic rattan and the popular one. Other types include PU (polyurethane) and PVC (polyvinyl chloride).
Moreover, PE rattan is environmentally friendly compared to other synthetic materials. It's made from recycled materials.
It lasts longer than less expensive PVC rattan as well. It's also designed to look like natural rattan but with colour variations throughout the material.

[space height="20px"]
Different Types of Rattan Furniture
Rattan, the plant
Rattan belongs to a climbing vine-like palm plant. It's native to the tropics and subtropics.
Its places of origins include the Philippines, Malaysia, Indonesia, and Vietnam. It grows hundred of feet tall while maintaining a consistent thickness of less than a few inches.
All parts of this vine, other than the thorny outer layer, are durable and flexible. Plus, it provides a natural look. This makes the plant very useful and an ideal material for making furniture and decor.
When torn into smaller fibres, they can be woven into items such as baskets and chair seats. While the natural woven material is the positive feature of real rattan, it's also the weak point.
The weaving of genuine rattan furniture will loosen in due course. That's why durable synthetic rattan is such a great alternative.

Cane rattan furniture
Cane is the layer beneath the thorny outer skin of rattan. Once it's removed, it undergoes cleaning, drying, and smoking.
The cane layer is then peeled and processed into long strands. This material is flexible and durable, making it perfect use for weaving chair seats and backs.
It's woven into different webbed patterns. Cane also works well as a wrapping material (like a rope) around portions of furniture frames.
The rule of thumb is that rattan pieces that feature thin, woven accents are considered cane.
If it's not painted, let alone not taken care of, the furniture can dry out and crack over time. Unlike synthetic rattan that's low-maintenance and less likely to chink.

Reed rattan furniture
Reed is the inner pith or core of the rattan plant. It's fibrous and porous than the cane layer.
It's cut into strips and processed into flat, flat-oval, oval-oval, round/half-round strands. But since it's the inner pith, it doesn't have a smooth and glossy texture.
Reed is also absorbent; it doesn't accept paint, stain, varnish, or lacquer very well.
But along with flexibility, it's an excellent material for weaving wicker pieces and baskets. Decorative embellishments on wicker furniture are also often made from reed.
A great example of this is the swirls and curls on Victorian-era wicker furniture.
Reed is still used in reproduction and new wicker furniture. But unlike synthetic rattan, it's not an ideal use for outdoors exposed to the elements.

Wicker rattan furniture
First things first, wicker is a style of weave, whereas rattan is a material. One describes the actual process (wicker) while the other describes the product (rattan).
These two are often used together in furniture, and it's common to see wicker rattan weaves. It's a design that uses rattan in a wicker weave.
Going back to wicker, it's a style of weave that is popular in basket and furniture making. Wicker is usually made out of woven fibres, but manufacturers have recently created it using synthetic resins.
All in all, wicker furniture is hand-woven, making the quality impeccable and durable. With synthetic wicker material, it gives the same appearance as natural rattan fibres.
For this reason, synthetic wicker furniture lasts much longer outdoors than real rattan.
What makes rattan cube furniture?
The pieces are designed to fit together into a cube and in a space-saving manner. They make the perfect choice for maximising space when not in use.
Other models even include cube ottomans, adding a bit of decorative flair. At the same time, these can serve as extra seating when needed.
Gardens, patios, sunrooms and conservatories have found their best new outdoor companion! 
But what makes synthetic rattan furniture a better investment than its natural counterpart? Longevity – it has a much longer lifespan, lasting anywhere between 10 and 20 years.
And rattan cube furniture is no exception. 
The benefits of synthetic rattan garden furniture
Garden furniture with durable and weather-resistant construction that guarantees your investment is worthwhile. Sound familiar?
Oh, right! Synthetic rattan garden furniture possesses all of these attributes. Many prefer to invest in synthetic rattan because of these fantastic benefits. 
On top of its built-to-last quality, it has weatherproof properties. This means synthetic rattan furniture is UV-resistant and waterproof, a.k.a the qualities which 'real' rattan furniture don't have. 
You can put rattan furniture outside during the spring and summer months. (But that doesn't mean you shouldn't look after it. Luckily for you, rattan cube furniture maintenance is easy – simply brush dry or use a wet cloth for a deeper clean. 
Strength is another characteristic that makes synthetic rattan more competitive than its natural counterpart.
Considering it's artificial, it doesn't contain natural fibres that tend to loosen in time. This is the downfall of authentic rattan – loosening fibres!
This is another reason why synthetic rattan furniture is more popular. It's less prone to damage and lasts much longer.
Moreover, this type of rattan furniture is more lightweight. If you fancy rearranging your garden or the format of your furniture, this is a great advantage.
A lot of these pros to rattan cube furniture (such as being lightweight and durable) also hold true for metal outdoor furniture. If you want to read more on deciding between metal and rattan garden furniture, check out this post we wrote about just that.
It's also a no-brainer that synthetic versions of rattan can be much cheaper. This is a great cost-effective solution for those who wish to incorporate rattan into their garden on a limited budget.
The weatherproof quality also makes it a lot easier to maintain. You won't have to worry about it half as much as you would if you had an actual rattan furniture set.
But you'll want to make sure not to overlook it. All in all, synthetic rattan furniture is a winner!
What to consider when buying rattan cube furniture
To get the most value out of your rattan cube furniture, here are some considerations to keep in mind:
Table size.

A square table measuring 120 cm on each side can seat four to six. A larger one with 167 cm L x 110 cm W, a rectangular table, can accommodate six to eight people. 
Some sets include table tops with high-quality tempered glass, so keep an eye out for those!
For example, our BillyOh Modica rattan cube set can seat up to 10. 
The number of chairs.

Some of the popular cube sets come with two, four, or six chairs. The two-chair sets are sometimes referred to as half cubes. 
Extra seating around a table can be supplied with footstools. (They're either included in the set or sold per piece).
Rattan and cushion colours.

To achieve a natural look, most pieces, including the cushions, will come in earthy tones. When shopping, consider the colour of the body and the cushions. 
(For example, a dark brown rattan offsets well with white cushions.)
The measurement of your garden.

You'll want to be sure you have enough room for your new outdoor furniture. Measure the space where you want to set up the piece.
Use your measurement as a guide when comparing the size of the product you wish to buy.
What are you going to be doing in the garden?

The type of furniture will depend on what you'll be doing in the space. 
Is it for relaxing? Then opt for a sturdy and comfortable piece. If it's for entertainment purposes, you'll want something a bit more sleek and stylish.
Top tip: Buy for comfort and quality and consider how the furniture will turn out when placed in your space. Look for a set that can serve you when lounging or eating.
Are rattan cube sets comfortable?
Most rattan cubes are ideal for medium-sized gardens. They provide comfort and make a great outdoor companion during the summer months.
The chairs and stools or ottomans also come with cushions. Talk about comfort! 
Just take a look at this BillyOh Modica.
Available in 8-seater and 10-seater cubes, it's a dream rattan cube set! It features a modern, stylish mixed grey, synthetic rattan design, complementing any garden setting.
The set also comes with luxury seat and back cushions and ottomans at no added cost. The 10 cm thick cushions are sure to provide you with comfort when using the set.
Other features include:
Weather-resistant flat weave rattan for all year round use.

Compact storage design for when not in use.

Durable construction. Flatweave rattan is woven around a steel frame with powder coating.

Flexible layout. 4 cube chairs and four ottomans, allowing you to vary the seating layout around the tempered glass table.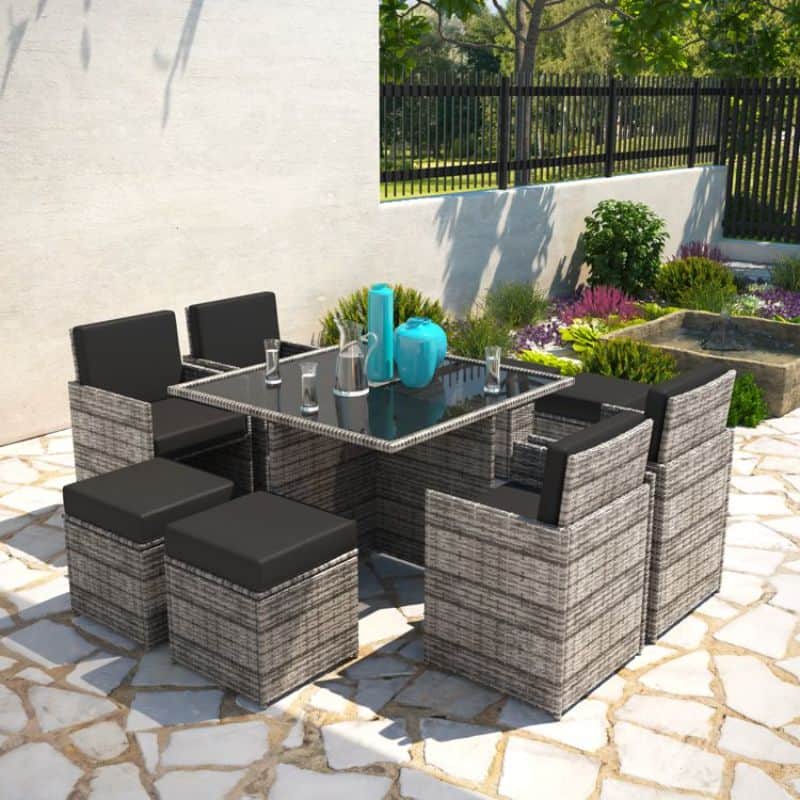 Can rattan cube garden furniture be used indoors?
Many homeowners prefer the look and quality of rattan furniture sets. If you opt for casual home decor, rattan cubes also look great in dining rooms – indoors, in general.

The Right Accessories for Your Rattan Cube Garden Furniture
There's a wide range of accessories available to help you make the most of your rattan furniture. Some of these extras can also help keep your outdoor garden furniture in good shape and condition for years to come.
Covers.

They act as shields, keeping your furniture protected from harsh weather conditions. Plus, covers ensure your outdoor pieces are clean and dry when not in use.

Patio heaters.

This is a great investment, especially if you enjoy spending time on your patio on cold evenings.

Storage boxes.

Unless you already have ottomans to do the job, extra storage is ideal for rattan furniture cushions when not in use.

Cushions.

For ultimate comfort, adding cushions is key! They make the rattan furniture much more comfortable, and they can even extend its life by minimising scratches to the exposed material.

Plant pots and greens.

This is optional, but we all know how greenery can add life to any space. If you don't have room for a traditional garden, this is your chance!

Lighting.

Nothing beats natural lighting, of course. But for chilly evening hangouts, hanging some string lights will make a difference.
Why Buy Rattan Cube Garden Furniture?
A rattan garden furniture set can take up a fair bit of space. If you have a small outdoor living area or patio, this can be a problem.
This is where rattan cube garden furniture comes into play. This type of outdoor furnishing is the solution to maximising your outdoor space.
The unique cube style takes up less space. It's a lot more practical than standard garden furniture for those who are tight on space but want to go big on style!


The beauty of a cube set is that you can tuck everything under the table when not in use, forming a perfect cube! It can provide you with somewhere to relax and dine without making your space look cluttered.
Cube sets are not only ideal for home and patio use. They also look great in restaurants, pubs, hotels, spas, and other commercial areas. And when they're made from synthetic rattan they'll be built to last.
Space-saving, comfortable, and stylish. What more could one ask for? Rattan cube garden furniture is a perfect choice for every occasion and environment.
A win-win investment!
The most popular cube sets are available only in 4-6 seaters. But here at BillyOh, we offer not only 8 but 10 seater rattan cube sets!
And if you're still sold on the idea of cube garden furniture, check out our post on how to style rattan furniture in your garden.
Shop Rattan Garden Furniture
FAQs
Although synthetic rattan furniture is weather-resistant, the strips can get frayed/worn out. The good thing is that you can repair it on your own with the right tools.
Simply glue the damaged strips with resin epoxy. Replace old strips with new synthetic wicker strips.
Use a pair of needle-nose pliers to weave the end of the strip in the backside. This is optional but feel free to paint the new section to match the original colour.
Top tip: Synthetic rattan furniture lasts for a long time as it's weather-resistant. But if you clean it regularly, it can last even longer.
Synthetic rattan furniture should be cleaned with warm water and non-foaming cleaner. Using a non-foaming cleaner will help to avoid residue in the gaps of the weave.
Dettol is a great cleaning product for cleaning rattan cube sets. To wash the furniture down, use a safe cloth or sponge. Brush the gap and crevices with a hand brush or soft scrubbing pad.
Rinse the furniture off well with clean water using a garden hose. Make sure the hose is on a wide spray and at a distance of approx. 1m.
Top tip: Our rattan cube sets come with tempered safety glass tabletops. We recommend removing these out of the way before cleaning the furniture.
Still on the hunt for the best rattan furniture? Then look no further than here at BillyOh, your one-stop-shop for the best outdoor furniture.
We are proud to offer various types of rattan furniture sets, from dining sets to fire pit rattan tables and cube sets. Made from high-quality materials, our sets are durable and long-lasting.
Each rattan set also comes with seat and back cushions. These provide you with ultimate comfort.
Delight with a lovely morning brunch or an al fresco dining with our rattan sets. Shop now and take advantage of our outdoor dining available at reasonable prices!