Give your front garden the same TLC you have for your backyard! There's no need to spend much for garden furniture though; a well-maintained and planned front yard is enough to boost your home's curb appeal.
Fortunately, you don't need to hire professional landscapers for a front yard makeover. You can do it yourself and save more money.
All you need is a little time and effort, and a few good ideas and tips. If you're looking for some ultimate garden design ideas inspiration, we have a bunch of suggestions for you!
These landscaping concepts can be achieved by people of any skill level. Are you ready to have the best front garden in the neighbourhood?
Let's get into the list!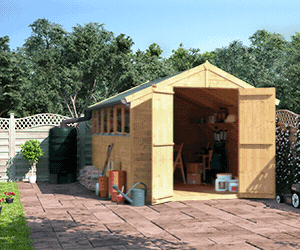 1. Planter bowls and succulents
Perfect for modern landscape settings, planter bowls and succulents make a superb front entry garden feature! The landscape design blends well with the 'exposed' house front concrete wall.

2. Opt for lush planting
This front garden makeover is a great example of what a difference you can make in just a weekend. The purple foliage makes great accents to the yellow house.
It gives the planting some warmth and visual depth.

3. Get creative with your foliage
Create small areas that burst with colour for a wow factor that catches the eye. Choose low-lying shrubs for up-close to the house and increase height. For more colour, incorporate blooming foliage between shrubs.

4. Build a stone pathway
Stone pathways aren't just for the backyard but they also make a great addition to front gardens! Have a look at this beautiful landscape; lay a simple stone pathway that weaves through your lush front yard.

5. Symmetry and structure
One of the simplest front garden ideas is to apply symmetry and structure. Think straight lines, well-defined flower beds and solid planting.
This design principle can add a sense of style to any garden.

6. Combine function with greenery
Filling the outside borders and corners of your front yard with hardy evergreen bushes is a great solution. If you have a small front garden, make it functional by adding a small seating area for relaxation.

7. Create a diversion
An excellent way to do this is to lay a stepping stone path. Nestle it into mulch and surround it with perennial flower beds.
Create a destination at the end of the path by placing a small garden furniture and a bird bath where the stones end.
8. Plant small trees
Dwarf trees can be a wonderful addition to a small front yard. They help increase the sense of depth while providing a focal point.
In this concept, one tree was planted on each side of a central path, with a second path running crosswise.

9. Stacked-stone wall for formality
A classic stacked-stone wall won't disappoint you if you want to go for a more formal look for your front garden. The structure of the wall and shrubs is enough on its own, even if there's no room for a lawn on the other side.

10. The beauty of coastal landscape
Embrace the seaside spirit by adding palm trees in your front yard. Decorate the beds with seaside style plants and white gravel. There are more beach garden ideas out there, but this one is surely one of our favourites!

11. Flower-lined sidewalk
If you have an open-space front yard, greet your family and the whole neighbourhood with a view of fresh blooms every morning. Emphasise the path to your door all the way to the sidewalk by lining it with rows of small shrubs, miniature flowers and other low-growing plants.

12. Unique landscape with tall grasses
Lush, tall grasses planted in front of a low fence can give a home a sense of privacy, without blocking views or light. Fill the area inside the fence line with grass, or with a small tree and perennial beds.
This would look great if your house sits near the street.

13. Front porch with greenery garlands
No matter what the season or occasion is, you can't go wrong with garlands when it comes to decorating your front garden. Wrap a garland of greenery along your front porch to blend the yard and house into one cohesive concept.
14. Grow hydrangea bushes
Indeed, nothing spruces up a front yard better than some beautiful and bright hydrangea bushes! In addition to the nostalgic factor, they are dense, bushy, and can grow to be very large which many like.

15. Flower bed border
Trade front yard turf for beds of blooms! Draft a container, like this one filled with 'Limelight' hydrangea, to add a focal point to flower beds.
This is one of the easiest and cheapest garden landscaping out there!

16. Use hanging containers
This front garden is paved, and the bright flowers are grown in pots, along with other railing flowers and foliage. The bigger the container the better!

17. Grow shade-loving plants
If you have a shady front yard, growing shade-loving plants is the secret to having a healthy greenery landscape. Container-grown ferns are a great choice, but make sure to include some evergreens as well.

18. Add a fountain
Not everyone can have a pond or stream on their property due to the limited space. But a fountain does wonders for any outdoor aesthetic.
Check out our garden water feature ideas for more inspiration!

19. Light it up
Adding landscape lighting allows you to enjoy your front garden after dark. A well-lit path like this is welcoming, providing illumination that extends hospitality to visitors. Plus, they make walking more secure.

20. Feel the berm
A berm can add an attractive part of your landscape, adding height and visual interest. It also provides a wind or noise barrier.
Have a look at this one for some inspiration. Berms are used to create a border between properties or break up a monotonous yard.

Round-up
Designing a front garden can be as exciting and fun as doing a backyard makeover. This is especially true if you have a list of design ideas and tips in mind.
We hope our suggestions will help you create a front garden that will breathe life into grey streets. Of course, help you create a front yard landscape filled with colours all year round.
Above all, make you feel good about where you live.
So, which one is your favourite front garden landscape design? Let us know in the comments below!
Shop Rattan Garden Furniture