A home's exterior is the first feature guests and potential buyers see. To make sure you give off a good first impression, you'll need big ideas – even if you have a small front yard.
A smart way to add pzazz to your property's curb appeal is to give your tiny home exterior some TLC. And to help make your small front garden work for you, here are some great design ideas to get inspired!
1. Window boxes
Like container gardens, window boxes provide a contained space for plants. They're an easy way to add instant interest to your front yard.
Plant lush evergreens and colourful blooms to create a welcoming ambience.

2. Beautify with climbing plants
Drape your terrace or the perimeter wall with vines to beautify the exterior of your home. For classic countryside choices, opt for climbing Roses and Wisteria. And for urban spaces, go for Star Jasmine.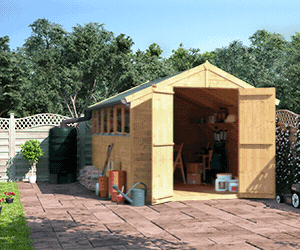 3. Water feature entryway
With a bit of creativity, you can make room for a water feature in your front garden. If you have a small, underutilised nook, add a mini fountain to use the space.

4. Boxwood pathway
Add a touch class to your entry path by incorporating a classic boxwood-edged pathway. Monochromatic yet straightforward, the shrubs help guide the eye towards the front door.
This concept also encourages visitors to use the passage instead of walking on the grass.

5. Tiered beds
Tiered garden beds can add structure to your front landscape. What's more, they help create the illusion of a larger space by adding height and heft.
6. Hydrangea display
A lush display of Hydrangea in front yards adds a charming cottage garden vibe. In addition to the nostalgic factor, the flowers are dense and bushy.
They can create gorgeous full potted blooms for porches, patios and decks.

7. Mediterranean fountain bed
Mediterranean features are popular in many UK gardens, and a charming fountain is no exception. But what makes this centrepiece look more elegant is the flower bed filled with Petunias.
8. Soften the fences
Fences can also be used in your front yard as a great garden gate idea, but a plain one can be a bit dull. Soften the fences with climbers and shrubs to add much needed green to the street scene.

9. Stepped levels
Stepped levels are a great feature, adding a dramatic change in height for gardens that are short in length. Consider adding a steep front entrance with a less direct path route for a meandering walk.

10. Topiary statement
A great low-maintenance greenery option that also adds vertical interest to front gardens. Try growing and pruning topiary in a planter for a sense of luxury to your small home exterior. Have a look at this one!

11. Floral archway
Archways are perfect for softening up a traditionally sharp-edged space. For small front yards, they add a vertical level to the scheme while creating interest.

12. Feature a fire pit
Thinking of introducing a fun new element to your front garden? You can't go wrong with fire pit ideas! With the right design, a front yard fire pit can provide a natural gathering spot.
Most importantly, it makes the space feel more inviting and cosy. Now, who says fire pits are for backyards only?

13. Tropical landscape
Tropical landscaping ideas are best for those who live in warm climates. One of the best tropical garden designs ideas, in our opinion, is to feature a lush green lawn bordered by these exotic plants and flowers. Draw inspiration from the photo below.

14. Go coastal
Make every day a beach day with a coastal-themed front yard! Instead of lawns or rocks, opt for sand with bright succulents for a pop of colour.
Going for a sand landscape also means the plants will have great drainage, and you'll never have to mow it.

15. Say no to narrow path
A skinny path can make a small front garden feel smaller. Don't make your path look too narrow and leave a bit of breathing space. Create an open area surrounded by plants to make the exterior bigger.
16. Welcome wildlife
Welcome wildlife into your front garden by simply adding a birdbath for birds to visit. Or build a small bug hotel to get some insect visitors.
Top tip: Add plants and flowers that pollinators love!

17. Striking pathway features
The path up to your front door, no matter how small, can also make a statement. Take this sleek patterned style as an example.
The dark greys offset the containers, while the creamy tones complement the gravel. And the softer greys give off a pleasing accent to the bright blue door.
18. Sculptural statement
Incorporate simple sculptures into the space to add visual interest and draw the eye. In this calm planting scheme, tall grasses are combined with concrete garden globes.

19. Front bench
Garden seating ideas like benches make a great addition to small front yards. Providing a spot to sit and relax, they make a stylish feature when decked out with cushions. Try adding a bench to your front yard or porch to wave as the neighbours go past and while away the hours.

20. A touch of symmetry
A concrete front path surrounded by hardscape elements and lush greenery. Reduce the plant palette to three colours (green, white and red) to simplify the landscape.
Round-up
Front yards are as important as backyards. Even if you've only got limited space, there are plenty of ways to make it count. After all, first impressions count.
When done correctly, your small front yard can be a stunning focal point of your home. And we hope our list of small front garden ideas will help you achieve that – and make the space feel way bigger than it is.
Let us know in the comments down below your favourite designs!
Shop Fire Pits
FAQs