Trellises are great for adding structure and decorative flair to any landscape. They can even take many forms and serve many functions.
Simple structures that support flowering vines can add more growing areas for small gardens. Sturdier designs, in contrast, create attractive outdoor spaces, giving shape and beauty. This includes screening ideas for privacy and shade.
Check out these garden trellis ideas and find one that's right for the style and needs in your garden! These inspirations are sure to match a wide variety of styles and purposes.
---
Gardens: For Growing Plants and Vegetables
---
1. Planter box
A trellised planter box is a win-win addition. The planter box can showcase your favourite annuals. Meanwhile, the trellis shows off a living wall that can act as a privacy screen.
On top of aesthetic appeal, it provides an opportunity to grow self-climbers. These include climbing Hydrangea or ornamental Hyacinth beans.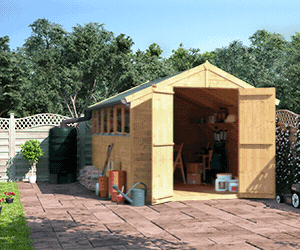 2. A-framed
A great way to take advantage of vertical growing space is by using a trellis. And an A-framed structure offers extra support whilst being anchored in the soil.
This is a great design if you're growing climbing vegetables. It also allows vines to grow up off the ground, promoting better plant health.
3. Tunnel-like
This magical trellis tunnel would look amazing in a spacious backyard. It's one of our favourite cottage garden ideas whereby it adds a whimsical look.

4. T-post
Check out this DIY garden trellis made with t-posts, zip ties and tree branches. Use bigger branches on the bottom and smaller ones on top, alternating the thick ends on each row.
Twine is fine, but tying the materials with zip ties ensures even more sturdy construction.

5. Container garden
A container garden also benefits from a supporting framework like a trellis. Install the trellis inside the pot or place it outside next to it.
Consider using a lattice trellis (crisscrossing pattern) for added visual appeal.
6. Bamboo-made
Cost-effective and easy to make, a bamboo trellis will make you wish you had even more vines to utilise! Prepare canes of bamboo in different diameters and start doing this DIY project.

7. Tomato cage
Grow your tomatoes with trellised cages for a bountiful and unblemished harvest. A simple cage like this helps prop up the weight of the veggie, whilst protecting it from pests and diseases.

8. Clematis
Jazz up your backyard barrier with a simple clematis trellis setup like this! This will give flowering vines the support they need to climb high. Attach it to a bare wall and watch climbers steal the show. 

9. Garden arbour
Show off your outdoor space by installing an arching trellis arbour at the entrance. A charming walking path that leads to the garden is a plus. It will make guests eager to explore.

10. Copper-made
Transform old plumbing and tubing into an elegant garden accent piece. Take a cue from this DIY copper trellis. This would look fantastic both in backyards and front yards.
11. Old doors
Looking for something much bigger than your standard coat rack? If you have an entire old door to work with, create these vintage-inspired garden stands. Just sure to remove the window glass first!
12. Headboard
A "junk" headboard can look aesthetically pleasing in gardens when repurposed well. Giving off a rustic vibe, this old metal headboard was transformed into a trellis for peas.
---
Patios & Outbuildings: For Privacy and Shade
---
13. On deck
On top of privacy, a trellis also helps create a more defined outdoor space for entertainment. Adding one to your deck is a great way to separate your patio from your home's exterior. Plus, it provides a pleasing backdrop for a seating area.

14. Workspace screen
Draw inspiration from this trellis workspace. It creates a distinct zone for gardening work, such as potting and prepping. The trellis keeps clutter and unsightly equipment out of view and, of course, adds privacy.
15. Crisscross wall
Spice up the bare walls around your patio with a simple custom criss-cross trellis like this one! Best for formal outdoor spaces, it helps introduce greenery to the space aesthetically.
And it perfectly fits the European style fountain that hangs on the wall!

16. Secret garden gazebo
Garden buildings like gazebos provide the ideal gathering place on sunny days. If you're building one in your secret garden, include a trellis in the design. Plants like Cypress vines can turn it into a more private getaway.

17. Fence concept
A simple trellis fence around your simple outdoor seating area can offer seclusion. Take a cue from this design; small it may be, but it can also help create boundaries and a little snug.

18. Gated arbour
Along with a fence, a gate and arbour combo provides the same privacy and security but may be more suited to your tastes. The design allows guests to bypass the front entry and head straight to your courtyard.

19. Wire concept
A wire trellis design might be your best bet if you have a modern patio or rooftop setting. Made from thin metal bars, turn your outdoor haven into a private escape with a wire trellis.
This works the same with other designs, allowing climbing vines to take centre stage.

20. Freestanding
One thing we like about this design is it adds distinction and structure to backyards in an instant. The trellised screen wraps around the patio, adding a curve and architectural elements.
The small window areas along the top don't obstruct the views completely. Thus, it maintains an open feeling.

Round-up
Regardless of the design, the garden trellis adds so much charm and functionality. No wonder why gardeners around the world favour it! What's more, building your own trellis is not so difficult. You can make one from almost anything, such as recycled to repurposed materials.
Or, if you're looking for a high-quality garden trellis that doesn't break the bank, check out our store at BillyOh.
We hope our rounded up garden trellis ideas will help you envision the perfect structure. For more outdoor space makeover ideas, read our Ultimate List of Garden Design Ideas next.
Shop Rattan Garden Furniture
FAQs