We love to catch up with our customers to see how they're getting on with their garden buildings. So this week, we chatted with Lancaster-based Morganna, to see how she'd made the most of her new BillyOh buy!
An avid photographer, Morganna has a keen eye for detail and loves all things aesthetically pleasing. She also loves capturing memories for her children, whether it's a milestone occasion like first steps, or simply them frolicking and playing in the garden.
And her eldest son Leo is now at the age where he wants to explore outside and play in nature. So Morganna decided that she wanted to buy him his own little den at the foot of their garden for his birthday. A great choice if we do say so.
She was also very conscious that when her younger son River grew up, the playhouse would need to be big enough for them both to play together.
'We wanted a playhouse that would be big enough for both Leo and River to use,'
With an idea in mind, she visited BillyOh to browse our wonderful selection of children's playhouses – seeking a speedy delivery to waste no time.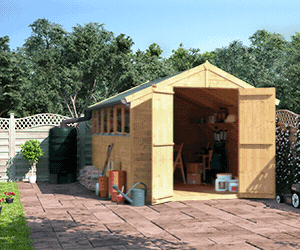 She found everything she was searching for and more in our Lollipop Junior Tower Playhouse.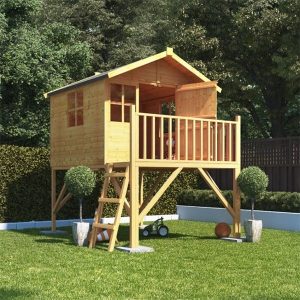 'BillyOh had lots of choice and availability which meant we could order the playhouse and have it arrive in time for Leo's birthday,'
Morganna wasted no time in assembling the playhouse upon delivery. And with our pre-cut materials and comprehensive instructions, she had it up and ready-for-use in no time!
Decor-wise, she decided to keep it all natural – leaving its original hardwood finish for a classic playpark look. She did, however, protect the playhouse from weather damage with some cornflower protection gloss. And, doubled up with our 10-year anti-rot guarantee, it's a force to be reckoned with.
She also strung up bunting around the roof, and fitted curtains to keep out bright lights on those sunny days.
'Having a playhouse is the perfect little hideaway for Leo. He loves having his tea in the playhouse as well as playing with his favourite cars, puzzles and games in there,'
You can see the full extent of Morganna's makeover below:
'BillyOh is wonderful – we were so pleased with the playhouse that we ordered a little bike shed too!'
Yet another fantastic use of one of our playhouses!
If you want to see more of Leo's new little den, or to browse Morganna's magnificent photowork, be sure to check out her Instagram.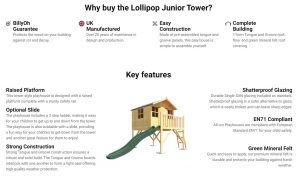 And if you've got a great story about your BillyOh shed, summerhouse, or playhouse conversion – we'd love to hear it! Simply get in touch with us on social media for a chance to feature here.
Or if you want, you can check out more customer stories right here.
Shop Log Cabins