We love to catch up with our customers to see how they're getting on with their garden buildings. So today we spoke with Shropshire-based Hayley, to see how she was getting on with her new BillyOh Log Cabin.
Many business owners and entrepreneurs come to BillyOh with aspirations of creating a home-based workspace to save on rental fees. And Hayley was no different when she approached us.
As a very successful makeup artist in the Shifnal area, she was getting tired of working on a mobile basis. Hayley decided the time was right to build a permanent home for her business ventures. 
Like many others, she had a vision of creating a tailor-made outlet from the comfort of her own back garden. She wanted a more professional vibe and to save money in the long run.
After asking fellow business owners in the same field, Hayley was recommended BillyOh across the board, so she decided to check out our website to browse our stock of high-quality units.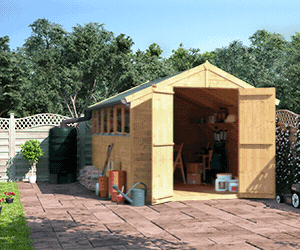 'I was recommended BillyOh by other ladies who have bought their cabins from you for beauty or hairdressing.'
She fell in love with the BillyOh Devon Log Cabin due to its aesthetic and size.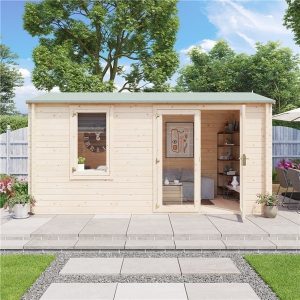 'This cabin's size is perfect for my business.'
After a speedy delivery, Hayley got to work right away, constructing her newly purchased cabin from the ground up. She had the interior fully insulated and plastered to keep the cold out, and had a beautiful arctic laminate floor installed.
'The experience was fantastic. Delivery was on time and the cost was brilliant for my cabin.'
She painted the interior with a brilliant white finish to keep it clinical and bright, and furnished it with her equipment so that she was good-to-go!
The exterior was decorated space grey with a darker trim, and solar lighting was installed to make her new cabin really stand out.
'If you're thinking of purchasing a cabin from BillyOh, I totally recommend that you do. I'm so glad I have one of these – my little beauty parlour in my perfect cabin…I love it!'
You can see the full extent of Hayley's makeover below:
Once again, a brilliant use of one of our log cabins by a determined and focused customer! We wish Hayley all the best with her business ventures. If you want to see more of her new salon, then be sure to check out her Instagram – @hayleyrussell_beauty54.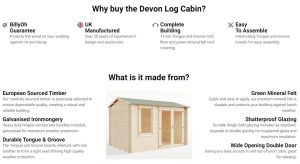 And if you've got a great story about your BillyOh shed, summerhouse, or log cabin conversion – we'd love to hear it! Simply get in touch with us on social media for a chance to feature here.
And if you want, you can check out more customer stories right here.
Shop Home Offices