We love to catch up with our customers to see how they're getting on with their garden buildings. So this week, we decided to catch up with a very special customer to see how they were making the most of their new BillyOh building!
Gemma visited BillyOh with hopes of purchasing a playhouse for her two children – aged two and six – at a time in life that she felt they needed their own outdoor space. Somewhere to spend hours enjoying themselves and making cherished memories.
Due to the available space in her city-based garden however, Gemma needed something quite compact – she didn't exactly have acres to play with!
After a short while browsing our various children's buildings, she fell in love with the BillyOh Child's Log Cabin Playhouse and wasted no time in ordering one for her garden.
'We chose this playhouse mainly for its size – and it really suited the space of our city garden.'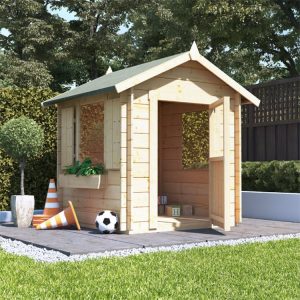 'We chose BillyOh because of their great value and quality.'
Upon delivery, Gemma wasted no time in decorating the playhouse to her children's every desire. She painted the exterior with a pigeon green and off-white trim, and fitted a slate roof for that authentic feel. She also placed faux plants in the pre-fitted window boxes.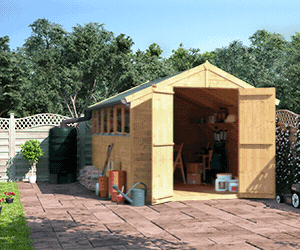 On the inside, she hung bunting, fitted gold shelving for a royal look and added a blackboard for the kids to let their imaginations run free.
'The kids get so much joy playing in it now!'
You can see the full extent of Gemma's makeover below:
All in all another brilliant use of a BillyOh playhouse, by a caring and loving mother!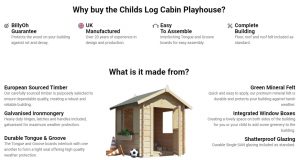 If you've got a great story about your BillyOh shed, summerhouse, or playhouse conversion – we'd love to hear it! Simply get in touch with us on social media for a chance to feature here.
And if you want, you can check out more customer stories right here.
Shop Playhouses