We love to catch up with our customers to see how they're getting on with their garden buildings. So today, we've got someone special with a great story about how they transformed their BillyOh purchase.
Hi there, what's your name?
Hey, I'm Rebecca. 
And Rebecca, which playhouse did you go for?
I settled on your BillyOh Lollipop Junior Playhouse.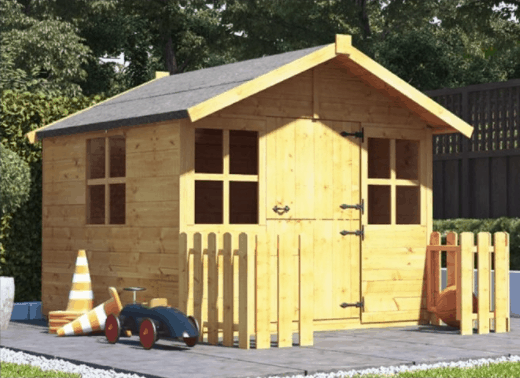 What made you pick this particular model?
It looked like the 'dream' style of playhouse and it was the perfect size.
Sounds great – and has your playhouse got a name?
Yep – 'Matilda's Playhouse'.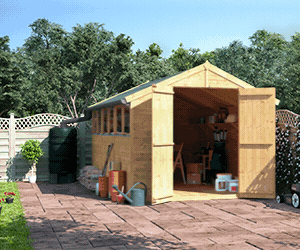 What would you say your new playhouse has allowed you to do that you couldn't before?
Play in the garden far more often. Provided a safe place for my daughter and her friend to play, and allowed them to play 'make believe' by using the kitchen, chairs, and toys inside.
Lollipop Junior Playhouse Assembly

Fantastic.
Does your playhouse have a theme, then?
It's just very girly and pink!
Nothing wrong with that Rebecca! And h
ow have you decorated your playhouse?
Painted it mainly white with some pink bits on the outside. Then we added some little pink curtains, a play kitchen, some toys and some flowers, as well as a sign above the door!
Lollipop Junior Playhouse Exterior
Lovely, and what's your favourite thing about your playhouse?
It just has such a lovely, warm, inviting 'traditional' playhouse feel to it.
So what made you choose Garden Buildings Direct?
I did A LOT of research and although there are many options available, for this kind of price this was the best quality playhouse I found with the best reviews, and the delivery was quick.
We're glad we could help, Rebecca. And how was your experience with us?
5 stars!
And would you recommend GBD to a friend?
Yes, absolutely.
Lollipop Junior Playhouse Interior
Almost done – any top tips for anyone wanting to create their own perfect playhouse?
Stop wasting time scrolling through lots of different websites and just order one! You won't regret it!
They look amazing and if you look after them, they'll last years and give your child magical memories of growing up playing in a beautiful playhouse.
Couldn't have said it better ourselves. And where can people see more of your garden building, Rebecca?
They can find me at @becla16 on Instagram. 
Wow, it sounds like Rebecca is really making the most out of her Lollipop Junior playhouse. So if you've got a fantastic story about your BillyOh shed, playhouse, or even a log cabin conversion – we'd love to hear. Simply get in touch with us on social media for a chance to feature here.
And if you want, you can check out more customer stories right here.
Shop Playhouses