We love to catch up with our customers to see how they're getting on with their garden buildings. So today, we spoke with Wales-based mother Rebecca to see how she was making the most of her new BillyOh building!
Rebecca, like many other proud parents, came to BillyOh with hopes of purchasing a lovely little garden playhouse for her daughter Matilda.
As a lover of the great outdoors herself, Rebecca enjoys spending time with her family in the stunning Welsh valleys. Together, they actively make the most of what's on their doorstep every weekend.
However, she also wanted to promote outdoor playing to Matilda, on those days they didn't have the time to go out exploring.
After endless research on multiple websites, she finally stumbled upon BillyOh – where she found her ideal unit in the Lollipop Junior Playhouse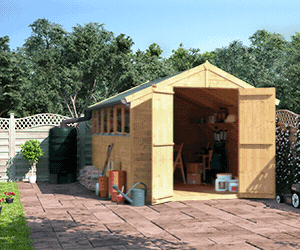 'I did A LOT of research and although there are many options available, for this kind of price this was the best quality playhouse I found with the best reviews – and the delivery was quick.'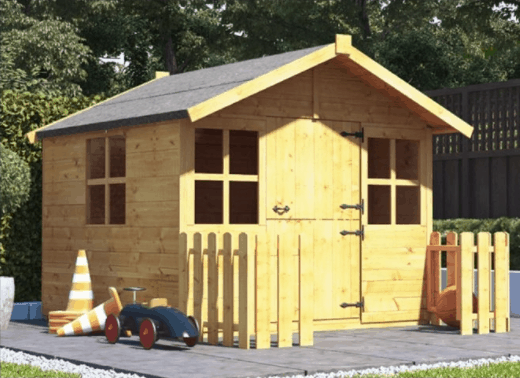 After a speedy delivery, Rebecca set herself to work on the construction side of things – and had her daughter's playhouse assembled in no time at all. All thanks to our pre-cut materials and easy-to-follow instructions.
Once complete, she started the decorating process; painting the outside a princess pink, of course! She also strung up artificial roses along the eaves of the roof and placed flower pots with blooming florals either side of the door.
'It's provided a safe place for my daughter and her friend to play, and allowed them to play 'make believe' by using the kitchen, chairs, and toys inside.'
The inside was furnished with a cosy pink chair and footstool for Matilda, and matching curtains and bunting were also incorporated to tie the room together.
We think Rebecca has done a stunning job – you can see her full makeover below:
'It just has such a lovely, warm, inviting "traditional" playhouse feel to it.'
…we couldn't have put it better ourselves, Rebecca.
Another stunning transformation from one of our fantastic customers. We hope Matilda has hours of fun in her new playhouse! To see more of Rebecca's makeover, be sure to check out her Instagram – @becla16.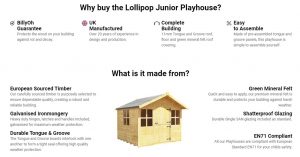 And if you've got a great story about your BillyOh shed, summerhouse, or playhouse conversion – we'd love to hear it! Simply get in touch with us on social media for a chance to feature here.
And if you want, you can check out more customer stories right here.
Shop Playhouses